Gili Meno · MaoMeno Resort
Gili Meno · MaoMeno Resort
[:de]
Kaum hatten wir Fuß auf Gili Meno gesetzt, ist uns schon aufgefallen wie ruhig es auf der Insel ist. Das mag einerseits an der Tatsache gelegen haben, dass zu der Zeit Nebensaison war, aber wahrscheinlich auch an seinem Ruf als "Honeymoon Island". Wir haben erst sehr kurz im Vorhinein beschlossen, nach Gili Meno zu fahren. Deswegen gab es kein freies Bungalow in Strandnähe mehr. Nach 10 Gehminuten sind wir also im MaoMeno Resort angekommen. Es war niemand bis auf die Managerin und ihre verspielte Resort-Katze dort.
Beim Check-In wurde uns regionaler Ingwer-Zimt-Eistee angeboten. Wir konnten der Katze zusehen, wie sie wie ein Affe von einer offenen Kastentür zur nächsten sprang. Uns wurde beim Check-In gesagt, dass wir über die Zeit unseres Aufenthalts die einzigen Gäste bei MaoMeno sein würden. Das hat mich persönlich sehr gefreut. Vor allem weil wir erst ein paar Tage auf Bali verbracht haben und es dort, wie ihr euch vorstellen könnt, nicht so ruhig ist.
Das Resort hat mich an eine Geisterstadt erinnert. Die Türen der anderen Bungalows standen weit offen. Man konnte also in jedes Bungalow einen kurzen Blick hineinwerfen und sehen, dass nirgendwo aufgeräumt war. Alles stand kreuz und quer herumstand, wie nach einem Überfall.
Es gab keine Schlüssel, was mich natürlich sehr skeptisch gemacht hat. Ja, ihr habt richtig gelesen – keine Schlüssel.
Wenn es schon keine Schlüssel gibt, dann hätte mir zumindest einen kleinen Safe gewünscht. Aber stattdessen gab es kleine versteckte Ablagefächer, in denen wir unsere wichtigen Dinge verstauen konnten. Da das Resort doch relativ offen zugänglich war und keine Security oder viele Mitarbeiter vor Ort waren, haben wir uns immer Sorgen gemacht, dass jemand in unser Bungalow gehen würde. Aber schlussendlich ist dann nie was passiert.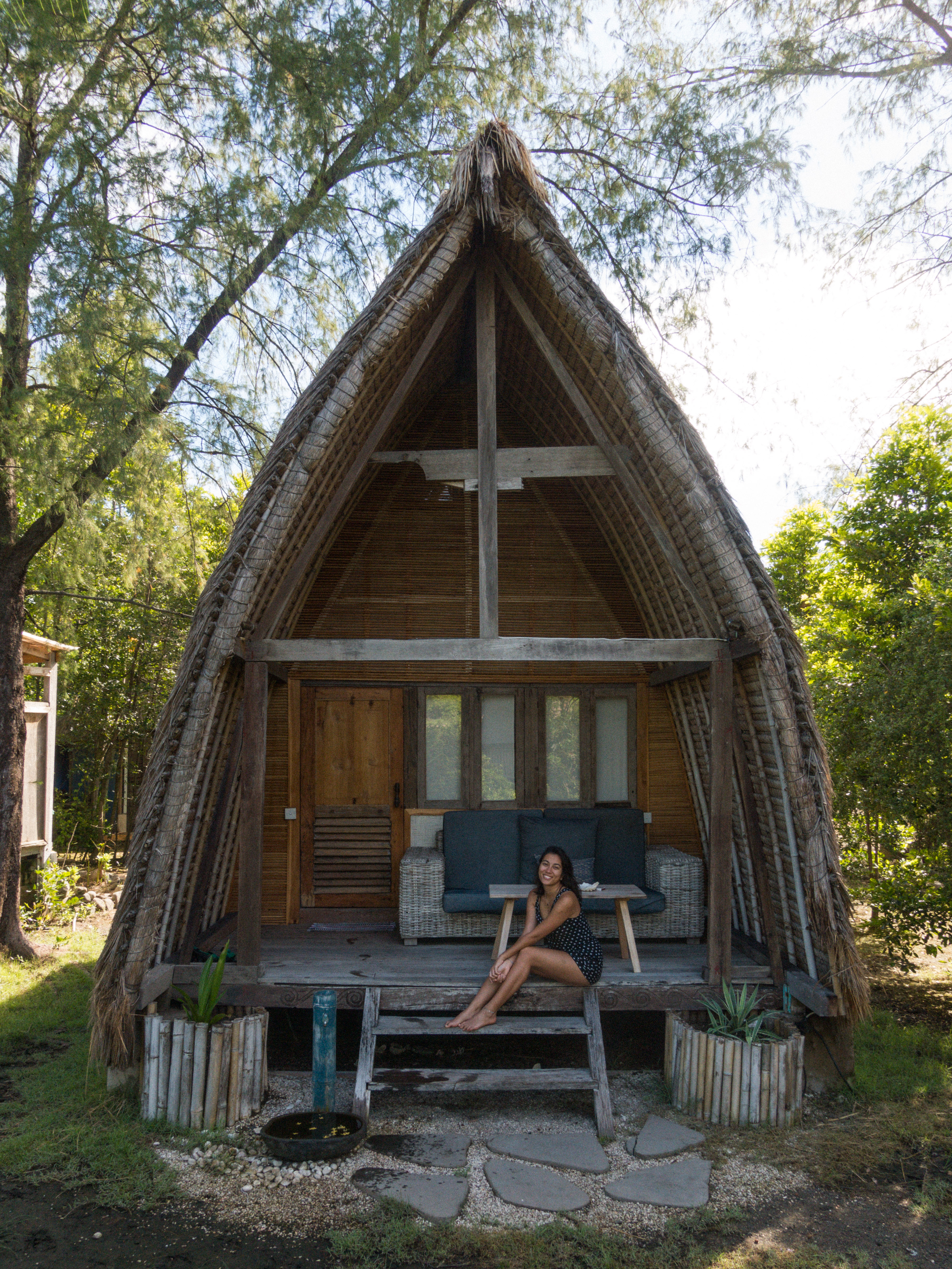 Lage
MaoMeno Resort befindet sich in der Mitte der Insel – etwas südlicher gelegen. Die Strände im Osten, Süden und Westen sind nur 10-Gehminuten entfernt. Mir hat es überhaupt nichts ausgemacht, in der Mitte der Insel zu wohnen. Somit konnten wir an unseren täglichen Spaziergängen zum Strand bei den Einwohnern, der Schule und Moschee vorbeigehen und auch etwas vom Alltag dort mitbekommen.
Falls möglich und die Wetterbedingungen es erlauben, würde ich euch empfehlen, den südlich laufenden Weg neben MaoMeno entlangzugehen. Wir sind nach ein paar starken Regentagen auf Gili Meno angekommen und waren motiviert, gleich diesen Weg auszuprobieren. Ich würde abraten, diesen Weg zu nehmen, wenn es ein paar Tage zuvor geregnet hat. Wir sind bis zu den Knöcheln im Schlamm gesteckt, weil alles so rutschig war.
Womit ich generell nicht zufrieden war: die Nähe von Gili Meno zu Gili Trawangan. Untertags ist es wirklich ruhig und idyllisch. In der Nacht aber kann man der lauten Musik von Gili T nicht entkommen. Jede Nacht wird dort bis in die frühen Morgenstunden gefeiert.
Mao Meno Resort
Gili Meno Island
Das Zimmer
Bungalow mit Gartenblick
Unser Bungalow war geräumig und bis auf einen Kleiderkasten mit allem ausgestattet, was wir gebraucht haben: Klimaanlage, Handtücher, selbstgemachter Seife und einem Wäscheständer für das Badezeug. Im vorderen Bereich hatten wir draußen sogar einen Sitzbereich mit Loungemöbel. Im hinteren Bereich ein sehr großes Badezimmer. Das Bad ist teilweise überdacht und bietet abends guten Ausblick auf die Sterne.
Ganz wichtig zu erwähnen: Die Gelsen sind wirklich durstig. Sie nerven abends, aber auch tagsüber. Ich empfehle also ein gutes Gelsenspray mitzuführen wenn ihr im MaoMeno Resort übernachtet!
Frühstück
Es gibt eine gute Auswahl an Frühstück im MaoMeno Resort. Diese reicht von Eierspeis mit Toast über Bircher Müsli bis hin zu frischen Früchten mit Joghurt. Alles sehr gesunde Optionen wenn ihr mich fragt. Die Eierspeis wurde nicht mit Öl sondern Wasser in der Pfanne angebraten.
Behaltet bitte im Kopf, dass ihr in Asien reist und Dienstleistungen auch lange brauchen können. Wie zum Bespiel der Service beim Frühstück. Wir wachen jeden Tag um 7 Uhr auf damit wir den Tag richtig ausnützen können. Um Punkt 8 Uhr saßen wir schon beim Frühstückstisch. Am ersten Tag war bis um 9 Uhr aber niemand von den MitarbeiterInnen zu sehen. Die kommenden Tage wussten sie aber schon, dass wir generell früh aufstehen. Somit war um 8 Uhr immer jemand in der Küche, um uns unser Frühstück zuzubereiten.
Preis & Fazit

Insgesamt haben wir 44,50€ pro Nacht für das Bungalow gezahlt. Ich habe über booking.com das Bungalow gebucht. Beim Buchen habe ich gleich auch das Frühstück für 3€ pro Person (sind bereits in den 44,50€ enthalten) dazugenommen.
Meiner Meinung nach nutzt das MaoMeno Resort nicht sein volles Potenzial aus. Deshalb finde ich es zu teuer für den Preis.
Es gibt nur Frühstück im Resort, kein Mittag- oder Abendessen. Das Zimmer war zwar sehr sauber und die Managerin sehr freundlich und hilfsbereit.
Aber vom Rest der Mitarbeiter bekommt man nicht viel zu sehen. Man erkennt die Mitarbeiter auch nicht wirklich. Sie arbeiten in ihrer Alltagskleidung im Resort. Etwas einfaches und einheitliches wäre als Arbeitsuniform eigentlich super, damit wir Gäste wissen, dass es sich hier um keine Fremden sondern um Mitarbeiter handelt. Vor allem da es ja keine Schlüssel in dem Resort gibt, da könnte man Nicht-Gäste sofort erkennen.
Die Yogaklassen wurden überhaupt nicht beworben (wahrscheinlich lag es daran, dass wir die einzigen Gäste im ganzen Resort waren).
Ich könnte noch viel mehr aufzählen, aber ich hoffe, ihr merkt was ich hier vermitteln möchte. Es hätte Potenzial. Wenn sie ihre zB Zimmer schön herichten würden, auch wenn keine Gäste hier sind. Oder auch den Lounge und Sonnenliegenbereich jeden Tag herrichten würden… Auch der Service gehört verbessert. Somit könnten sie auch in der Nebensaison und trotz der Lage viele Gäste haben. Aber wie gesagt, ich glaube sie sehen das Potenzial nicht oder sind zu faul sich um die kleinen Dinge (die viel ausmachen) zu kümmern.
Je nachdem wie viel man ausgeben möchte, gibt es noch viele weitere Unterkünfte auf Gili Meno, einige mit Lage direkt am Strand. Auf diese gehe ich in meinem nächsten Blog Post, ein kleiner Gili Meno Guide, mehr ein.

[:en]
As we arrived on Gili Meno, we quickly noticed that it was very quiet on this island due to low season, but also due to its image as "honeymoon island". We booked on a very short notice and there weren't many beach bungalows left that fit our budget. As we walked in at MaoMeno resort there was literally nobody around besides the manager and a cat jumping around like a monkey from one cupboard to another. The Check-In went by quite fast. We were told that we were the only guests at MaoMeno Resort which was really nice, especially after staying on very busy Bali 🙂 She gave us some homemade cinnamon & ginger iced tea as well as a map of the island and off we went to our bungalow.
The resort reminded me a bit of a ghost town – all the doors of other bungalows were open – and you could enter to have a look around. I was a bit skeptical when we were told that there are no keys to any of the bungalows. Yes, no keys.
A safe would have been very reassuring, but they had hidden corners where we could put our electronics and other important stuff. As there was no security or many staff around, I was always a bit worried when we went out to the beach or dinner. But thankfully everything was fine.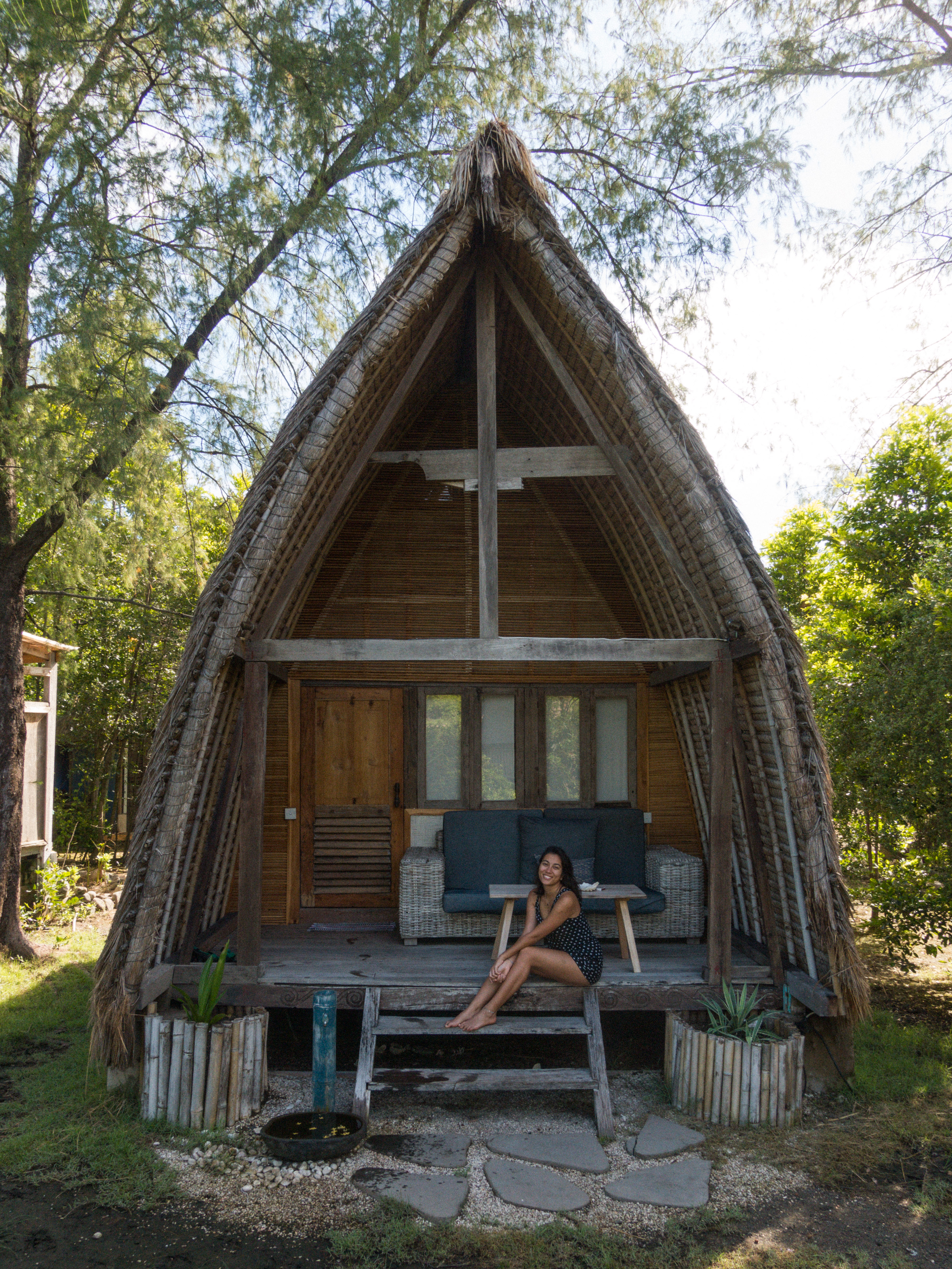 Location
MaoMeno is located in the middle of the island – about 10 minutes walking distance from beaches in the eastern part as well as the western part. I didn't mind being located in the middle of the island since we passed by a mosque, a school and many local houses and families on our daily walks to the beach – so we also got to see what daily life was like for the people who live there.
If you can, take the path leading south – we arrived after a few days of heavy rain and we totally regretted our decision trying to walk south through the jungle since we were all covered in mud and everything was so slippery. But if the soil is dry, this is a really nice path leading to an empty beach with a reggae bar.
One thing I really hated about the location of the island in general was the proximity to Gili Trawangan. As some of you might know, it's a party island. So every night, I could hear the beat coming from Gili T in my bungalow. Yey.
Mao Meno Resort
Gili Meno Island
Room
Bungalow with garden view

Our bungalow was spacious and it was equipped with everything we needed besides for a cupboard for our clothes: AC, towels, homemade soap and clothes drying rack for wet swimwear and beach towels. We even had a small seating area at the front of our bungalow. Our outdoor bathroom came with a rain shower and two geckos that greeted us every evening when we walked into the bathroom.
Mosquitoes are pretty nasty – during the night as well as during the day! Make sure to bring mosquito repellent when you come to stay here.

Breakfast
There is a good variety of breakfast options like scrambled eggs with toast, bircher muesli or fruits with yogurt – all very healthy options, in my opinion, e.g. scrambled eggs were sauteed in water instead of oil. Remember that you're traveling in Asia, so everything takes longer than you might be used to from home: we were sitting outside at 8am when breakfast time started, but as we were the only guests on the grounds the staff was not showing up until 9am on our first morning, but every other day after that they knew that we would get breakfast very early.
Price & Resumé

I booked a bungalow with garden view for 44,50€ a night, including breakfast (2 persons). I chose to book the breakfast as well since it only costs 3€ per person. In my opinion, the overall price is a little bit expensive for what they're offering:
Only breakfast is provided, no lunch or dinner. The room was very clean. The manager was very helpful but other than that the staff was trying to stay out of our way – so no connection or talks with the staff. It would have been nice to see staff dressed uniformly in basic polo shirts or so in order for the guests to recognize them as staff immediately.
They didn't promote their yoga classes. The small swimwear shop next to the Check-In desk could also be more promoted. And the list goes on an on – I think MaoMeno has a lot of potentials but isn't using it. If the resort had been taken care of every day and the rooms wouldn't look like the resort just had been ambushed, it could have way more visitors in low season as well. Unfortunately, as I said before, they're not taking advantage of their potential.
Depending on how much you want to spend there are many more small and beautiful resorts on Gili Meno. Some are within walking distance of the beach, I will put my favorites in my travel guide on Gili Meno that will follow this week.

[:]