Oslob · Whale shark watching
Oslob · Whale shark watching
[:de]
Im Dezember bin ich auf den Youtube-Kanal von Christian Leblanc gestoßen. Er war zu dieser Zeit auf den Philippinen unterwegs und hat Daily Vlogs von seiner Reise hochgestellt, unter anderem auch von den Walhaien in Oslob. Walhaie sind die größten Haie und gleichzeitig auch die größten Fische in unseren Meeren. Keine Sorge, Sie ernähren sich nur von Plankton 🙂
---
Schnorcheln mit Walhaien – Erfahrung, persönliche Meinung & Tipps
Ganze Schwärme an Touristen reisen täglich von Cebu City an, um diese Erfahrung zu machen. Ich war leider nicht in der Lage, mit den Walhaien zu schwimmen und werde euch deswegen über die Erfahrung von meinem Freund berichten. Vielleicht ist euch schon in den anderen Blogeinträgen aufgefallen, dass ich keine Restaurant-Tipps gebe und das ist der Grund dafür: In der Nacht vor dem Schnorcheln habe ich kaum geschlafen, da ich die ganze Nacht fürchterliche Magenschmerzen, Kreislaufprobleme etc. hatte. Da ich mir nicht sicher bin wo ich mir meinen Magen verstimmt habe, gibt es für die meisten Orte auch keine Restaurant-Empfehlungen.
Von Anfang an stand ich dieser "Attraktion" etwas kritisch gegenüber. Warum? Walhaie werden täglich mit Futter angelockt. Somit garantieren die Organisatoren, dass die Walhaie jeden Tag vor Ort sind. Natürlich können Walhaie kommen und gehen wann sie wollen, aber man nimmt ihnen durch die Fütterung ein Stück ihrer Natur weg. Sie gewöhnen sich an die Fütterung, kommen jeden Tag und erleben Menschen aus nächster Nähe. Die Organisatoren möchten dem Ganzen entgegenwirken und sehen dafür Verhaltensmaßnahmen vor. Bevor sich Touristen in die Boote begeben können, gibt es eine kurze Einweisung über das richtige Verhalten in der Nähe der Walhaie wie z. B. genügend Abstand zu halten oder sie nicht zu streicheln.
Der Spaß kostet 1000PHP. Und wer denkt, man hat so viel Zeit wie man will, leigt leider falsch. Ihr zahlt 1000PHP für 30 Minuten. 30 Minuten! Dazu kommen noch 100PHP "Whale Watching Fee". Ihr werdet schnell merken, dass Filipinos für alles noch zusätzlich noch eine Fee verlangen. In Oslob ist das "Whale shark watching" die reinste Massenabfertigung. Seid also so früh wie möglich dort (ca. 6 Uhr morgens), um die endlos lange Warteschlange zu vermeiden. Vor Ort könnt ihr euch Unterwasserkameras und Schnorchel Ausrüstung gegen Gebühr ausleihen.
Es gibt die Möglichkeit mit den Walhaien zu schwimmen oder sie vom Boot aus zu beobachten (das ist natürlich billiger und kostet nur 500PHP). Ungefähr mehr als die Hälfte der Touristen kann nicht schwimmen und bleibt deswegen im Boot. Um Freunden und Familie Fotos von den Walhaien zeigen zu können, werden manche Nicht-Schwimmer mit Schwimmweste ins Wassergeschmissen, von einem Filipino bei den Füßen unter Wasser gezogen und von einem anderen Filipino fotografiert. Ist bestimmt lustig zu beobachten 😉
Im Großen und Ganzen ist es auf jeden Fall eine Erfahrung wert. Wer aber aus ethischen Gründen auf diese "Attraktion" verzichten möchte, kann auch auf Donsol Bay (Philippinen) mit den Riesen schwimmen. Diese werden dort nicht gefüttert. Aber deswegen gibt es keine Garantie darauf, dass Walhaie auftauchen (Hochsaison ist von Februar bis April).
Mehr zu den Walhaien in Oslob findest du auch auf Rob Brands sowie Christian Leblancs Youtube Kanal. Ich habe beide Kanäle für die Reise sehr hilfreich gefunden – verlinke beide Videos hier.
Rob Brand – Oslob Whale Shark and Tumalog Falls Guide
Christian Leblanc – Whale Sharks of Oslob & Tumalog Waterfall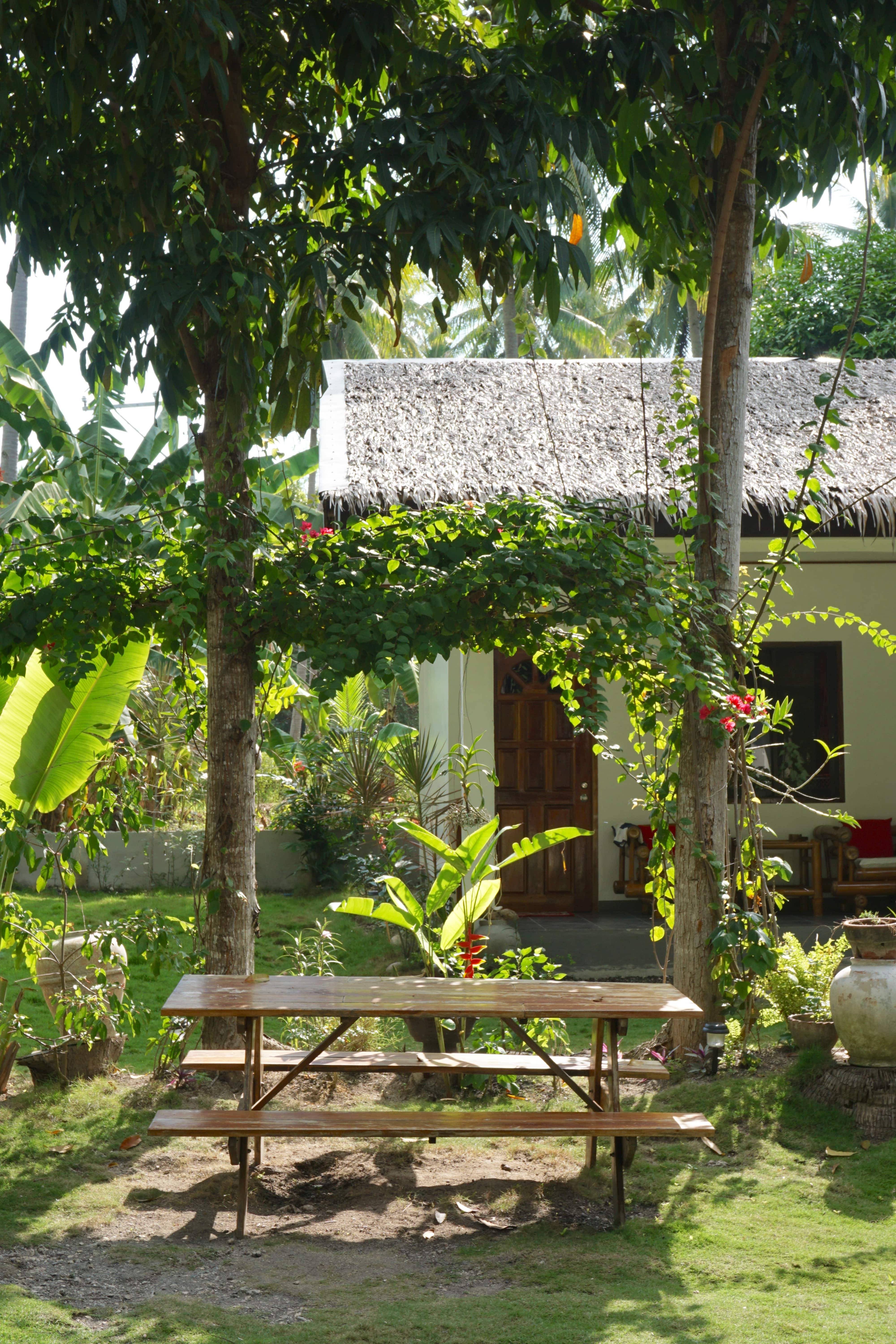 ---
Schlafen in Oslob – Infos & Tipps
Die meisten Touristen wissen gar nicht, dass der Spot zum Walhai-Schwimmen nicht im Ort Oslob liegt. Sie buchen eine Unterkunft direkt in Oslob, ungefähr 9km vom Geschehen entfernt. Es gibt nur eine handvoll Unterkünfte direkt neben dem Schnorchel Spot. Diese sind preislich gesehen die teuersten.
Ich habe auf booking.com ein sehr liebes Resort namens The Farm entdeckt, das an der südlichen Spitze von Cebu Island in Lilo-An liegt – ungefähr 10min Tricyle-Fahrt zu den Whale Sharks. Es ist nicht zu teuer, relativ neu und modern eingerichtet. Der Preis für ein Zimmer und zwei Personen (inkl. Frühstück) liegt bei ungefähr 37€. Dieses Resort liegt (5min Fahrt) in der Nähe des Hafens, wo die Boote nach Negros abfahren. Wer also nach dem Schnorcheln nach Dumaguete möchte, kann von dort aus ein Ticket nach Sibulan, Negros kaufen. Von dort aus sind es nur 10min nach Dumaguete.
Falls ihr noch Fragen habt, lasst es mich in den Kommentaren unten wissen!

[:en]
I came across Christan Leblanc's Youtube channel when I was doing some travel research in December. He was traveling around in Asia for a few months and also in the Philippines. His daily vlogs were really helpful for my journey, also the one from the whale sharks in Oslob. Whale sharks are the biggest sharks and fish in the ocean, but don't worry, they only eat plankton 🙂
---
Snorkeling with whale sharks – experience, personal opinion & advice 
Tourist come in hords from Cebu City to snorkel or at least to see these giants. Unfortunately, I wasn't able to go and swim with the whalesharks because I got super sick the night before; but my boyfriend went to see the whale sharks and I will tell you everything from his point of view. Maybe you've already noticed that I don't recommend any restaurants in my previous posts from the Philippines. It's because the night before the whale sharks I got really bad stomach cramps, blackouts etc. And because I didn't know what food got me sick, I don't recommend any restaurants.
I've always been a bit sceptic when it comes to the whale shark attraction in Oslob because they're being fed in order to garantee the daily presence of whale sharks on site. Otherwise they wouldn't make any money. Whale sharks come to eat and when they finished, they leave the site. Basically they're free to go whenever they want to, but in my opinion it's not in their nature to be fed. In addition, they get used to us human beings. In order to counteract, the organizers explain the tourists before they get to the boats how to behave properly in the water e.g. to keep distance and not to touch the whale sharks.
A ticket for one person costs 1000PHP, it's a crazy price! You'll only have 30 minutes to swim in the water. You can lend snorkeling equiment and underwater cameras on site for extra money. Also, there is a whale shark watching fee that you have to pay in addition to the 1000PHP. Filipinos collect fees for everything. As there are so many tourists arriving every day, I'd recommend going there as early as possible. My boyfriend left the accommodation at 5.30 a.m.
There are two possibilities: Either you swim with the whale sharks or you stay in the boat (which is less expensive – 500PHP). Some tourist who stay in the boat want to show their family pictures of the whale sharks. They literally throw themselves (with a life vest) off the boat, get pulled under water by a Filipino and another Filipino takes a picture. Well, that must be really funny to watch 🙂
All in all I guess it is a nice experience. For those of you who want to avoid Oslob because of ethical reasons, there is still the possibility to swim with whale sharks in the Philippines. Whale sharks at Donsol Bay are not fed, but of course there's no garantie that you'll spot a whale shark. I've seen many websites who recommend going there from February to April, because of peak season.
For more information I'd recommend visiting the Youtube channel of Rob Brand as well as Christian Leblancs channel. I'll link both their videos about the whale sharks down below:
Rob Brand – Oslob Whale Shark and Tumalog Falls Guide
Christian Leblanc – Whale Sharks of Oslob & Tumalog Waterfall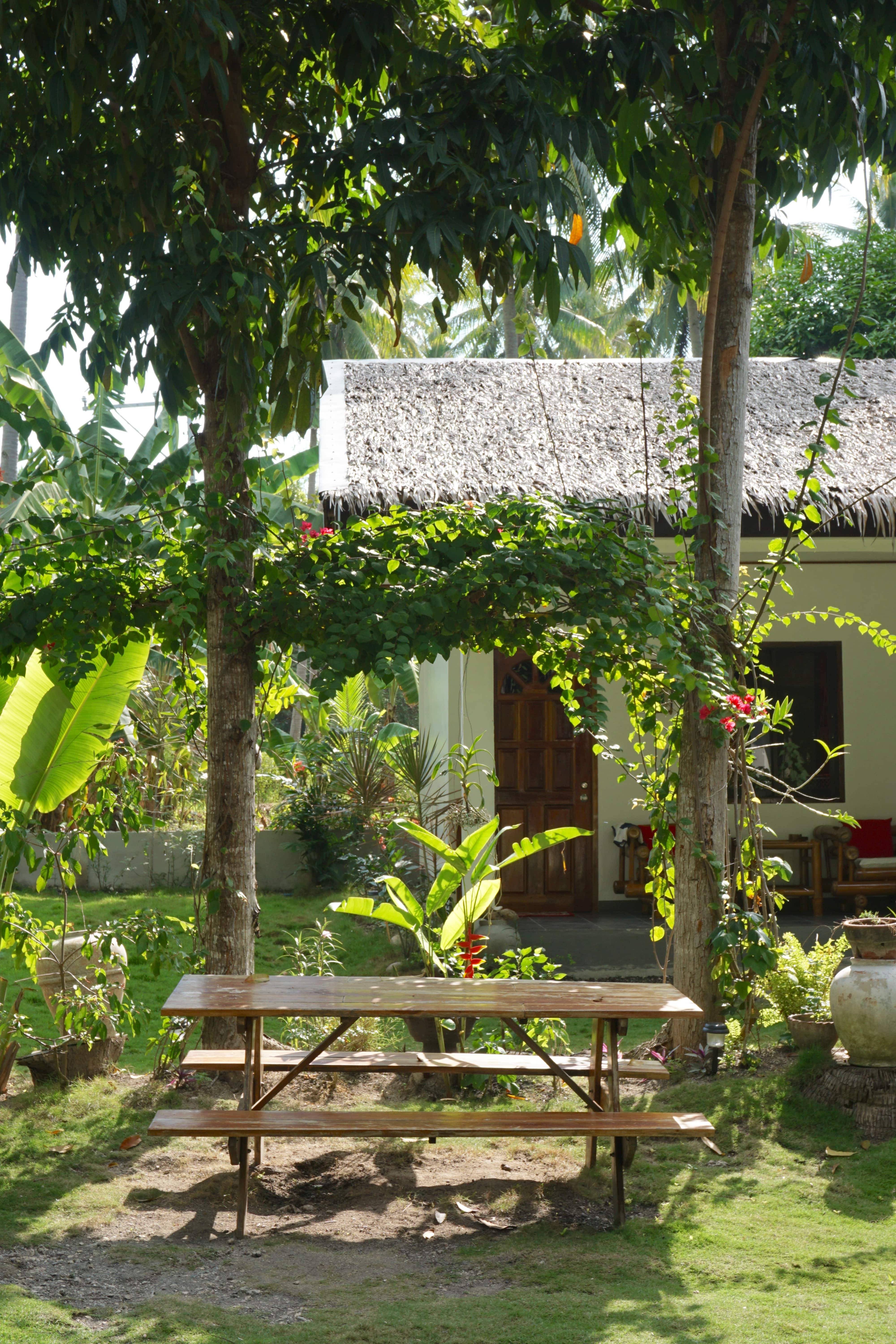 ---
Where to sleep – info & advice
Most tourists book their accommodation assuming that the spot for whale shark watching is in the village Oslob. In fact, it actually is located a bit further south from Oslob (about 9km). There are only a few accommodations right next to the location, some are really expensive. If you're looking for a resort with modern furniture, a calm location and beach access, I can only recommend The Farm in Lilo-An, the very southern point of Cebu Island.
I found this pretty place on booking.com. For my journey, this was an excellent accommodation because the port is only a five minute tricycle drive away and you'll only need 10min to the whale sharks. The price for one room is actually quite good, given the modern facilities and the excellent service. One night costs 37€, including breakfast. So whoever wants to continue his/her journey to Dumaguete, Negros, is best advised to stay there because of it's good location. However, there is no direct connection from Lilo-An to Dumaguete. First, you take a boat to Sibulan, Negros, and continue to Dumaguete with a tricycle which only takes you less than half an hour in total.
If you have any questions don't hesitate to ask me.

[:fr]
Quand j'ai fait de la recherche pour mon voyage, j'ai trouvé la chaîne Youtube de Christian Leblanc. Pendant six mois, il voyageait en Asie de Sud-Est. Parmi ses daily vlogs, il y a aussi un vidéo d'un endroit où on peut nager avec les plus grand poissons dans la mer – n baleines. Ne vous inquiétez pas, ils mangent du plancton 🙂 
---
Nager avec les requins baleines – expérience, opinion personnelle & conseils
Un grand nombre de touristes arrive chaque jour à Oslob que pour les requins-baleines. Malheureusement, je suis tombée malade la nuit précédente. C'est pourquoi je vais vous parler de l'expérience de mon copain. Peut-être vous avez déjà remarqué que je ne vous ai pas recommandé des restaurants, c'est parce que j'ai eu vraiment mal au ventre et du vertige. Comme je ne sais pas quel repas/restaurant m'a causé ces problèmes, je ne vais pas vous parler des restaurants.
Je n'aime pas que les organisateurs attirent les requins-baleines avec de la nourriture parce que c'est contre leurs nature d'être nourris. Mais cela garantit d'avoir les requins-baleines sur place chaque jour. Les poissons s'habituent à l'alimentation, le contact avec l'homme et viennent tous les jours. Par contre, les organisateurs de "whale watching" essaient de contrer cette influence sur les requins-baleines. Avant que les touristes puissent embarquer sur le bateau, chaque touriste doit participer à une inforamtion generale sur le comportement avec les requins-baleines comme par exemple: ne pas les toucher et maintenir la distance.
Un billet est de 1000PHP et cela pour une durée de 30 minutes! A mon avis c'est trop cher. Mais bon. En plus, il y a un frais de 100PHP qu'on doit payer. En effet, les gens aux Philippines demandent des frais partout. Comme il y a un grand nombre de touristes, c'est vraiment fatigant parfois. Pour éviter la file d'attente je vous propose d'y aller le plus tôt possible. Mon copain était là-bas vers 6h00. Vous pouvez emprunter une caméra sous-marine, masque et tube sur place.
Vous avez le choix de nager avec les requins-baleines ou de rester sur le bateau. Presque la moitié de touristes ne sait pas nager et reste sur le bateau. Il y a aussi quelques-uns d'entre eux qui désirent d'avoir une photo avec les requins-baleines. Alors ils plongent dans l'eau (avec un gilet de sauvetage), sont poussés vers le bas par un Filipino, pendant un autre Filipino essaie de prendre une photo.
Ceux, qui voulaient eviter Oslob pour des raisons étiques, peuvent se rendre à Donsol Bay (Philippines) pour nager avec ses géants. Ils ne sont pas nourrit, mais de ce fait, il n'y a pas une garantie de voir les requins-baleines. Si vous êtes interessés d'y aller: la haute saison est de février à avril.
Je vous mets deux vidéos en bas que vous pouvez regarder pour votre recherche sur Oslob. J'ai regardé les deux avant mon voyage et je les trouve vraiment informatives. Il s'agit des chaînes Youtube de Rob Brand et Christian Leblanc (en Anglais).
Rob Brand – Oslob Whale Shark and Tumalog Falls Guide
Christian Leblanc – Whale Sharks of Oslob & Tumalog Waterfall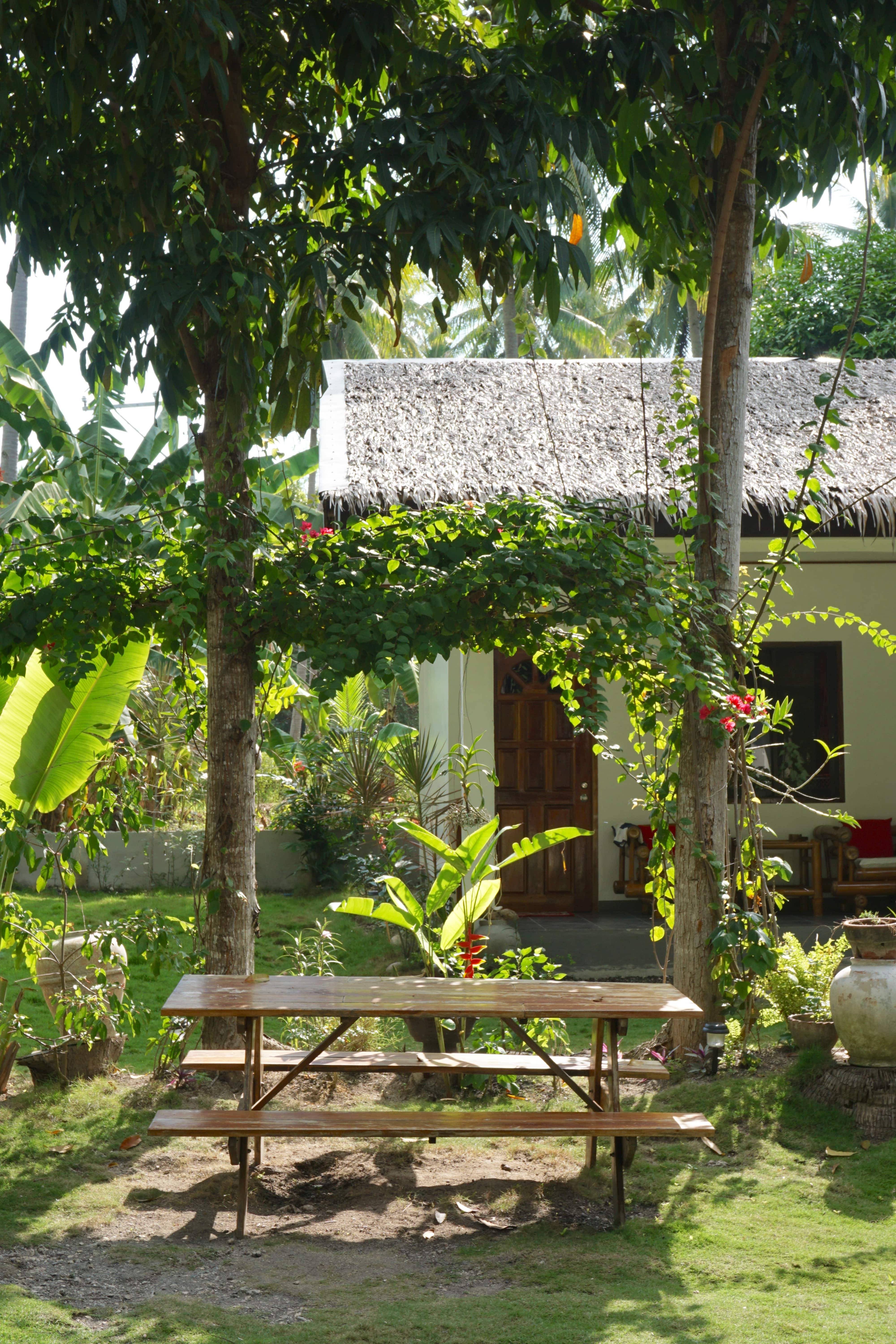 ---
Loger à Oslob – Info & conseil
Le plupart de touristes ne sait pas que le lieu pour le "whale watching" ne se trouve pas directement à Oslob. Le village de Oslob se trouve à 9km du lieu. Il y a peu d'hebergements qui sont jusqu'à coté du site mais ils sont un peu plus cher que les autres. Comme je savais que je vais continuer mon voyage vers Dumaguete, Negros, j'ai trouvé un joli resort qui s'appelle The Farm à Lilo-An. Il y a un port à Lilo-An qui connecte l'île Negros avec Cebu Island.
J'ai fait une réservation pour une nuit et deux personnes sur booking.com. Le prix est de 37€, le petit-dèj est inclus. Le lieu de "whale watching" est située à dix minutes du resort, le port à 5 minutes (avec Tricycle). Si vous voulez continuer votre voyage vers Dumaguete, ce resort est parfait pour vous. Au port vous achetez un billet pour Sibulan, Negros et de Sibulan vous prenez un tricycle pour Dumaguete (10min).
The Farm – booking.com
Looc 6026, Santander
N'hesitez pas de poser des questions dans les commentaires! Bonne journée à vous mes petits dreamers!

[:]