Brela
Brela
[:de]
Guten Morgen! Nach meiner einwöchigen Reise in Dalmatien, Kroatien, bin ich gerade auf dem Weg nach Zürich, um dort eine meiner engsten Freundinnen zu treffen. Ich kann's kaum erwarten sie endlich wieder zu sehen, das letzte Treffen ist schon bestimmt ein Jahr her. Und auf die Schweiz freue ich mich natürlich auch, vor allem auf das Käsefondue.
Da mir jetzt acht Stunden zur Verfügung stehen, habe ich mir vorgenommen, ein paar Blogposts zu schreiben, was ich eigentlich schon vor Monaten machen wollte.
Ich war zum ersten Mal mit einer Gruppe an Freunden auf Reisen, insgesamt waren wir acht Personen. Da wir sichergehen wollten, einen Schlafplatz zu haben, wurden die Unterkünfte schon im Voraus gebucht. Eigentlich wollten wir in Split nächtigen, aber eine Wohnung, die für acht Leute konzipiert ist, hat sich leider schwer finden lassen. Deswegen waren wir im nächstgelegenen Dorf neben Split, nämlich Stobreč. Im Endeffekt war das eigentlich eine super Entscheidung, da es sehr ruhig war in diesem Ort – ganz im Gegenteil zum Partyort Split.
Die ersten paar Tage waren nicht besonders aufregend, da es immer bewölkt war und teilweise auch regnete. Am vierten Tag kam endlich die Sonne heraus und wir haben uns dann dazu entschieden, nach Brela an den Strand zu fahren. Wir gingen davon aus, dass der Strand in Split komplett mit Leuten übergegangen wäre und es war definitiv die richtige Entscheidung. Wir sind um 9.30 Uhr angekommen und der Strand war menschenleer. Es war so sauber und das Wasser war echt schön blau, ich wusste gar nicht, dass man so einen schönen Strand auch in Kroatien finden kann. Eigentlich wollte ich sofort ins Wasser springen, aber dafür war das Wasser eiskalt. Also habe ich ein paar Fotos gemacht.
Wir waren insgesamt zwei Mal in Brela. Einmal direkt in Brela, da parkten wir das Auto vor der Kirche für 45KN (3 Stunden) und gingen dann an den Hotels vorbei in Richtung Norden, auf der Suche nach dem Wahrzeichen von Brela – dem Felsen. Das zweite Mal wollten wir gleich im Norden parken und trafen Gott sei Dank einen Deutschen Hotel Besitzer in Šćit, der uns in seiner Garage zwei Plätze zuteilte (wir waren eigentlich schon kurz davor in der engen Sackgasse umzudrehen, weil kein Parkplatz frei war). Je weiter in den Norden man von Brela aus geht, desto weniger Menschen liegen auf dem Strand.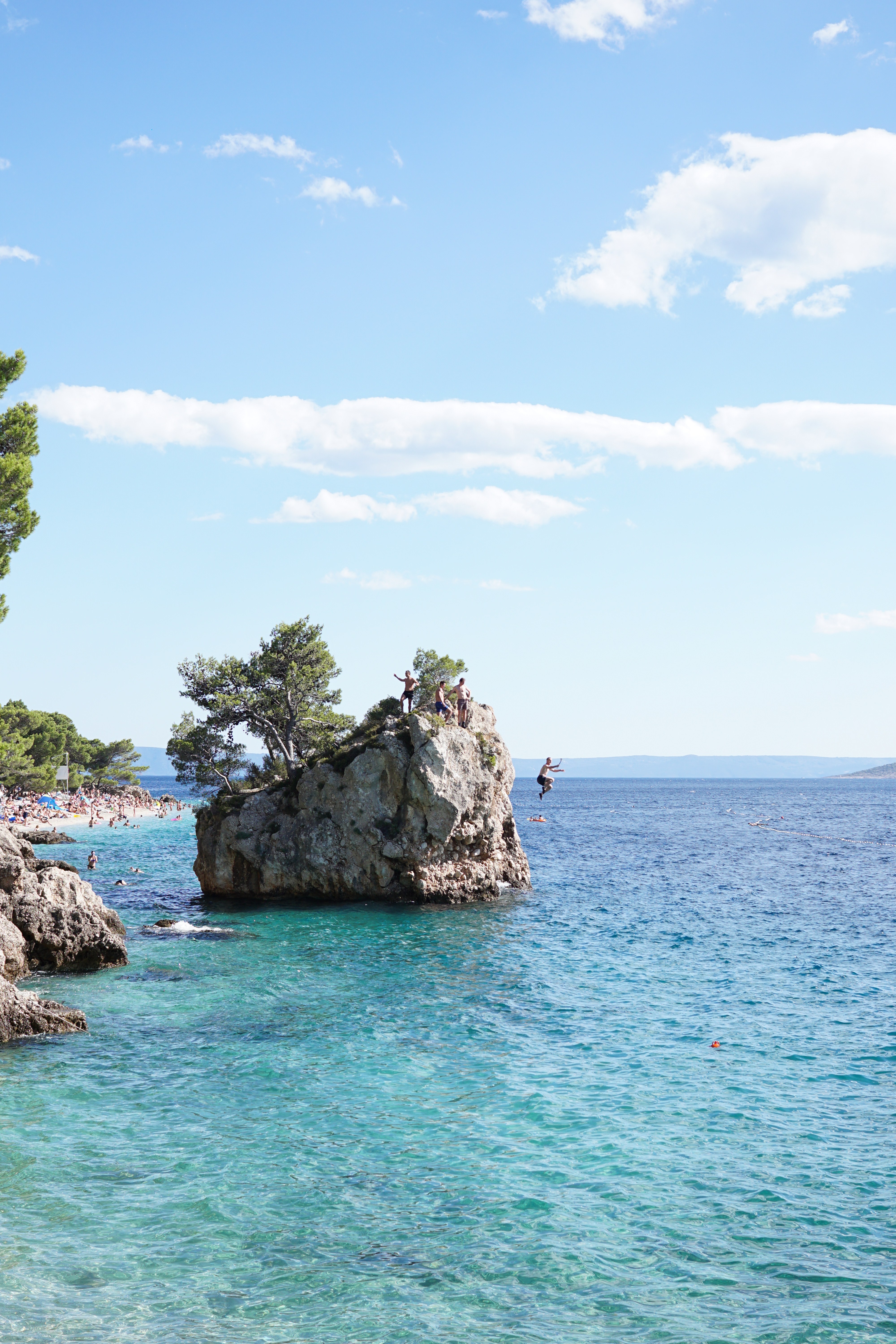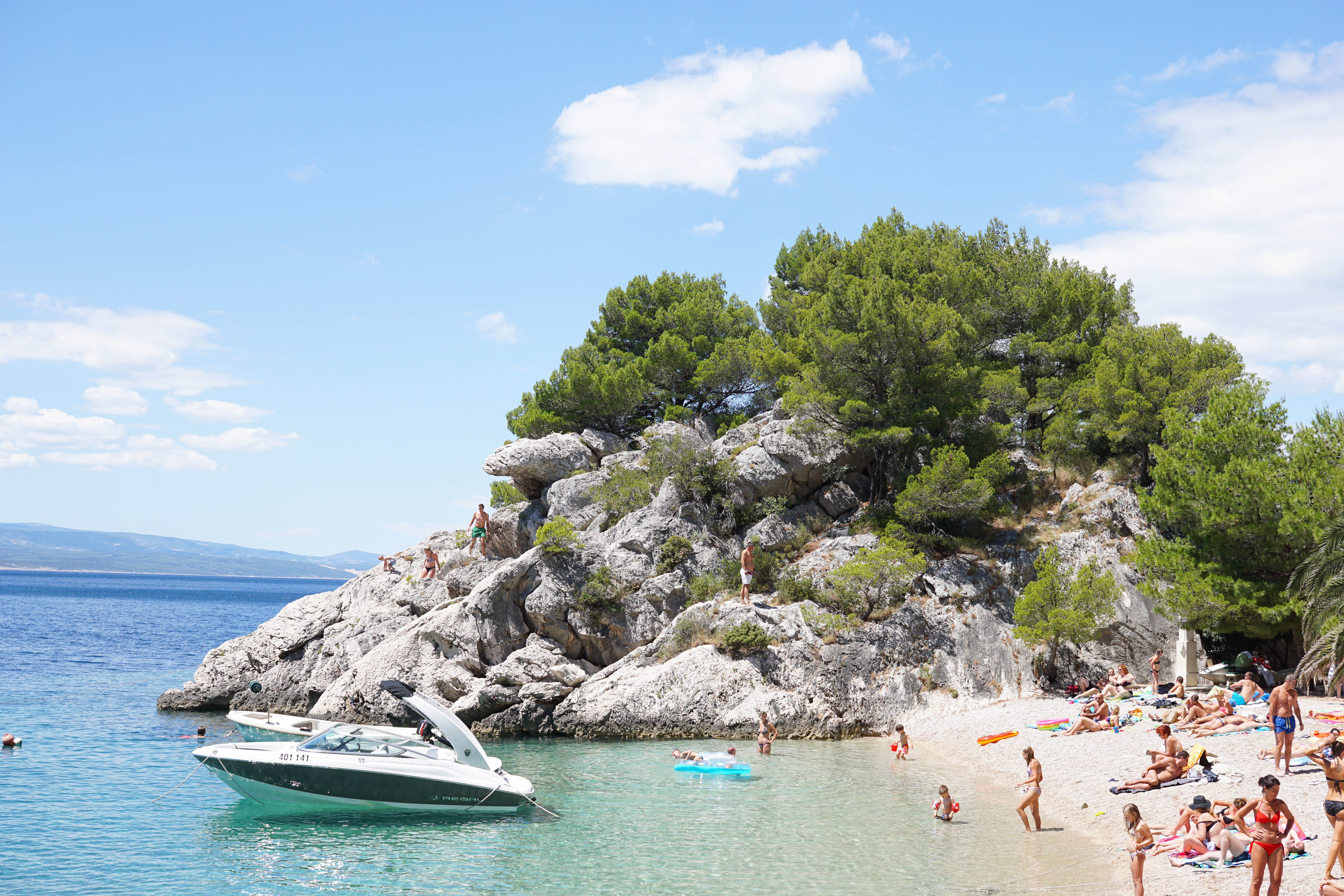 In Brela habe ich die besten Gerichte während dieser Woche gegessen. Wenn ihr also in Brela vorbeischaut und hungrig seid, kann ich euch das Restaurant 'Konoba Feral' wärmstens empfehlen. Es gibt super leckere Fisch- und Meeresfrüchte Gerichte. Das Restaurant ist im Stil einer Taverne gehalten und dafür sehr gemütlich.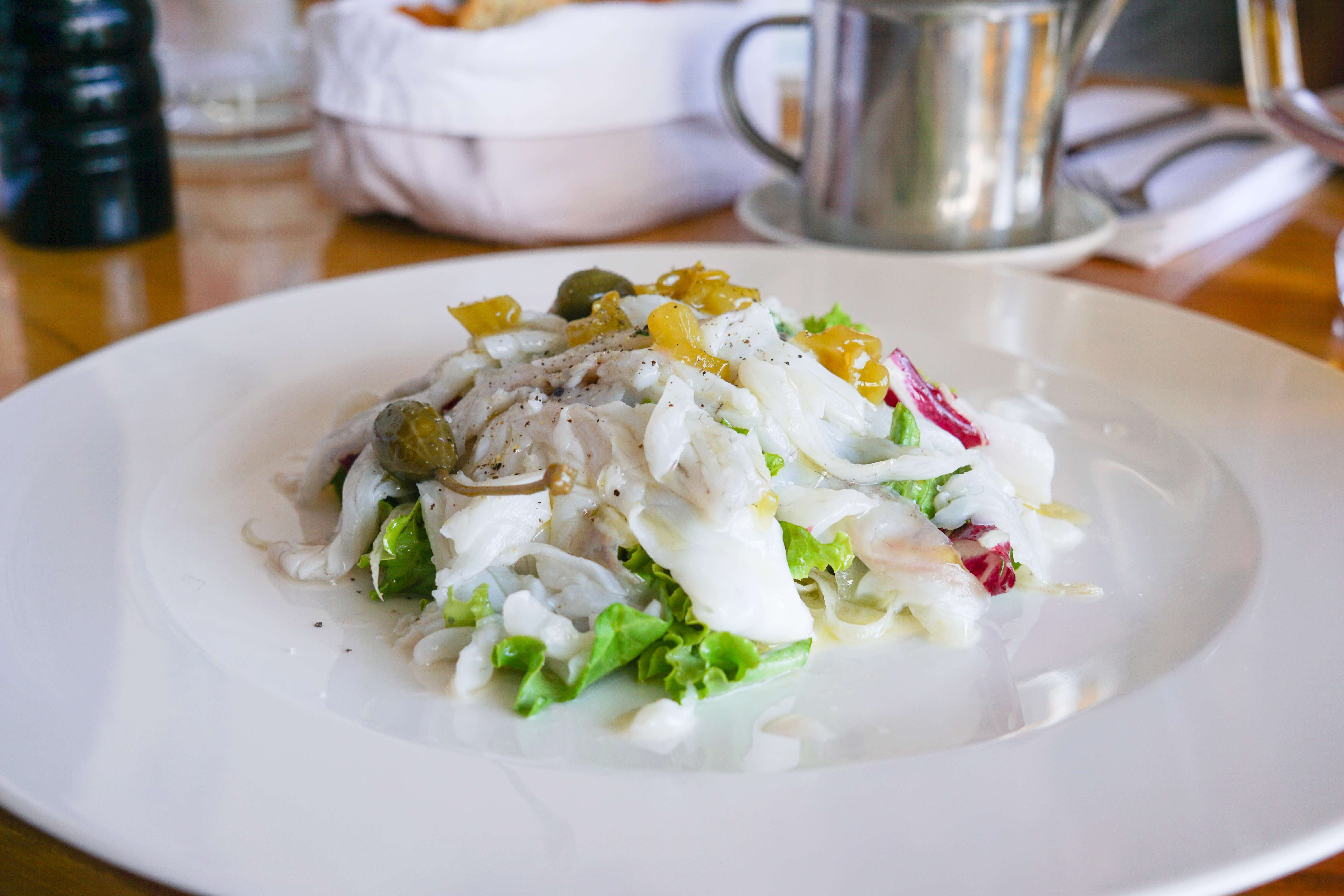 Konoba Feral
Obala Domagoja 30
Brela
Croatia

[:en]
Hello everybody, I hope you're all doing perfect! Guess what, once again I'm on the road! After having spent one week in Dalmatia, Croatia, I'm now headed to Zurich to spend three days with one of my closest friends. I can't wait to see her again and be back in Switzerland! I miss Swiss cuisine so much, especially the cheese fondue.
Since Zurich is an eight-hour drive from Vienna, I thought it's the ideal time to catch up on a few blog posts that I've been meaning to write for months – starting with my most recent trip to Croatia.
This was my first holiday in a big group – we were eight people in total. As you can imagine, a holiday with that many people needs to be planed beforehand – at least as far as acommodation is concerned. We found an amazing apartment in Stobreč, a small village next to Split. It met our needs perfectly: two double rooms, a room with four beds and two bathrooms. We also had a kitchen, air-con in the living room and, in addition, every room had an own balcony.
The first few days were cloudy and a bit rainy, but on the fourth day the sun finally showed up and five of us drove to Brela, which is about a 40 minute car ride from Stobreč. We all didn't want to go to Split because of the masses of people and Brela was quite the opposite. We arrived at an empty beach at 9.30 a.m. – the beach was so clean and the water perfectly blue. I would have never imagined to find such a beach in Croatia. But here I was, trying to go into the water but my feet kept telling me that it was too cold for a swim. So I stayed outside and took some pictures.
We parked our car in front of the church (about 45KN for 3 hours) and went down to the beach. We were looking for the rock in the water, which kind of is the landmark of Brela. We were there twice: once in Brela right next to the rock and the other time we found a very nice hotel owner who let us park in his garage in Šćit, right next to Brela. Brela has many hotels and therefore the beaches in front of the hotels are quite filled. The more North you go, the less people you'll find on the beaches.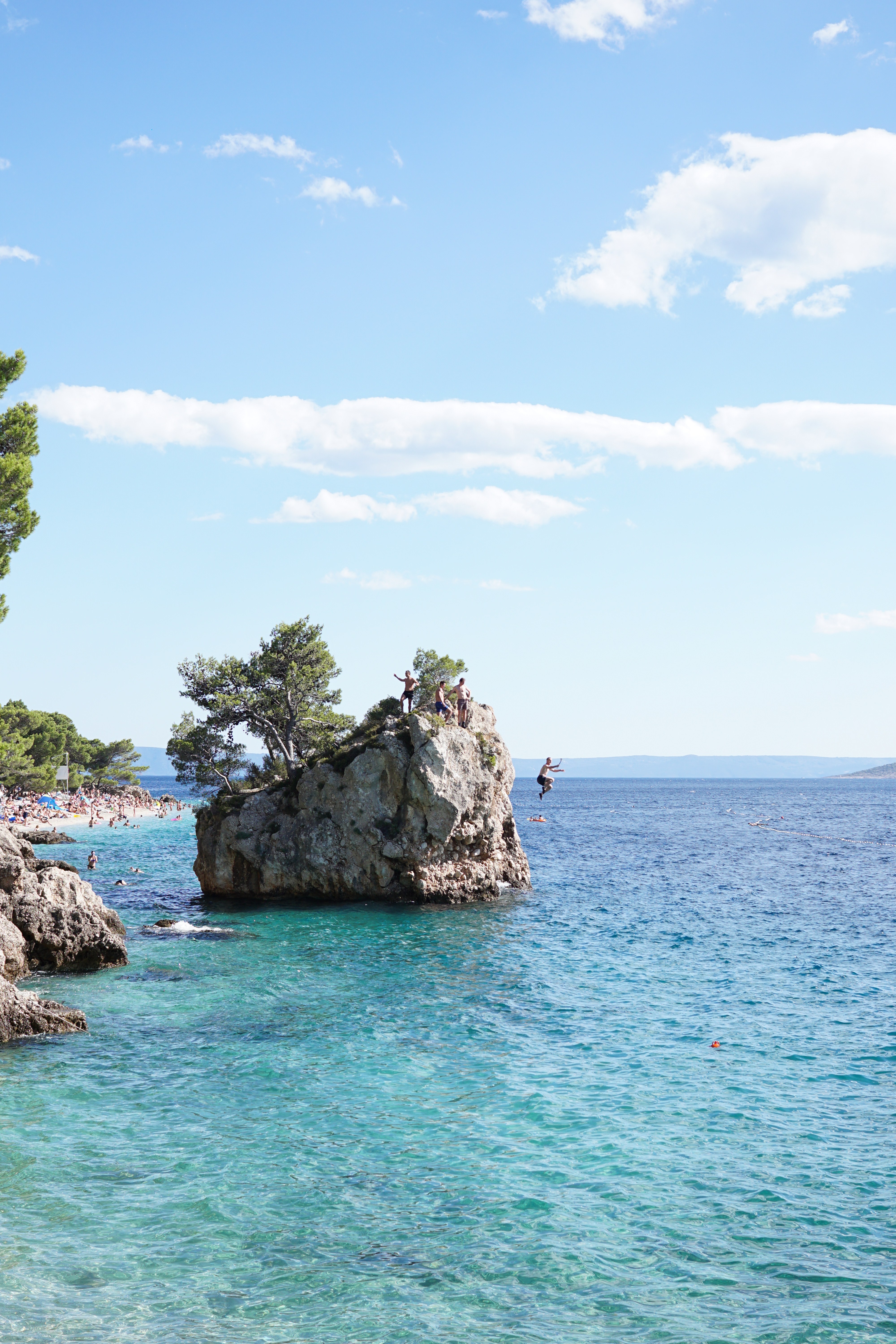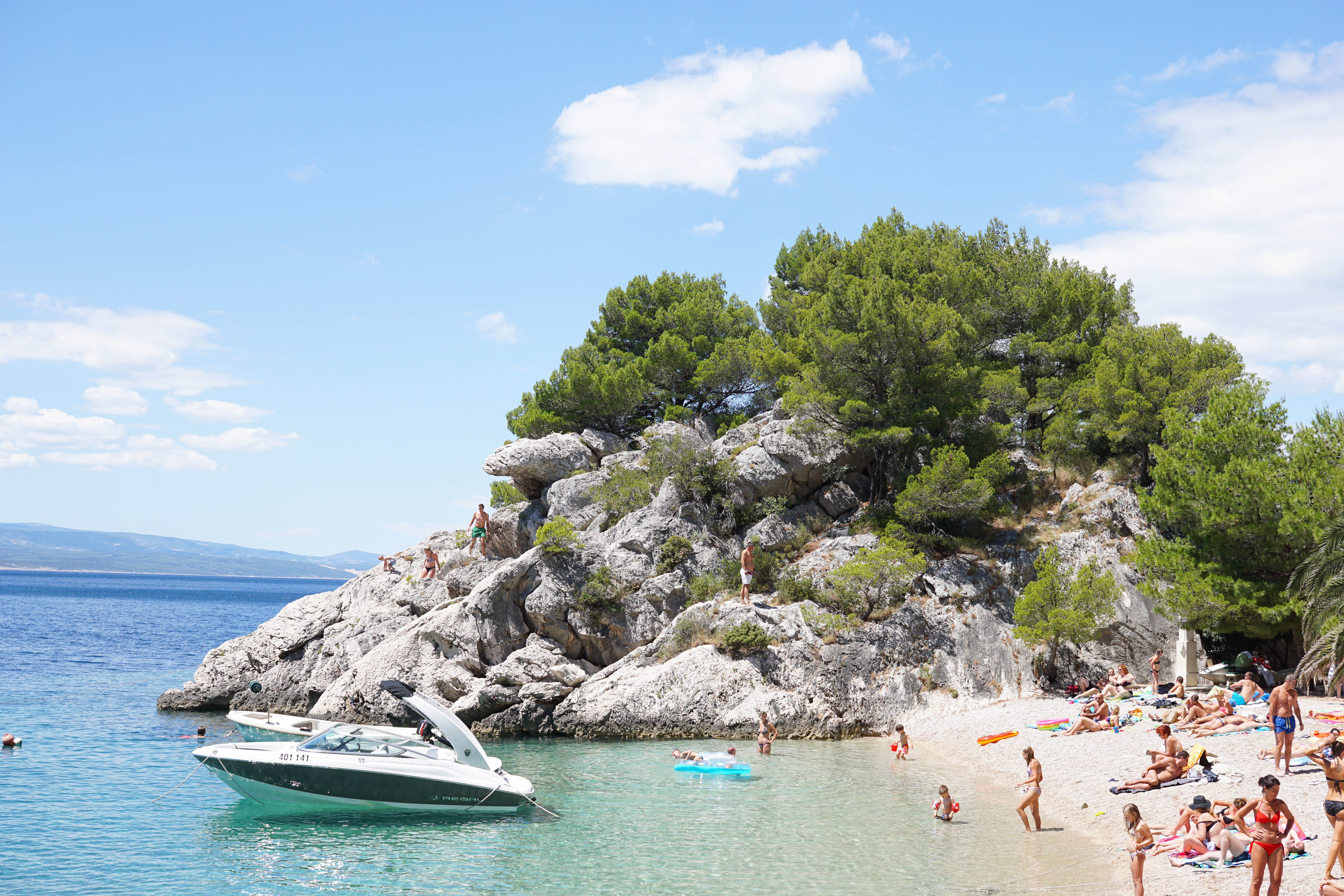 In Brela, I have probably had the best food of my whole stay in Croatia. So if you're spending a day in Brela, I highly recommend stopping by at 'Konoba Feral', which is situated at the port of Brela. It serves delicious seafood and fish. Plus, the staff is very friendly. The restaurant is kept in a tavern style, really nice and cozy.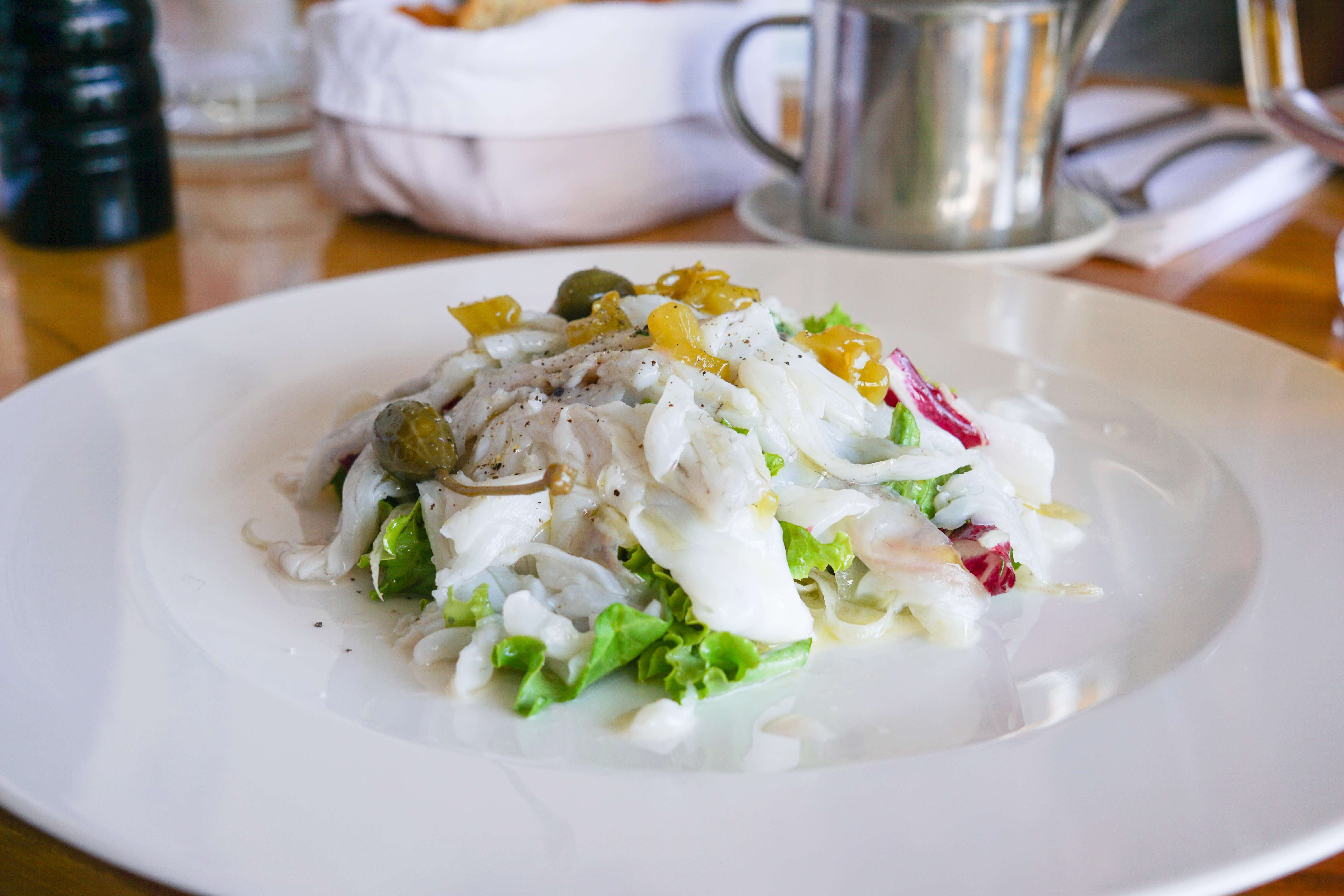 Konoba Feral
Obala Domagoja 30
Brela
Croatia

[:fr]
Salut ! J'espère que vous allez bien ! Je suis en route vers Zurich et comme j'ai passé une semaine en Croatie, il me reste plein de temps pour ecrire des entrées que je voulais ecrire depuis longuetemps. Je vais passer les trois prochains jours avec une des mes meilleures amies à Zurich. En plus, je suis super contente de revenir en Suisse, car elle m'a manqué beaucoup (et la nourriture aussi, particulierement le fondue au fromage).
Bon, j'ai huit heures dans le train et pour ca je vais passer mon temps avec l'écriture des entrées.
J'ai passé mes vacances en Croatie avec sept amis et ce voyage était mon premier voyage en groupe. Nous avons du planifier les logements à l'avance parce qu'on était un large groupe. On a trouvé un apartement à Stobreč, près de Split, qui disposait de quatres chambres (toutes avec propres balcons), deux salles de bains et une cuisine. La plupart de notre groupe etait vraiment contente avec le choix de notre endroit parce qu'il fesait beaucoup plus calme qu'à Split.
Les premiers jours il ne fesait pas beau du tout – il y avait des nuages et il pleuvait, et cela vraiment fort. Le quatrieme jour le temps est devenu mieux et nous avons décidé d'aller à Brela, qui est située à 40 minutes en voiture de Stobreč. Nous ne voulions pas aller à Split parce qu'il y a beaucoup de touristes et pour cette raison Brela était un bon choix. Nous sommes arrivés vers 9h30 et il n'y avait personne sur la plage. L'eau est claire et propre, je voulais même me baigner mais elle était trop froide.
On y était deux fois pendant nos vacances. La première fois nous avons garé la voiture directement à Brela (45KN pour 3 heures) et la deuxième fois nous avons essayé de trouvé un espace de parking dans le village devant Brela qui s'appelle Šćit. Heureusement, nous avons rencontré un très gentil homme qui est le propriétaire d'un hôtel. Il nous a permis de garer les voitures dans son garage. A Brela, nous avons cherché le roc qui est plus ou moins la curiosité de Brela. Si vous cherchez des plages moins fréquentées, allez plus dans le Nord de Brela. Là, il n'y a pas des grands hôtels et pour cette raison il y a moins de gens.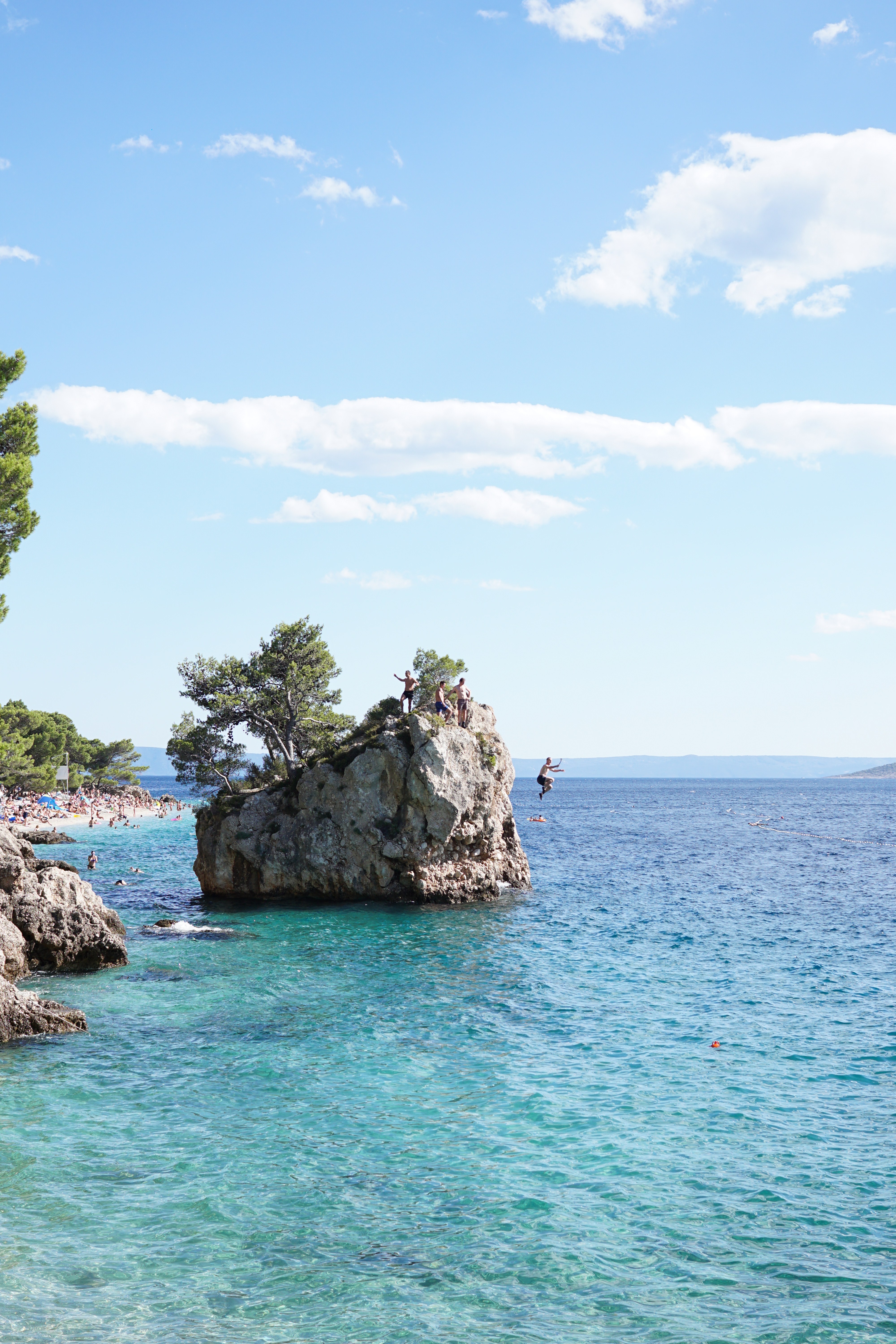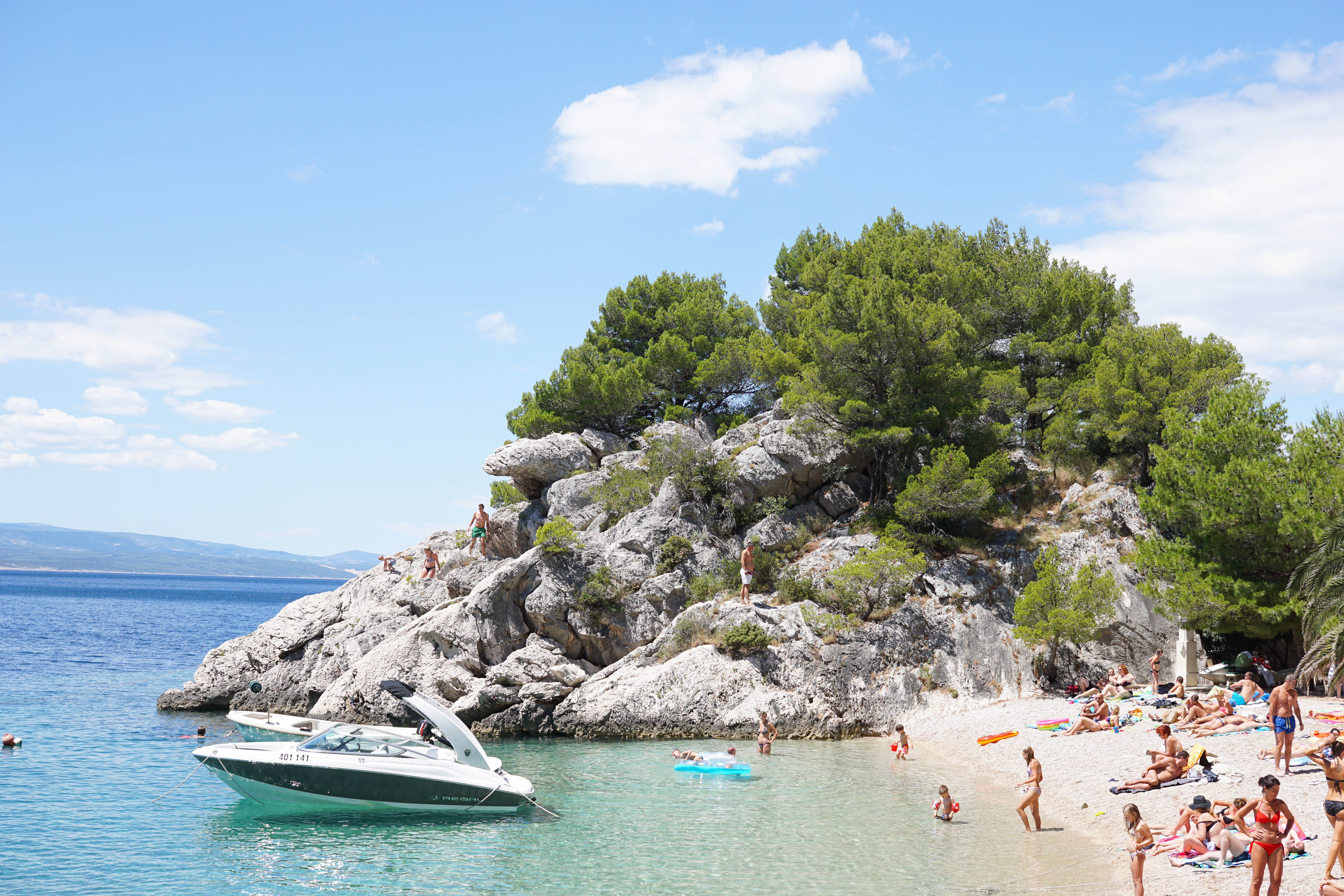 Aussi, à Brela j'ai eu la meilleure déjeuner / dîner pendant mes vacances ! Je vous conseil d'aller manger à 'Konoba Feral' qui est aménagé dans un style traditionnel mais aussi moderne. Commandez des plats avec des fruits de mer ou un poisson, ils sont super bons !!!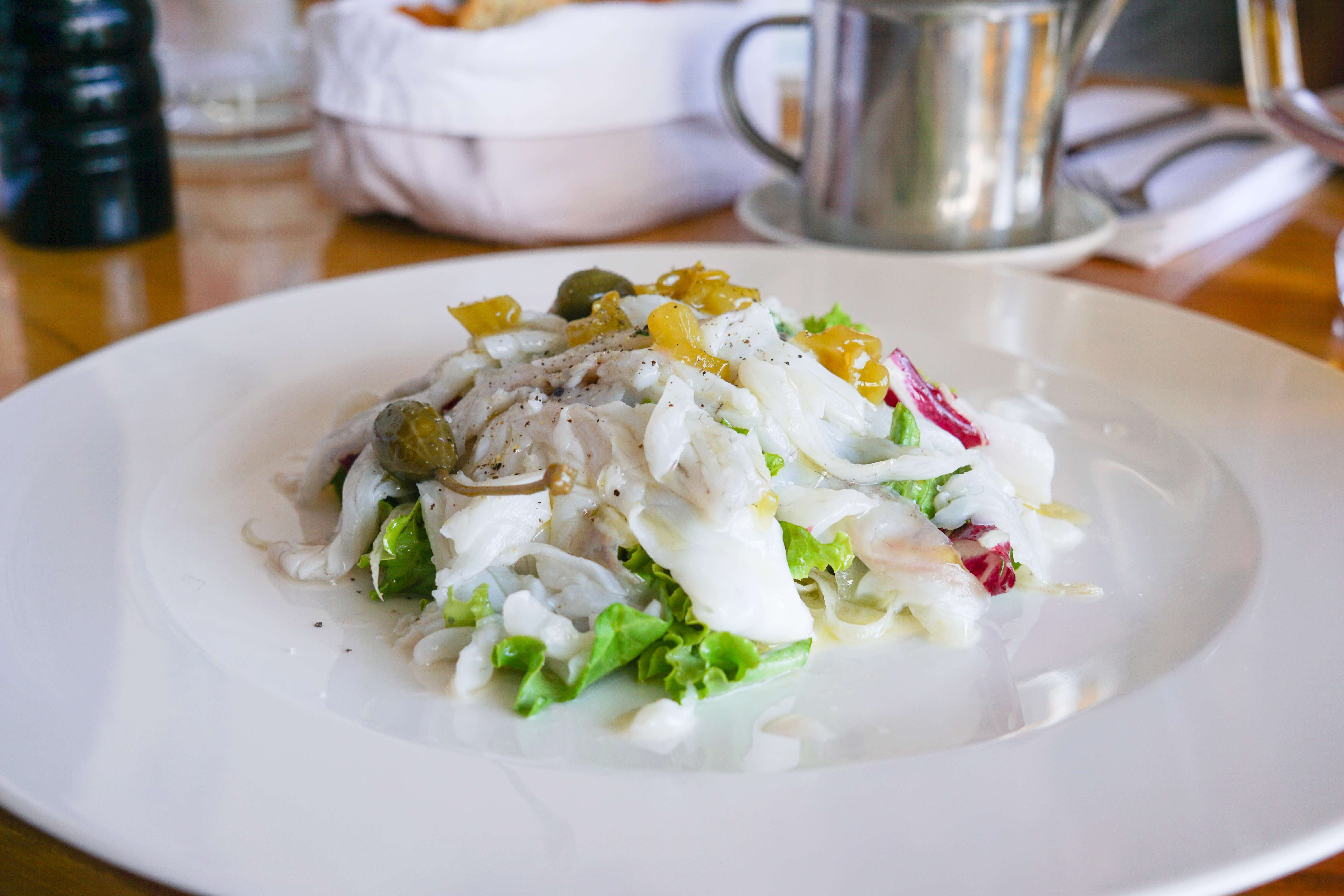 Konoba Feral
Obala Domagoja 30
Brela
Croatia

[:]