Malapascua Island
Malapascua Island
[:de]
Guten Morgen meine Lieben!
Im Norden von Cebu Island liegt Malapascua Island. Dieses wunderschöne Paradies war mein erster Stopp auf der Reise durch die Philippinen. Ein Bungalow mit Blick auf den Strand war für fünf Tage meine Bleibe. Auf dieser Insel leben Touristen und Einwohner sehr nahe nebeneinander. Der Tourismus ist die Haupteinnahmequelle der Einwohner und nach der Verwüstung des Taifuns im Jahr 2013 noch viel wichtiger als zuvor. Da keine betonierten Straßen vorzufinden sind sondern nur Wege aus Sand, ist man nur zu Fuß unterwegs und geht teilweise sogar durch ihre Viertel durch, um an einem schönen Strand zu landen.
---
Was ihr unbedingt vor Malapascua Island erledigen solltet
Geld abheben oder wechseln
Bei eurer Ankunft am Mactan Cebu International Airport solltet ihr unbedingt zu allererst eine Geldwechselstube oder einen ATM aufsuchen. Während meiner Reise auf den Philippinen habe ich die Erfahrung gemacht, dass die ATMs von BDO sehr gut sind, da sie bei meiner Karte immer funktioniert haben. Andere wollten mir einfach kein Geld geben. 😉 Dieser Geldautomat hat eine Grenze von 10.000PHP.
SIM Karte
Da ich ja spontan auf den Philippinen reisen wollte, wusste ich, dass eine SIM Karte unumgänglich ist. Ich habe vieles über die schlechten Wifi Verbindungen gelesen und kaufte mir deshalb eine SIM Karte von GLOBE. Um 1000PHP bekommt man unlimitiertes Internet und die das Netz ist überall erreichbar.
---
Wie ihr auf Malapasua Island kommt
Die Reise dauert ein paar Stündchen, so ungefähr drei bis fünf Stunden. Das kommt immer auf den Fahrer und dann auch auf das Boot an, welches ihr vom Maya Port nehmen müsst. Unsere Unterkunft hat ein Taxi organisiert, das uns innerhalb von vier Stunden zum nörlich gelegenen Maya Port brachte. Von dort aus haben wir dann ein Boot zur Insel genommen. Die Boote haben keine fixen Abfahrtszeiten, sondern warten immer bis das Boot voll ist. Wenn ihr Pech habt, und das hatten wir nämlich, dann kommt nämlich gar keiner und ihr müsst das ganze Boot bezahlen. Ihr könnt das Ganze dann als privaten Shuttle betrachten 😉 Je später man am Hafen ankommt, desto geringer sind die Chancen auf weitere Passagiere. Da wir um 17Uhr dort angekommen sind und es noch dazu geregnet hat, hatten wir nicht all zu große Erwartungen und fuhren nach 15min warten alleine auf die Insel. Ein ganzes Boot kostet 1800PHP (2Pers.) und normalerweise kostet es mit mehreren Leuten auf dem Boot nur 150PHP pro Person.
---
Was ihr auf der Insel alles unternehmen könnt
Tauchen mit den Treasure Sharks
Malapascua Island ist unter Tauchern sehr bekannt für die Treasure Sharks. Die Mehrheit der Touristen ist dementsprechend auch auf der Insel, um zu tauchen. Alle, die keine Taucher sind, haben dennoch zwei Aktivitäten die man nicht verpassen sollte:
Inseltour 
Die Unterkunft hat uns eine Inseltour um 1000PHP organisiert. Im Preis inkludiert sind das kleine Boot, zwei Guides und die Umwelttaxe für den Marine Park). Ihr habt das ganze Boot für euch alleine und auch die Schnorchel Stellen, da nicht viele diese Touren unternehmen. Es gibt vier Plätze, die besichtigt werden. Ersterer ist eine Schnorchel Stelle, wo ihr die Korallen und Fische bewundern könnt. Beim zweiten Platz war ich ganz erstaunt als ich zum ersten Mal auf den Grund gesehen hab – es waren keine Korallen, sondern ein Schiff (oder mehr?) aus dem Zweiten Weltkrieg unter mir. Danach ging's auf in den Norden zum Klippenspringen, nicht's für meine Nerven. Deswegen bin ich im Boot geblieben und habe den anderen dabei zugesehen. Als letztes war dann der Marine Park im Osten der Insel dran. Auf dem Weg dort hin sieht man die Auswirkungen des Taifuns, da die meisten Häuser und Hotels komplett zerstört vorzufinden sind. Es ist unglaublich wie man auf der südlichen und westlichen Seite der Insel nichts von dem Schaden mitbekommt oder sehen kann. Die Strände auf der östlichen Seite sind deswegen auch menschenleer. Nur im Marine Park sind ein paar Touristen dank der herausstehenden Schnorcheln zu erkennen. Die Korallen dort sind wunderschön und größtenteils gar nicht kaputt. Die Taxe wird also nicht umsonst gezahlt.
Bootstour auf Kalanggaman Island
Spätenstens bei eurer Ankunft auf Malapascua Island werdet ihr von den Männern, die euch freiwillig zum Hotel begleiten, von dieser Tour hören, da sie nämlich ihre eigenen Touren dort hin bewerben möchten. Ich kann euch nur dazu raten, diese Tour zu buchen. Die Insel ist traumhaft schön. Aber mehr dazu erfahrt ihr in einem separaten Blogeintrag, den ich euch hier verlinken werde.
---
Sonnenauf- & Sonnenuntergang – bestes Plätzchen
Beide sind von Bounty Beach aus am besten zu beobachten. Für den Sonnenaufgang begebt ihr euch nur etwas weiter östlich von dem Strand und für den Sonnenuntergang gibt es westlicher gelegen einige Hotels, wo Touristen auf Liegestühlen und mit einem guten Cocktail in den Abend hineinstarten.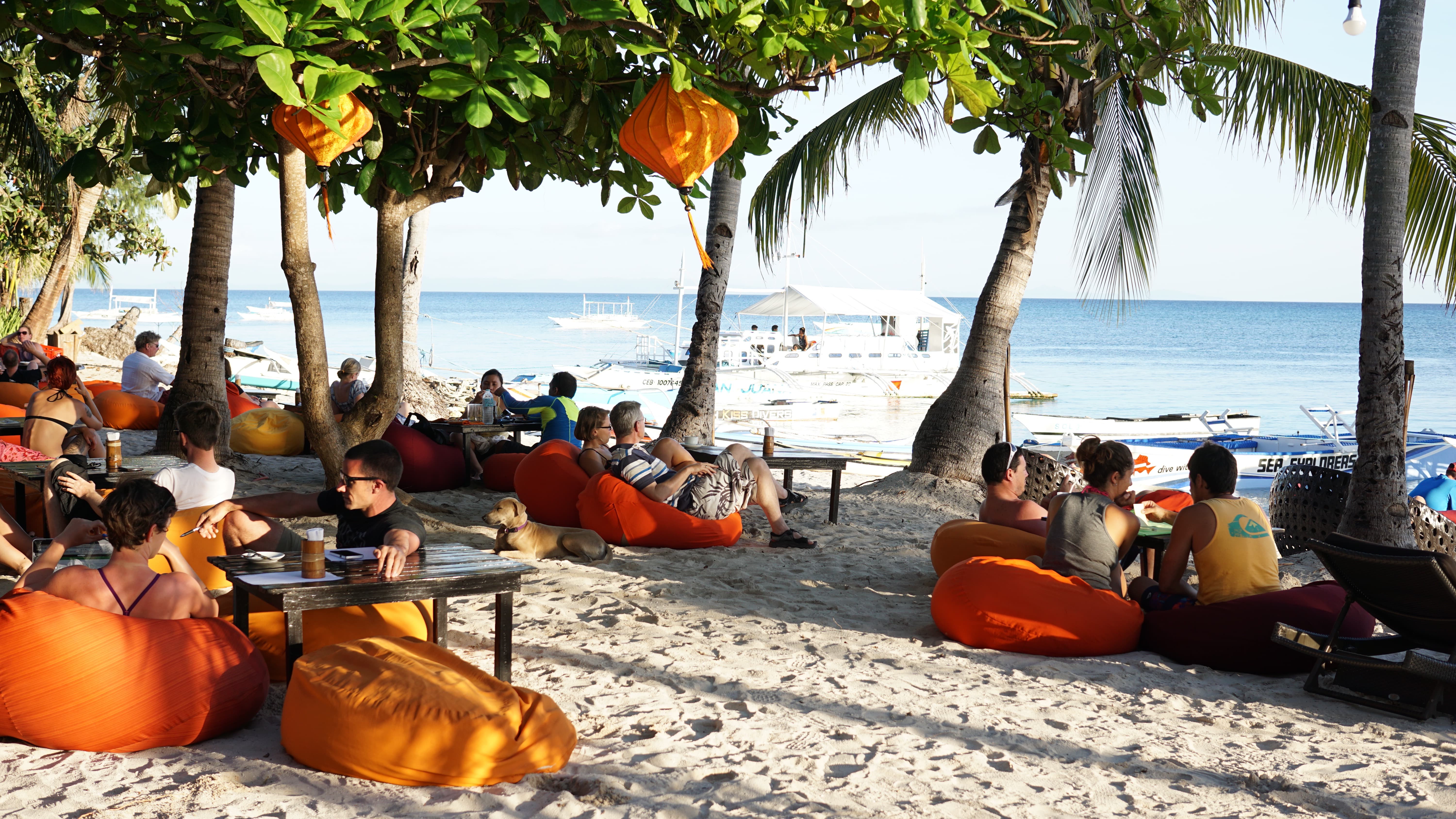 ---
Schlafen auf Malapascua Island
Auf der Insel gibt es ein vielfältiges Angebot von Unterkünften und das zu den unterschiedlichsten Preisen. Die meisten befinden sich auf Bounty Beach.
White Sand Bungalows
Diese Unterkunft liegt zwar nicht auf Bounty Beach, hat aber trotzdem einen wunderschönen Strand zu bieten. Die Bungalows variieren in der Größe und somit auch im Preis. Da ich erst im Dezember eine Unterkunft gebucht habe, blieb nur mehr das größte (zweites Foto) übrig. Dieses kostet 1500PHP (ungefähr 30€) pro Nacht. Es gibt einen Balkon, einen Ventilator und ein Bad, dessen Klo man mit einem Kübel voll Wasser spülen muss. Nachdem ich 23 Tage auf den Philippinen unterwegs war, kann ich sicher behaupten, dass diese Unterkunft im Vergleich zum Rest der Philippinen etwas überteuert ist. Ich habe in allen anderen Unterkünften weniger bezahlt und eine weitaus besser Qualität bekommen. Aber auf Malapascua Island ist diese Unterkunt eine der billigsten. Falls ihr dort eine billigere Bleibe gefunden habt, lasst es mich und alle anderen in den Kommentaren unten wissen.
White Sand Bungalows
ihr könnt per mail reservieren: whitesandbungalows@hotmail.com
Tepanee Beach Resort
Das Resort befindet sich gleich neben den White Sand Bungalows. Es ist viel moderner und deshalb ein klein wenig teurer als das Bungalow. Aber dafür gibt es einen privaten Strand und zwei Restaurants, die gute Bewertungen auf tripadvisor haben. Das Frühstück in der Chiringuito Bar (Foto 3-7) ist sehr lecker und man kann währenddessen den wunderbaren Ausblick auf das Meer und den Privatstrand genießen. Das etwas höher gelegene Restaurant namens Ristorante Amihan überzeugt mit einem Ausblick über das blaue Wasser und den Strand, der vor White Sand Bungalows liegt.
Tepanee Beach Resort
 Reservierung auf der Website
Genießt euren Tag!

[:en]
Good morning guys!
This beautiful little paradise north of Cebu Island was my first destination on my trip. I stayed there for 4 nights in a small bungalow next to the beach. On Malapascua Island, tourists and inhabitants live side by side. This is the perfect occasion to get to know the people who live there and hear their stories. One of those stories being the typhoon that hit the island in 2013. The island and its people are slowely recovering, but tourism – as their main source of income – is back to normal. Malapascua island doesn't have any concrete roads and beaches are easily accessible on foot within a few minutes – that's something special I've only seen on Malapascua Island.
---
What to do before you go to Malapascua Island
Change or withdraw money
If you arrive at Mactan Cebu International Airport, make sure to change money into the local currency or go withdraw money from an ATM. The BDO ATM worked the best for me(all the other ones wouldn't let me withdraw money), but you can only withdraw 10,000PHP.
Get a SIM card
Since I intended to book accommodations during the trip and knew that Wifi access is not available everywhere in the Philippines, I bought myself a GLOBE SIM card with unlimited internet for 30 days for 1000PHP at the airport.
---
How to get there
Getting to Malapascua Island is pretty easy but takes a few hours. From Mactan Cebu International Airport you can take a taxi for about 2800 PHP to Maya port on the Northern tip of Cebu island. Our accommodation in Malapascua Island arranged the taxi for us. The trip will take you three to four hours, depending on the driver. From the Maya port you'll have to take a boat that brings you to the island. Please note that boat drivers usually wait for more passengers to arrive, so there are no fixed scedules. The later you arrive, the less is the chance for you to share a boat with other tourists or inhabitants and therefore you'll have to pay more. For example: We arrived at 5pm and it was pouring – the chances of somebody to take a boat with us were really low. After 15 min there were still no people arriving, so we had to pay the full price of a boat (1500PHP). Normally you would pay around 150PHP.
---
What to do on Malapascua Island
Go on a snorkelling tour around the island 
The owner of the White Sand Bungalows organized the tour for us – we paid 1000PHP for a small boat and two guys that would take us around the island. You'll have the spots pretty much all to yourself as most tourist come to Malapascua Island for diving. As far as I remember there are 4 stops during the tour. The first one is a small spot with corals and many fish. When we dipped into the water of the second place I was really surprised by what was underneath me – a Japanese ship from the World War II. Afterwards, the boys took us cliff jumping. I'm afraid of heights, so I stayed on the boat and watched my boyfriend jump from the cliff. The last stop was in the coral reef (the fee is included in the tour price) on the Eastern side of the island. When we drove around the island, we noticed the damaged houses and hotels that weren't rebuilt after the typhoon in the North and East of the island. All the beaches on these sides were pretty much empty but so beautiful.
Visit Kalanggaman Island
When you arrive at Malapascua Island, you'll be approached by a few Filipinos who will kindly accompany you to your accommodation, for free of course. Their intention is to sell the tours that they offer, one of them being a tour to Kalanggaman Island. I highly recommend you to visit this island. It is just stunningly beautiful. You can read more about the trip and the island on a seperate post. I'll also link it here in this part of my blog post.
Dive with Treasure Sharks
The island is know for its Treasure Sharks. That is why the majority of the tourist on Malapascua Island are divers. There are many resorts, hotels and diving schools where you can rent the equipment.
---
Best sunrise & sunset views
You can find the best spot to watch the sun rise at the very Eastern part of Bounty Beach; sunset can be enjoyed from the Ocean Vida Beach and Dive Resort, that is also located on Bounty Beach but a bit further West. Take a seat in their comfy chairs and order a cocktail to start your evening.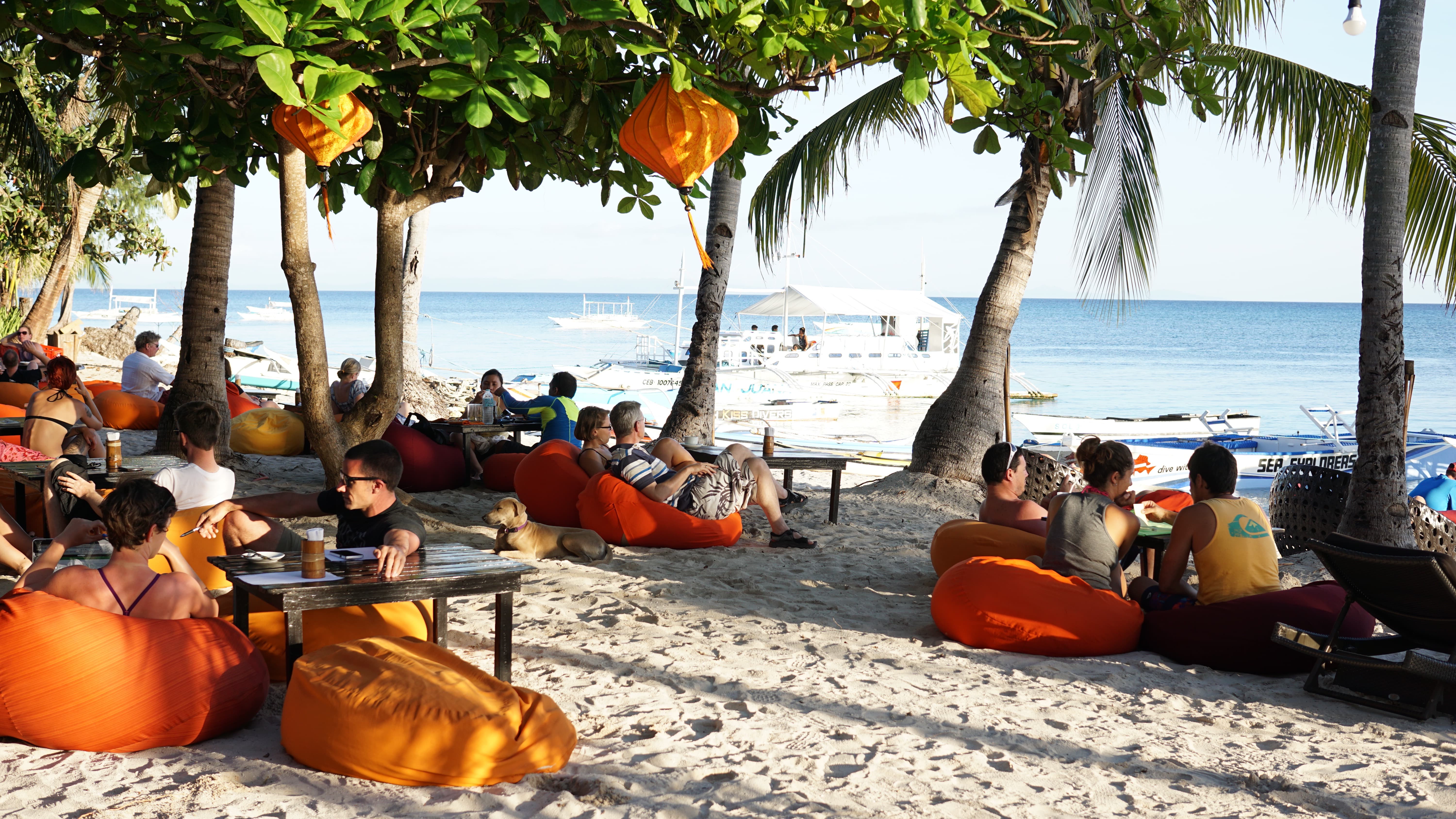 ---
Where to stay
White Sand Bungalows
I stayed at this place for four nights. There is a good amount of hotels and cottages for various prices on Malapascua Island. My budget for each night is at 50€ for two persons but I always try to find something really cheap, but still good looking. White Sand Bungalows offers different bungalows each varying in size and the price is really good. As there was only one bungalow left when I booked in December, I got the largest bungalow for 1500PHP (that's about 30€) per night. After having traveled three weeks in the Philippines, 30€ is actually pretty much for something basic like this accomodation. When you travel somewhere else in the Philippines, you'll easily find a cheaper place that offers better quality. Unfortunately, this place counts amongst the cheapest ones on Malapascua Island. But back to the bungalow: This bamboo bungalow (2nd picture) comes with a balcony and a view to the beach. The bathroom has all the basic facilities (like a fan, desk and a bed) and comes with a toilet that had to be flushed with a bucket of water. Yes, such places still exist. I really liked staying there, but this accommodation might not be for everyone. Therefore I provide you with another accommodation suggestion that I saw during my time on Malapascua Island.
White Sand Bungalows
reservation per mail: whitesandbungalows@hotmail.com
Tepanee Beach Resort
This Resort is located next to the White Sand Bungalow, is more modern and therefore only a bit pricier than where I stayed at. I actually wanted to stay there, but the remaining rooms were expensive for me. Tepanee Beach Resort has a private beach and two restaurants. I had a really good breakfast at the Chiringuito Bar which is located at the private beach of the resort. The second restaurant is Ristorante Amihan that offers a beautiful view over the beach and it's blue water. (pictures 3-7)
Tepanee Beach Resort
reserve a room on their website
Other accommodations
There are many other accommodations on Malapascua – most of them can be found on Bounty Beach.

[:fr]
Coucou!
Ce paradis qui se trouve dans le nord de Cebu Island était ma première destination pendant mon voyage aux Philippines. Je suis y restée dans un petit bungalow à coté de la plage. Sur cet île, les touristes et les habitants se croisent partout. Il s'agit d'un petit île où on peut rencontrer les habitants et écouter leurs histoires comme, par exemple, le typhon qui a detruit la moitié des maisons en 2013. Le tourisme est la ressource principale à Malapascua Island. Vous ne trouverez pas des vrais chemins betonnés sur cet île – et cela est sa caractéristique.
---
Ce qui est important avant l'arrivée à Malapascua Island
Changer ou retirer de l'argent
Quand vous arriverez à Mactan Cebu International Airport, un des deux premières plus importantes choses à faire c'est de changer ou retirer l'argent. Personnellement, j'ai préferé de retirer de l'argent avec le Guichet automatique bancaire de BDO, parce que c'était le seul guichet où je pouvais retirer de l'argent avec ma carte. En plus, il est que possible de retirer 10,000PHP.
Achetez une carte de SIM
Comme je voulais voyager et réserver des chambres spontanément, il me fallait une carte de SIM. Aux Philippines, il n'y a pas de Wifi accessible partout et la carte de SIM de GLOBE a une vaste reseau. Cette carte de SIM est disponible à l'aeroport pour 1000PHP, valable pendant 30 jours et vous offre Internet illimité.
---
Comment arriver à Malapascua Island
Le voyage de Mactan Cebu International Airport à Malapascua Island vous prend quelques heures – de trois à cinq heures, cela depend au conducteur et au bateau qui vous ramène à Malapascua. Notre logement a organisé un taxi pour nous. On a payé 2500PHP de l'aeroport jusqu'à port de Maya qui se trouve dans le nord de Cebu Island. Du port de Maya vous prenez un bateau. Il n'y a pas des vraies horaires pour les departs des bateaux. Généralement, si vous ne voulez pas louer un bateau que pour vous, vous attendez aux autres gens pour partager le prix d'un bateau avec eux. Si vous avez de la chance, vous payez 150PHP par personne. Plus tard que vous arriverez au port de Maya, très peu est la chance de trouver beaucoup de gens pour partager un bateau: comme moi et mon copain. Nous sommes arrivés vers 17h00 et il pleuvait fort. Pendant 15 minutes on était les seuls qui voulaient aller à Malapascua Island et donc nous avons payé le prix pour un bateau, 1500PHP.
---
 Les activités à Malapascua Island
Plongée avec les fameux Treasure Sharks
Malapascua Island est renommé pour plonger avec des "Treasure Sharks". Il y a donc beaucoup de touristes qui viennent juste pour faire de la plongée. Mais pour ceux qui n'ont pas d'experience avec la plongée, voici les autres activités:
Snorkeling tour autour de l'île
Mon logement a organisé ce tour de 1000PHP  pour nous (un bateau, deux guides et entrée au récif corallien protégé sont inclus dans ce prix). Le tour est peu frequenté parce que la plupart de touristes est interessé à la plongée avec les Treasure Sharks. Le tour a quatres arrêts. Le premier est situé ouest de Bounty Beach. Au deuxieme stop, un grand bateau japonais de la Seconde Guerre mondiale vous attend. Après, vous pouvez faire du saut de falaise. Et le meilleur pour la fin: les coraux dans l'est de l'île. Pour arriver au dernier stop, le petit bateau vous conduit du nord à l'est de l'île et ce tour-là vous montre les effets du typhon de 2013. Il y a plein d'hôtels et maisons detruit et des plages presques désertes.
Visite de Kalanggaman Island
Quand vous arriverez à Malapascua, des hommes vous accompagnent volontairement à hôtel. Ces hommes essaient de faire de la publicité pour les tours à Kalanggaman Island. J'ai visité cet île magnifique et je vous conseil d'y aller. Si vous êtes interessés, il y aura un entier entré bientôt disponible sur mon site web. Je vous donnerais le lien ici.
---
 Le meilleur endroit pour regarder le lever & coucher du soleil
Vous pouvez regarder les deux sur Bounty Beach dans le sud de l'île. Pour le lever du soleil marchez au point plus en est de Bounty Beach et pour observer le choucher du soleil rendez vous vers l'ouest de la plage.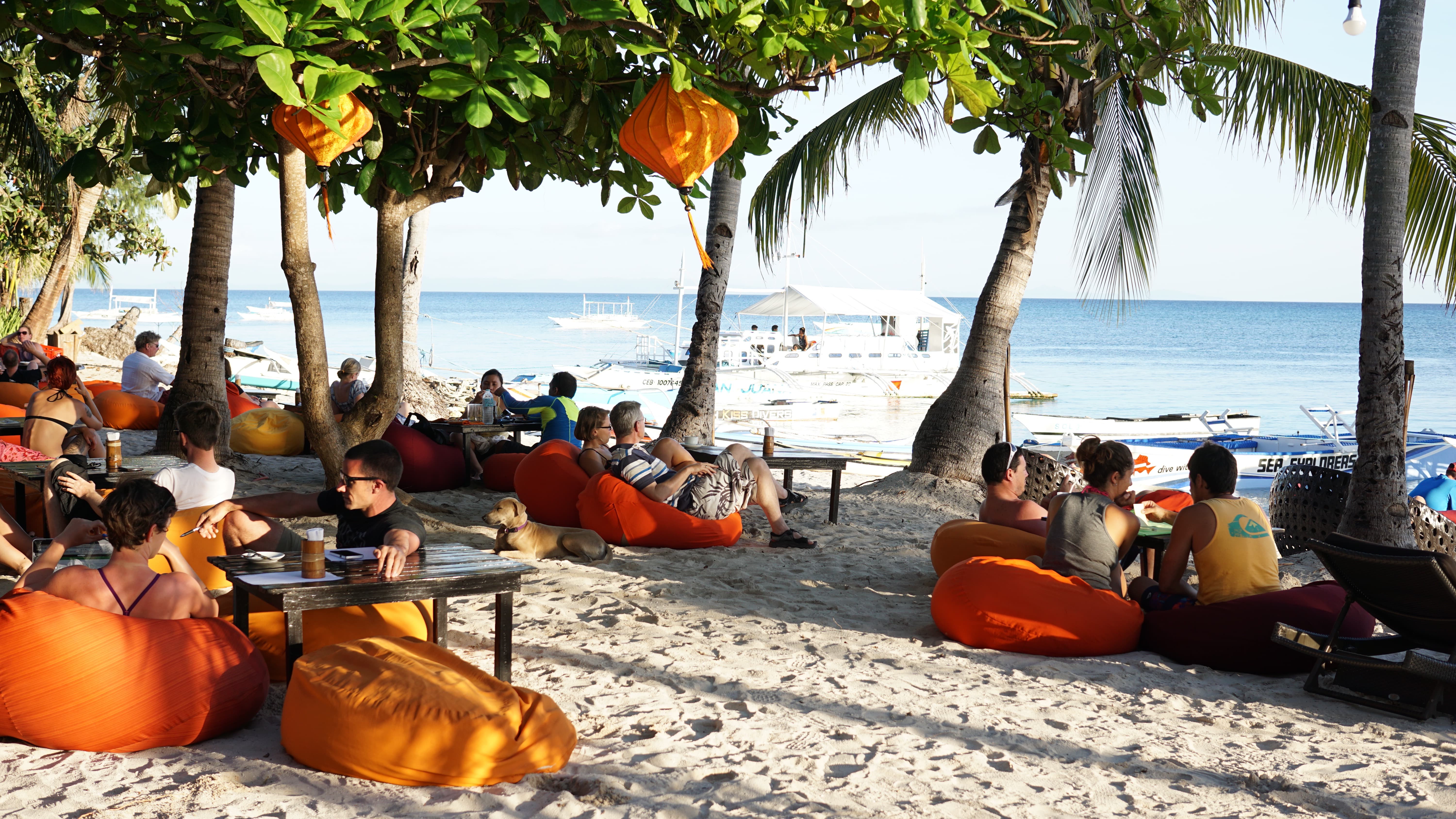 ---
 Loger à Malapascua Island
À Malapascua, vous avez le choix entre plusieurs logements aux prix différents. La plupart se trouve dans le sud de l'île à Bounty Beach.
White Sand Bungalows
J'ai logé pendant quatres nuits à White Sand Bungalows. Là, il y a des bungalows qui varient en taille et comme j'ai reservé en décembre, il me resterait que le plus grand bungalow à 1500PHP (30€) par nuit. Vous trouverez une photo ci-joint (c'est la deuxième). Il y a un balcon, un ventilateur et une salle de bain qui vient avec une toilette qui n'est pas automatique. Mais cela est le cas dans plusieurs logements aux Philippines. À mon avis, les prix sont très bien. Bon, je sais que ce prix de 30€ est un peu trop cher parce que pendant mon voyage j'ai payé moins pour une meilleure qualité du logement. Pour Malapascua par contre, ce prix n'est pas cher, en fait c'était un des plus favorables. Si vous avez trouvez un autre logement au prix favorable laissez-moi savoir dans les commentaires.
White Sand Bungalows
reservez par courriel: whitesandbungalows@hotmail.com
Tepanee Beach Resort
Cet endroit se trouve juste à côté de White Sand Bungalows. Ce resort est plus moderne et un peu plus cher que le mien, mais il vient avec une plage privée et deux restaurants. En fait, je voulais reservé une chambre mais il restait que les plus chères. L'un des deux restaurants offre un bon petit-déj, il s'appelle Chiringuito Bar. Si vous voulez admirer la vue sur la plage, rendez-vous à restaurant Ristorante Amihan pour dîner ou souper (cela me souvient à une discussion que j'ai eu avec mes collocs à Genève – que dites-vous pour manger à midi et le soir?) des bons plats. (photos 3-7)
Tepanee Beach Resort
reservez sur le site web
Bonne journée mes chers!

[:]