Casablanca · everything you need to know for a daytrip
Casablanca · everything you need to know for a daytrip
[:de]
Casablanca war die erste Stadt auf unserer Reise durch Marokko und ich war mir von Anfang an nicht sicher, wie viele Tage bzw Stunden ich dort einplanen sollte. Viele Blogs und auch andere Webseiten empfehlen sehr unterschiedliche Orte in Casablanca zu besichtigen, jedoch haben alle die Hassan-II.-Moschee empfohlen. Um also nicht allzu viel Zeit zu verschwenden, beschloss ich, in Casablanca nur die Moschee zu besuchen und danach gleich nach Fès weiter zu fahren.
Where to stay
Wir sind um 0:30 Uhr Früh in Casablanca angekommen und wurden von unserem Taxi für 350MAD in nur 45 Minuten zum Melliber Hotel gebracht. Wir waren sehr erstaunt als wir die angelaufenen Autos und den vielen Nebel gesehen haben, aber laut unserem Taxifahrer gehört das zum Alltag in Casablanca. Nach unserem Check-In schafften wir es gerade noch so in unser Zimmer und schliefen super schnell ein um gleich um 7 Uhr wieder von unserem Fernseh-Alarm (den nicht wir, sondern der nette Gast vor uns im Zimmer gestellt hatte) geweckt. Wäre der Alarm nicht gewesen, hätten wir in der Früh nicht die Moschee im Sonnenaufgangslicht bestaunen können. Mit einem Zimmer mit direktem Blick auf die Moschee hatten wir schon gar nicht gerechnet. Ich habe das Melliber Hotel extra wegen der Nähe zu der Moschee ausgewählt. Es ist nur eine Gehminute von der Moschee entfernt und das Zimmer war recht schön, mit einem bequemen Bett, Klimaanlage und einer sehr kleinen Kochnische ausgestattet.
die Hassan-ii.-moschee ist die grösste in afrika und drittgrösste auf der welt. anderen religionen ist der zutritt zu vielen moscheen oft nicht erlaubt, deshalb ist es umso schöner, diese moschee von innen betrachten zu dürfen.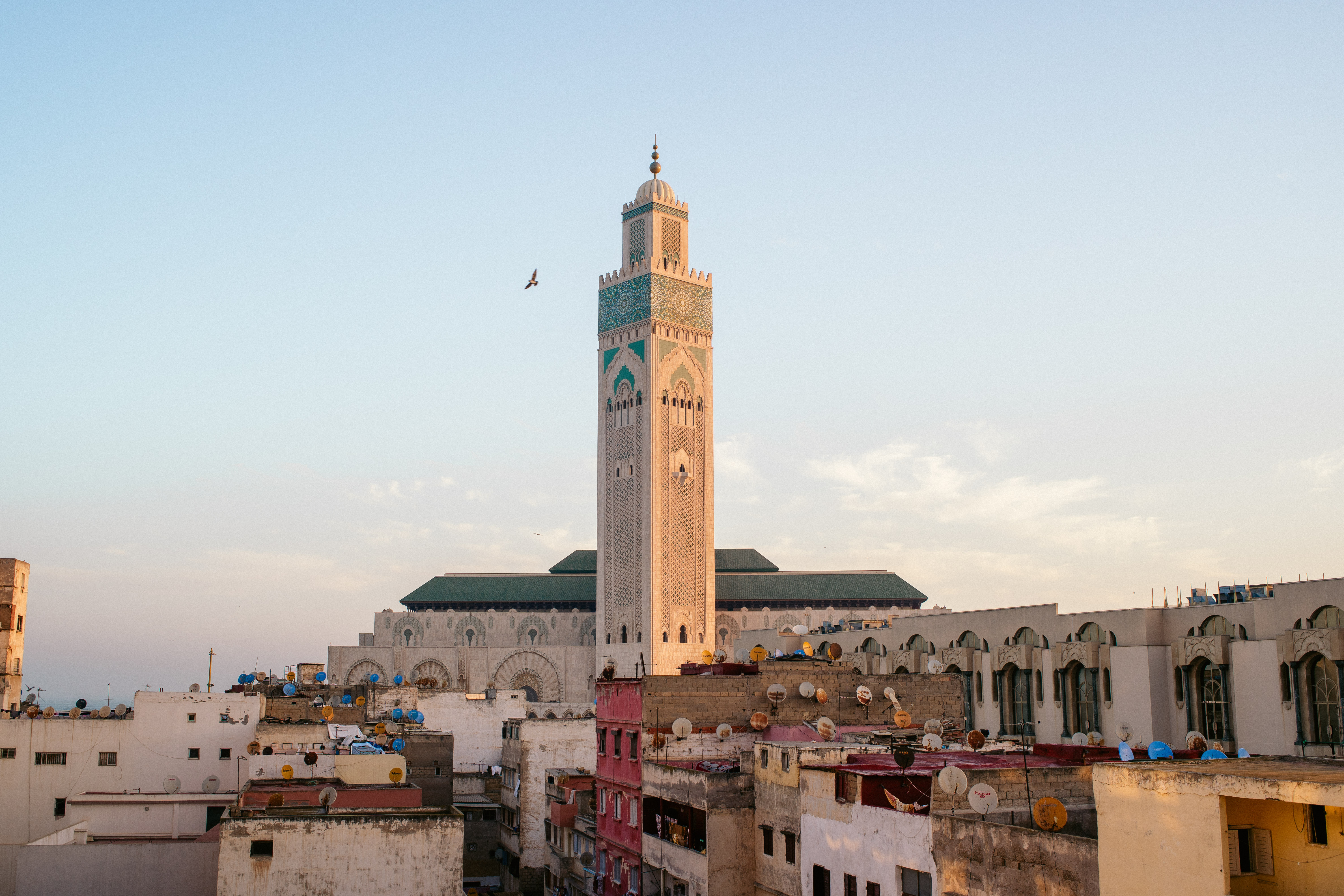 der besuch der Hassan-ii.-Moschee ist ein absolutes muss
Unser Taxifahrer hat uns während der Fahrt über die Tour-Zeiten der Hassan-II.-Moschee berichtet, weil wir an einer Tour interessiert waren. Die Touren finden um 9:00, 10:00 und 11:00 Uhr statt. Da wir natürlich sehr früh geweckt worden sind, konnten wir schon an der ersten englischen Tour um 9:00 Uhr teilnehmen, die uns durch das Innere der Moschee führte. Die Tour kostet pro Erwachsenem 120MAD (umgerechnet ca. 12€) – internationale Studenten zahlen die Hälfte des Preises, also unbedingt auch den Studentenausweis mitbringen.
---
Eine Tour durch die Hassan-II.-Moschee dauert ca. 45 Minuten und zeigt den großen Gebetssaal und die darunter liegenden Waschräume. Die Tour war meiner Ansicht nach sehr kurz, aber dafür recht informativ. Es gibt dazwischen öfters ein paar freie Minuten für etwaige Fotos.
Es gibt natürlich auch Touren, die an einem Tag die sehenswertesten Orte in der Stadt abfahren. Viele Taxifahrer bieten es privat an, sobald man in ihr Taxi eingestiegen ist. Wie bereits erwähnt, habe ich viel recherchiert und nicht all zu positive bzw begeisterte Meinungen im Internet dazu gefunden. Es gibt einige Blogger und Youtuber, die eine Tour in Casablanca gemacht haben. Einen kann ich euch sehr empfehlen, vielleicht kennt ihr den Namen ja schon – Christian Le Blanc. Ich habe auf seinem Youtube Kanal (@lostleblanc) ein Video zu seinem kurzen Aufenthalt in Casablanca gefunden und er nimmt die Follower mit auf die Tour. Dieser Link führt euch zu dem Video (bis Minute 4:30 ist sein Aufenthalt und die Tour in Casablanca zu sehen).
---
Brunch im Organic kitchen
Nach unserer Tour durch die Moschee haben wir im Hotel ausgecheckt und sind vor der Zugfahrt nach Fès noch zum Frühstücken ins Organic Kitchen gefahren. Dort stehen sehr gesunde Speisen auf der Karte, die alle samt sehr lecker klingen. Geschmacklich hat es leider nicht nach viel geschmeckt, aber gesund war's dafür.

[:en]
Casablanca, my first stop on this trip in Morocco and already the first destination I wasn't sure about what to visit or how long to stay at. Various blogs and other websites listed a few "what to see and what to do in Casablanca" but all they had in common was the Hassan II Mosque. So instead of wasting a day strolling around in Casablanca, I decided to visit the mosque and then continue to Fez.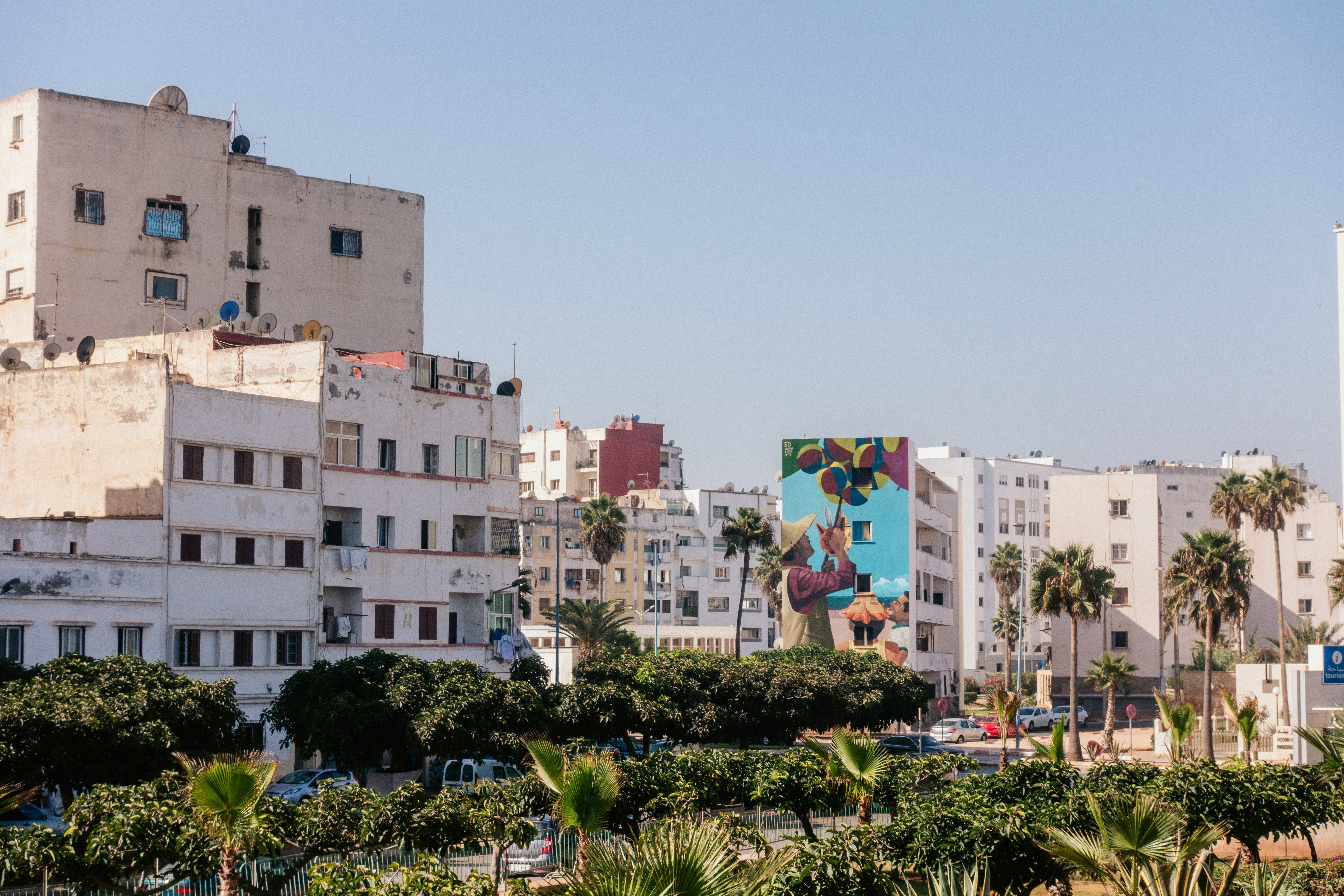 ---
Where to stay
After a 45-minute drive (350MAD) from the airport through very humid and foggy areas, we arrived at around 2am at the Melliber Hotel, checked in and slept for only five hours just to be woken up by the TV alarm the previous guest of our room had set and kindly forgot to delete before their check out. If it weren't for the alarm, we would probably have slept until noon and missed the beautiful sunrise light that gave the look of the Hassan II Mosque that special extra. I chose the Melliber Hotel because of it's amazing proximity to the Hassan II Mosque. The room was quite nice and very clean – it came with a very comfy bed, air-condition and a small kitchenette – and we actually were very surprised to get a room with a view of the mosque.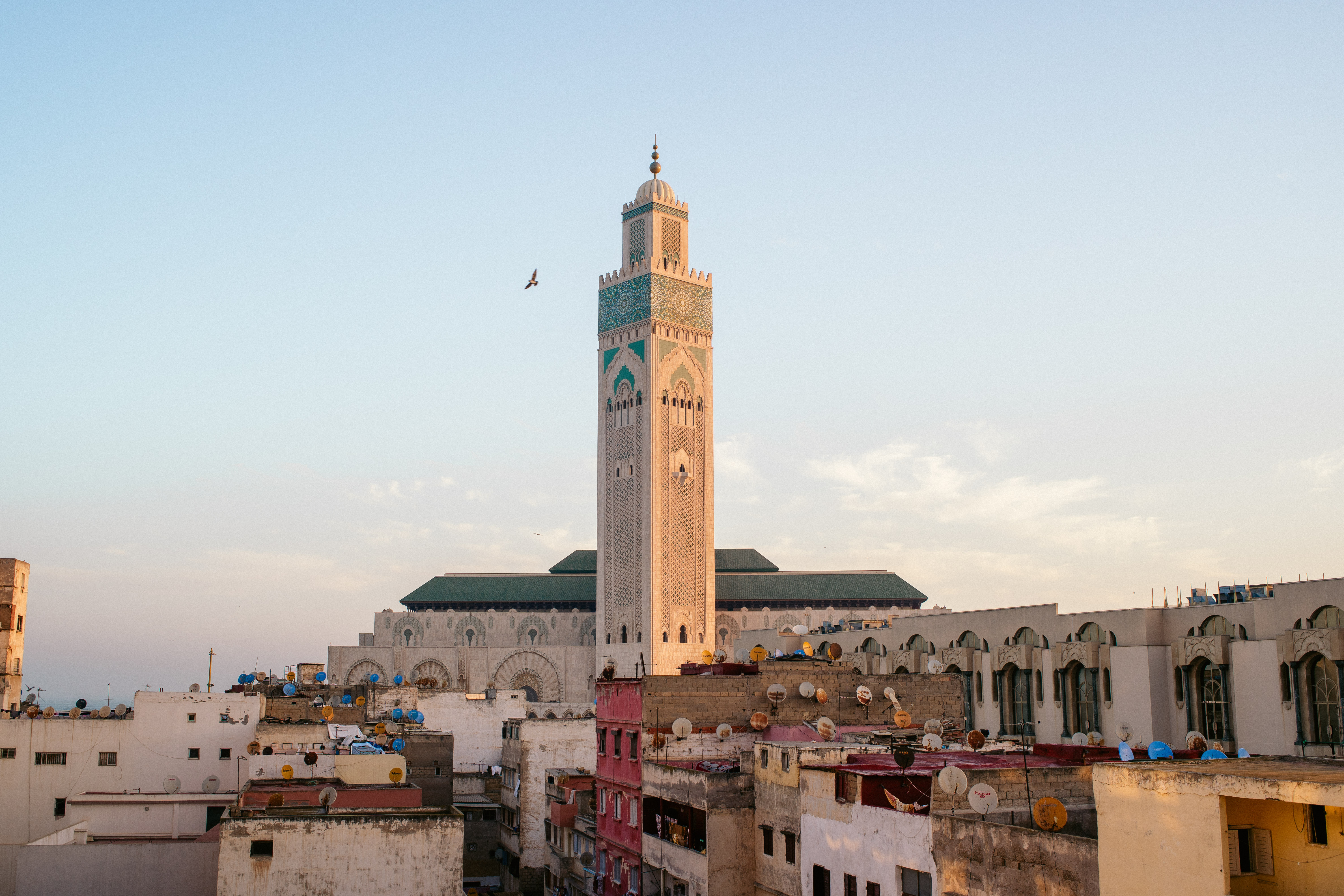 many mosques forbid other religions to enter a mosque, that is why i believe it is even more special to enter the hassan ii mosque since it is the biggest mosque in africa and the third biggest in the world.
---
A visit to the Hassan II Mosque is a must!
Our taxi driver who picked us up at the airport had told us that tours for the mosque start at 9 am, 10 am and 11 am. As we woke up early enough to join the first tour of the day, we headed out just in time to catch an English guided tour of the mosque's interior. There are guided tours in various languages. Tickets can cost up to 120MAD, which is around 11€ or 13USD. International students pay the same price as Moroccans (60MAD), just make sure to bring your student ID. 
---
The tour takes about 45 minutes and walks you through the main prayer hall and down the stairs to the washing rooms. Our guide was very very friendly and gave us all some time to take a few pictures at the end of her talks. The tour was very quick, but still very informative.
If you're looking for a guided tour of the city, there are several taxi drivers that will offer to take you around. Our airport taxi offered us a tour for 120MAD per person which would have taken us about 3-4 hours of visiting the main sights such as a market. But as I did my research before coming to Casablanca, I wasn't very keen to join a guided tour of the city. There are a few youtubers and bloggers who report on their guided tours through Casablanca. I can recommend watching the Vlogs from Christian Le Blanc (aka @lostleblanc), you can click here to see what his visit to Casablanca was like (watch until minute 4:30) – he did a day tour through Casablanca.
---
Brunch at Organic Kitchen
After the tour of Hassan II Mosque we checked out of the hotel and, before we headed off to the train station, we went to have brunch at Organic Kitchen. They have healthy options available for brunch, all of them sounded very delicious. In the end, the food wasn't as tasty (missing lots of flavors), but it was quite okay.

[:]