Ubud · Casa Avana
Ubud · Casa Avana
[:de]
Meine Reise in Indonesien hat mit einem kurzen Aufenthalt in Ubud angefangen. Diese Region von Bali ist vor allem für die spirituelle und authentischere Atmosphäre bekannt. Deshalb dachte ich mir, es wäre der geeignete Ort, um hier die Reise zu starten. In Ubud ist viel los, vor allem im Zentrum. Da gibt es eine Menge Shops und Restaurants und somit auch jede Menge Touristen. Darum war ich umso glücklicher, dass das Airbnb in einer ruhigen Gegend liegt. Und das nur 5-10 Minuten vom Zentrum entfernt.
Tari, ihr Mann und ihr Bruder Krisna haben uns sehr herzlich begrüßt und uns gleich Tipps für die nächsten Destinationen in Indonesien gegeben. Wir sind viel früher als die eigentliche Check-In Zeit angekommen. Wir konnten auch gleich unser Zimmer beziehen, was ich persönlich sehr toll fand, da wir beide uns nach der langen Reise gerne frisch machen wollten bevor wir in unseren ersten Tag auf Bali starten.
Ich habe gleich nach dem ersten Tag zu meinem Freund gesagt, dass es sich nicht anfühlt wie Urlaub sondern als ob man eine Familie oder Freunde besuchen würde, die man schon lange nicht mehr gesehen hat.
Lage
Vom Flughafen
Tari hat uns einen Transfer organisiert für 250.000IDR. Die Fahrt hat ungefähr 1h15 Stunde gedauert. Tari war bei unserer Ankunft sehr überrascht, dass wir schon so früh da waren – sie hatte eigentlich mit mehr Verkehr gerechnet. Es kann also sein, dass eure Anreise etwas länger dauern könnte.
Vom Zentrum (Ubud)
Wir haben uns ein Moped für 60.000IDR (3,60€) pro Tag ausgeliehen, was meiner Ansicht nach die beste Entscheidung war. Das Haus kann nämlich nicht direkt mit dem Auto erreicht werden, sondern nur zu Fuß oder mit dem Moped über einen kleinen Weg. Dieser schmale Weg führt durch die Reisfelder zu Casa Avana. Darüber hinaus ist es generell einfacher, sich mit dem Moped in Ubud fortzubewegen. Die Autos bleiben schnell einmal im Verkehr stecken.
Ins Zentrum braucht man mit dem Moped so ungefähr 5-10 Minuten. Das kommt immer auf den Verkehr an. Wir haben eine Abkürzung gefunden, die nicht über die großen Hauptverkehrsachsen geführt hat und somit haben wir uns auch ein paar Fahrminuten ersparen können.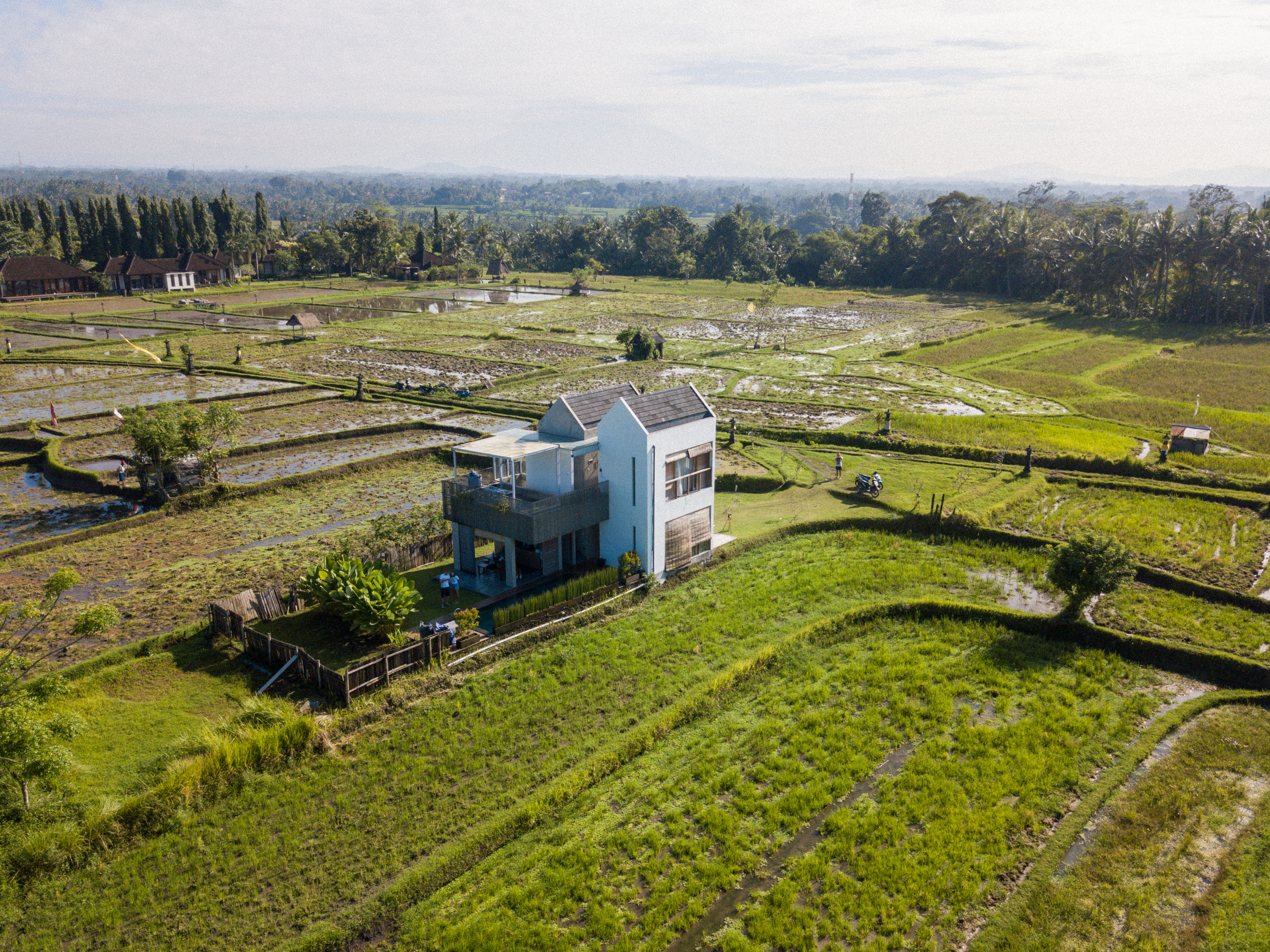 Preis
Unser Zimmer hat ungefähr 36€ gekostet. Wir konnten auch gut etwas Geld sparen, weil das Frühstück in dem Preis inkludiert ist. Erwartet jetzt nicht super viel Auswahl, aber es gibt Tee, Kaffee, sehr gutes Brot, Butter, Erdnussbutter, Käseaufstrich und Eier.
Wir haben das Frühstück immer selbst zubereitet. Es ist aber immer jemand vom Personal da, der das auch gerne für euch übernimmt. Ihr könnt zusätzlich noch bei einem Markt für das Frühstück einkaufen. Ich zum Beispiel habe mir beim Markt mein Lieblingsobst besorgt, das ich seit 2 Jahren nicht mehr hatte.
Ihr könnt eure Flaschen in der Küche auch jederzeit wieder auffüllen.
Zimmer & Ausstattung

Es gibt im oberen Stock zwei Zimmer, die auf Airbnb vermietet werden und beide haben einen Blick auf die Reisfelder. Das Zimmer selbst ist relativ groß, sehr sauber und ist mit allem Nötigen ausgestattet wie zum Beispiel Klimaanlage, Dusche mit warmen Wasser, Taschenlampe, Regenschirm und mobilem Internet – um nur die Wichtigsten zu nennen.
Bevor ihr das Zimmer verlässt, lasst immer die Bambusmatten vor den Fenstern runter. Somit kommt kein Regen rein während ihr unterwegs seid.
SERVICE
Die Angestellten sind sehr sehr nett! Die Dame (ich habe leider ihren Namen schon vergessen) hat uns das Moped organisiert. Taris Bruder Krisna hat uns die Tickets für Gili Meno besorgt, nachdem wir Schwierigkeiten hatten in Ubud Center einen guten Anbieter ohne Abzock-Preis zu finden. Er hat sehr gute Beziehungen und ist einer von mehreren Besitzern eines Hostels in Ubud Center und konnte die Tickets über das Hostel für uns besorgen.
Tari und Krisna sind übrigens beide auch Yoga Lehrer!
Hier könnt ihr einen Yoga-Vormittag buchen.
HAUS & AUSSTATTUNG

Wie ich vorhin bereits erwähnt habe, steht die Küche den Airbnb-Gästen zur Verfügung.
Auf Bali kann es schon mal ziemlich heiß werden, da ist ein Pool im Airbnb also sehr praktisch um sich abzukühlen. Da es leider etwas öfters geregnet hat als ich dort war und die Temperaturen somit nicht all zu hoch waren, habe ich den Pool nicht gebraucht.
Résumé
Ich habe meinen Aufenthalt im Casa Avana wirklich sehr genossen. Schon nach dem ersten Tag habe ich zu meinem Freund gesagt, dass es sich nicht anfühlt wie Urlaub. Es fühlte sich eher so an, als ob man eine Familie oder Freunde besuchen würde, die man schon lange nicht mehr gesehen hat. Ich habe sogar daran gedacht, am Ende der Reise wieder dort zu nächtigen. Dann wollte ich aber eine Insel in der Nähe von Bali erkunden.


[:en]
I started my journey in Indonesia with a few days of exploring and relaxing in Ubud. This area is known for its spiritual and a bit more authentic vibe. Which is why I thought it would be the perfect start to this journey. To be honest, Ubud is quite busy, especially Ubud center. There are loads of shopping opportunities and restaurants, so it goes without saying that there are heaps of tourists. Fortunately, I found best Airbnb stay in Ubud surrounded by luscious green rice fields. It's just a 5-10minute drive from the center.
Tari, her husband and her brother, Krisna, warmly welcomed my boyfriend and I. We arrived with the arranged transfer from the airport. Even though we arrived way earlier than the actual Check-In time, our room was already ready. That was really convenient for us since we were traveling for almost 24 hours. We therefore couldn't wait to get a nice shower and freshen up a little bit to start into the first day on Bali.
To me, it felt like coming to visit a family or friends place that I haven't seen in years.

Location
From the airport
We were picked up at the airport and drove for 1 hour and 15 minutes to Casa Avana (250.000IDR). Tari was very surprised to see us this early because she was expecting heavier traffic. Be prepared to spend a little bit more time in the taxi.
From Ubud center
We rented a scooter for 60.000IDR (3,60€) a day, which is the best option if you stay at Casa Avana. Especially because there is no way to reach the Casa Avana by car because there is only one tiny path leading through the rice fields. One of the staff members organized a scooter for us at our arrival. In addition, I had the impression that it is easier to drive by scooter since the cars get stuck easier in traffic. The roads, in general, are not as spacious as I am used from Europe.
Going to Ubud center by scooter will probably take you 5-10 minutes depending on the traffic. We found quite a nice short-cut instead of driving on the main routes. That way we also saved a few minutes.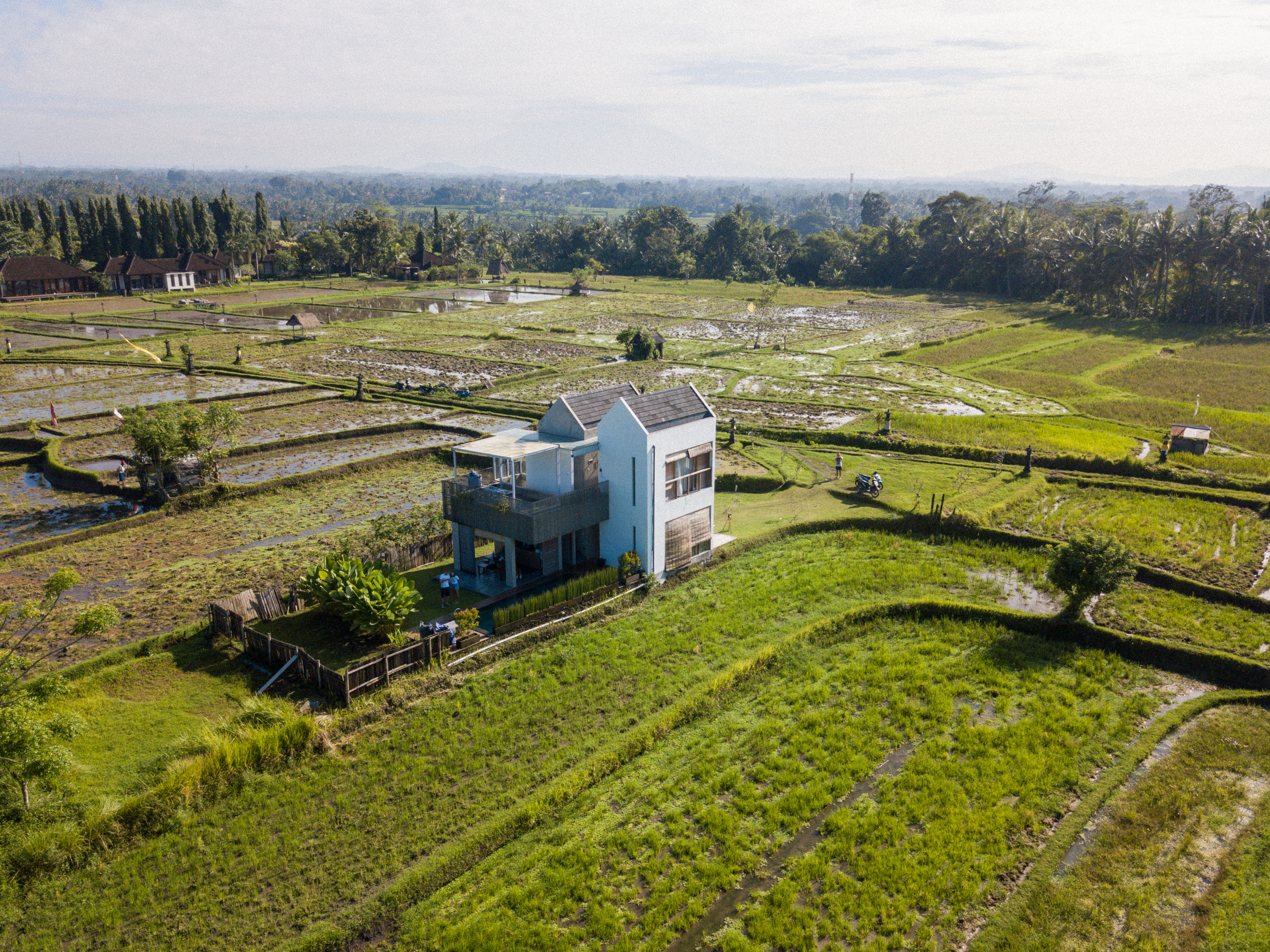 ---
Price
The room we had was around 36€ per night. We saved up some money because we had breakfast at Casa Avana which is included in the price. Don't expect a huge buffet waiting for you downstairs – there is tea, coffee, some reeeeally good sourdough bread, butter, peanut butter, cheese spread and eggs. We always made the breakfast ourselves, but there is staff on site that will gladly help you prepare your breakfast. Feel free to buy anything you want in addition for breakfast and put it in the fridge. I, for example, bought my favorite fruit that I haven't had in two years. Downstairs you also have the possibility to refill your bottles in the kitchen.
Room
There are two rooms upstairs that Tari rents on Airbnb, both come with an amazing view of the rice fields. It is perfectly clean, spacious and equipped with AC, shower with warm water, torch, umbrella and internet – just to name the most important ones.
Make sure to always put the blinds down when you're leaving the house because otherwise, rain comes in.
SERVICE
The staff is really nice! The lady, I already forgot her name, organized the scooter for us. And Tari's brother Krisna helped us get the tickets to Gili Meno. He's got some really good connections, so you can always ask him for help: he is one of a few owners of a hostel in Ubud and organized the tickets through the hostel for us.
In addition, Tari and Krisna are both yoga teachers – anyone up for an hour of yoga in the garden?
You can book here
AMENITIES
As I said before, you can always use the kitchen which is very convenient for those who maybe want to save up some money.
It can get very hot on Bali and the pool is a very good option to cool down during the day. As it was raining quite often during my stay there, it was a little bit cooler during the day so we didn't need to jump in.
RÉSUMÉ
I absolutely loved staying at Casa Avana. To me, it felt like coming to visit a family or friends place that I haven't seen in years. I was even thinking of coming back at the end of my journey but then decided to visit an island near Bali.


[:]