Annecy
Annecy
[:de]Mit dem Auto sind es nach Annecy nur 45 min Fahrzeit und die Adventszeit bietet den perfekten Anlass, der Stadt einen Besuch abzustatten. Die Stadt war wunderschön dekoriert, hatte viele Einkaufsgeschäfte und Restaurants zu bieten und noch dazu gab der Christkindlmarkt der Altstadt das gewisse Etwas. 
Da die Preise in Frankreich besser sind als in der Schweiz, fahren viele Bewohner der westlichen Schweiz gerne nach Frankreich zum Einkaufen. Ich nutzte also die Adventszeit dazu, in Annecy einkaufen zu gehen. Ich hatte keine hohen Erwartungen an Annecy gestellt und deswegen war ich dann auch sehr erstaunt von dieser wunderschönen Stadt am See. Wir parkten das Auto im Parkhaus Hotel de Ville, das direkt beim See liegt und spazierten beim Pont des Amours vorbei um Les Jardins de l'Europe, Quai Napoleon III und Lac d'Annecy. Das Wasser war so schön blau und klar, dass man sogar den Boden sehen konnte. Von Quai Napoleon III aus ist die Altstadt nur 5 Schritte entfernt.
SIGHTSEEING
Annecys Altstadt ist wunderschön bunt aufgrund der verschieden gestrichenen Hausfassaden und kommend von Quai Napoleon III sieht man schon Le Palais de l'Ile, die bekannteste Sehenswürdigkeit von Annecy. Wer einen schönen Ausblick auf die Stadt genießen möchte, braucht nur auf Monastere de Visitation hinaufzugehen. Pont des Amours, der neben dem Hotel de Ville liegt, bietet auch einen schönen Aussichtspunkt auf die Berge, die auf der anderen Seite des Sees liegen.
SHOPPING
Rue Carnot ist eine Einkaufsstraße, die von der Kirche in der Altstadt bis zum Einkaufszentrum Centre commercial Courier führt, in dem man das Shoppen fortsetzen kann. Ihr könnt dort Shops wie Levi's, Zara, H&M und Sephora finden. Während der Adventszeit ist auf den Straßen und im Einkaufszentrum wahnsinnig viel los und durch die Terroranschläge im November wurden die Sicherheitsmaßnahmen an vielen öffentlichen Plätzen verschärft. Beim Betreten des Einkaufszentrums wurden Taschen und Rucksäcke kontrolliert und auch bei den Geschäftseingängen wurde teilweise noch einmal kontrolliert. Geduld war also gefragt. Am Vormittag war weniger los als am Nachmittag, das merkte man daran, dass es schon beim Eingang aufgrund der Sicherheitskontrollen wesentlich mehr staute.
ESSEN
In der Altstadt fanden wir La Bastille, ein Restaurant das traditionelle Gerichte der Region Savoyen (Französisch: Savoie) anbietet. Wir bekamen einen Platz neben dem Fenster und konnten den Touristenschwärmen beim Erkunden der Stadt zusehen. Das Restaurant ist traditionell, aber doch auch modern eingerichtet. Wir teilten uns ein Foie Gras, auf das ich bei einem Frankreich-Besuche nie verzichten möchte. Auch die Hauptspeisen waren sehr lecker. Für ein Desert war leider kein Platz mehr. Dieses Restaurant kann ich nur weiterempfehlen. Der Service war ausgesprochen freundlich und die Speisen waren schnell zubereitet.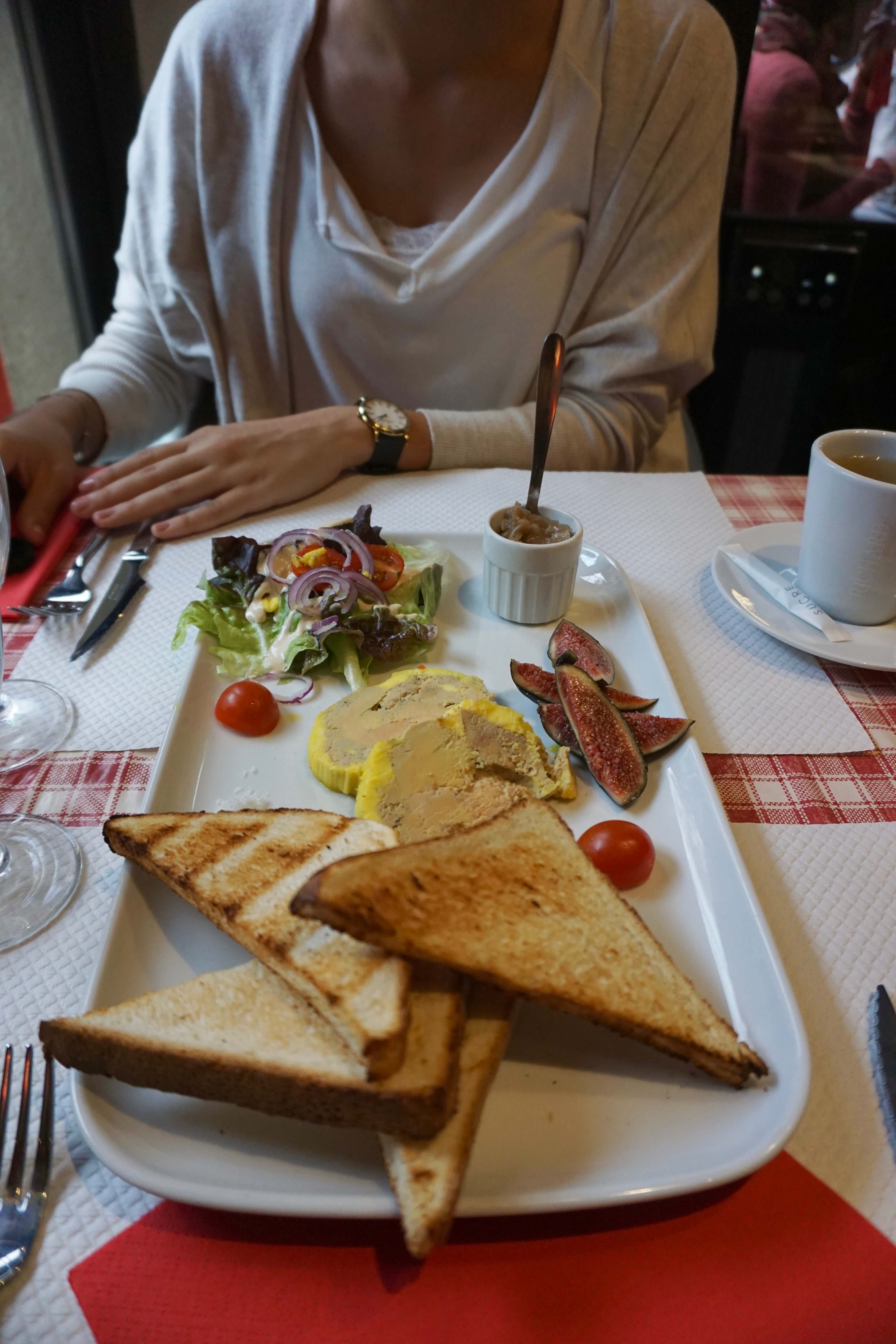 [:en]Annecy is only a 45-minute car ride away from Geneva and I thought the advent season would be the perfect occasion to visit the city. Annecy was beautifully decorated and the Christmas market in the historical center added that special touch to the ambiance.

The products in France are to affordable prices in comparison to the Swiss franc. That's why many Swiss residents cross the boarders to France and do grocery shopping there. So I took advantage of my time in Annecy and did some shopping. I only wanted to go to Annecy because of the Euro and I didn't have any expectations of the city. I was really surprised by how beautiful it is. We parked my car at the city hall which is located right next to the lake and only a few steps away from the small bridge Pont des Amours, the Love Bridge. From there, you can walk to the old town of Annecy and walk by the park Les Jardins de l'Europe and Quai Napoleon III. The color of the water is just amazing and also the view to the mountains on the other side of the lake is magnificent.
SIGHTSEEING
The historic center of Annecy is so colorful because of the different paintings of the houses. So when you arrive from the Quai de Napoleon III you can see the different houses and right in the middle the main sight of Annecy – Le Palais de l'Ile. For all those who want to enjoy a beautiful view over Annecy: go up the hill to the Monastere de Visitation.
SHOPPING
Rue Carnot  is the main shopping street in the old town. It leads directly to the mall called Centre commercial Courier. I really liked shopping there, but during the advent season there were loads of people walking around in the streets. Also, because of the terror attacks that took place in Paris, France increased its security measures. Security guards checked the bags at the entrance to the mall which resulted a long waiting line. Even in some shops you would have to show your bags once again. During the day, there were more and more people which had a negative effect on the waiting lines.
ESSEN
If you look for traditional dishes, go and head over to the old town. We found a small, but really good place that offers dishes from the Savoy region. And because I love Foie Gras since my time that I spent working in the Provence, I did not want to miss this dish which was really good, and so the main dishes too. I can only recommend going to this place when you're in Annecy. The service was super fast and also very friendly.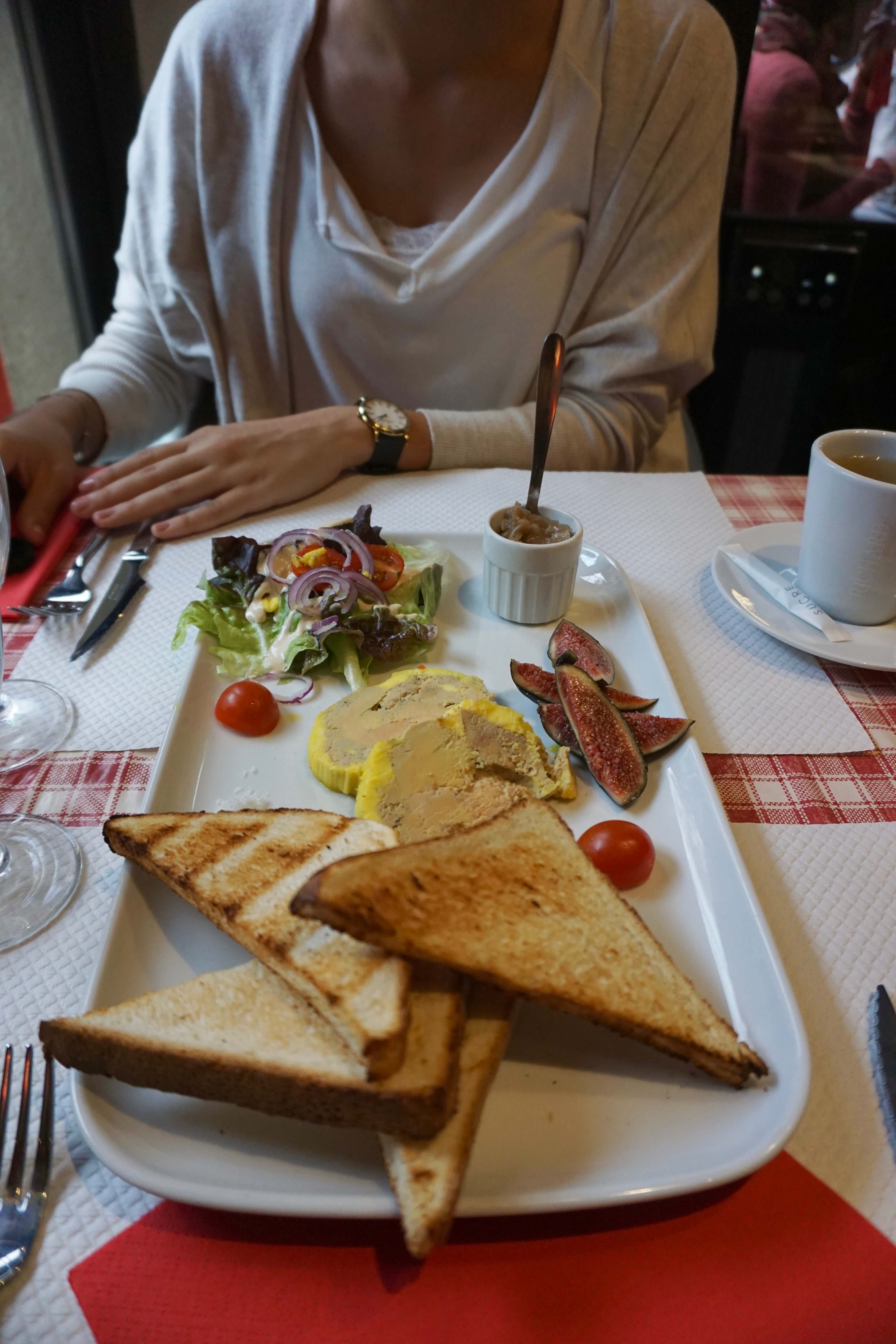 [:fr]
Cette page est en préparation.
[:]