Riad Awatif 36 · Marrakesh
Riad Awatif 36 · Marrakesh
[:de]
Ich bin so begeistert von Marrakesch. Es ist eine wunderschöne und sehr kulturelle Stadt, in der immer was los ist. Mein Rückzugsort von dem ganzen Trubel war dieses kleine Riad mitten in der Medina. Wir waren die einzigen Gäste während unseres gesamten Aufenthalts und konnten das Riad wirklich genau unter die Lupe nehmen – da die Zimmer alle nicht besetzt waren, konnte ich auch ungestört einen Blick in alle Suiten und Doppelzimmer werfen. Jedes Zimmer ist modern, aber doch sehr traditionell eingerichtet und das macht den Charme dieses Riads aus.
---
Lage
Ich wollte ein Riad in der Medina, der Altstadt von Marrakesch, finden. Alles andere außerhalb der Medina war mir zu modern. In Guéliz, der neuen Stadt, würde sich bestimmt auch eine schöne Unterkunft finden lassen. Dort gibt es viele Shoppingmöglichkeiten wie in Europa (Shops wie Zara zum Beispiel), aber das Hauptgeschehen spielt sich eher in der Medina in den Souks ab.
Für diejenigen, denen das Wort Riad noch neu ist: Ein Riad ist ein traditionelles marrokanisches Haus, das im Gebäude einen Innenhof hat. In Marrakesch gibt es wahnsinnig viele Riads zur Auswahl. Mein Riad war nur ein paar Meter von den Sehenswürdigkeiten und dem Beginn der Souks entfernt – das Riad Awatif 36. Dieses Riad ist eines von dreien Riad Luxe Collection. Viele Riads sind sehr bunt eingerichtet und ich habe eher nach einem gesucht, dass modern, aber doch traditionell war. Ich würde sagen, dass Riad Awatif 36 den Mix sehr gut hinbekommen hat.
---
Preis
Ich habe ein bisschen auf expedia recherchiert und dann dieses Riad gefunden. Normalerweise hätte ich dort wahrscheinlich kein Zimmer gebucht, aber für meinen Reisezeitraum gab es -50% auf die teureren Zimmer. Also entschied ich mich anstatt für ein Standard Room um 70€ (inkl. Frühstück) für eine Suite um 75€ (inkl. Frühstück). Also habe ich insgesamt 300€ gespart.
---
Zimmer
Ein Riad hat nur wenige Zimmer. Im Riad Awatif 36 gibt es insgesamt fünf, die sich alle in der Größe und Farbe unterscheiden.  Natürlich habe ich mich dann für das größte Zimmer entschieden – der Diamanten Suite. Diese Suite ist aber keine Suite wie man sie sich vorstellen würde, sie ist einfach nur etwas größer als der Rest der Zimmer in dem Haus. Also es gibt nicht mehr Ausstattung wie in einem normalen Zimmer. Aber es ist das einzige Zimmer mit einem Fenster zur Straße (alle anderen haben ein Fenster in den Innenhof). In der Suite gibt es Dusche, King-size Bett, Duschgel, Haarshampoo, Zahnbürste, Zahnpasta, Bodylotion, Bademantel und Badeschlapfen. Darüber hinaus gibt es noch einen Föhn und eine Klimaanlage.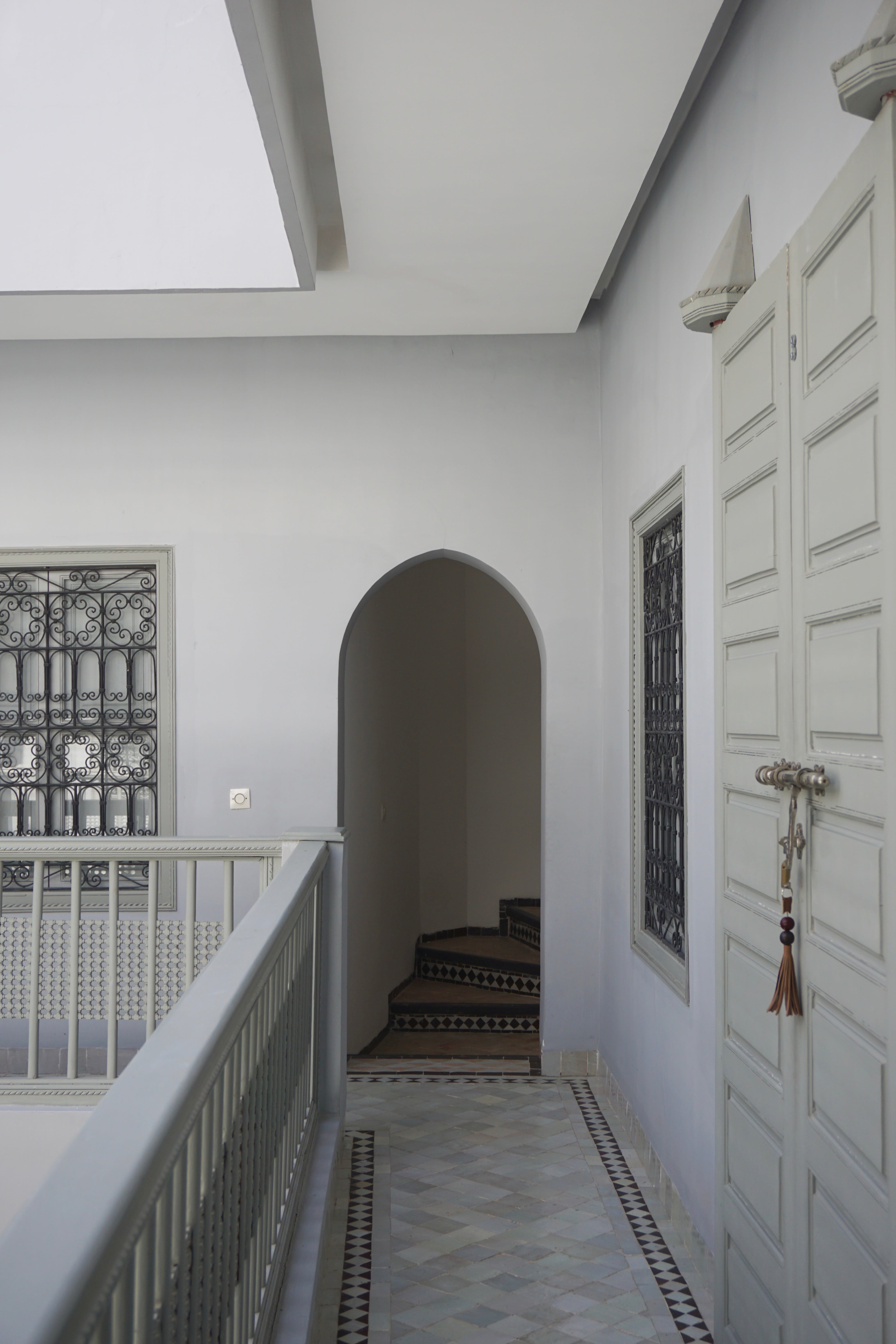 ---
Frühstück
Die wichtigste Mahlzeit des Tages wird auf dem Dach serviert. Ein typisch marokkanisches Frühstück besteht aus dem marokkanischen Brot und dem marokkanischen Minztee – unter den Landsleuten wird er auch der marrokanische Whiskey genannt 😉 Das Frühstück ist also etwas einseitig, aber traditionell. Im Riad gab es jeden Tag Brot, "Palatschinken", Marmelade, Butter und Obstsalat. Zu trinken gibt es den Minztee, Kaffee, heiße Schokolade und Orangensaft.
---
Service
Die Managerin Chris der drei Riads ist sehr freundlich. Sie war stehts bemüht, uns einen guten Service zu bieten. Als Willkommensgetränk bekamen wir einen Minztee angeboten. Chris hat mir auch sofort ihre Nummer gegeben, damit wir auf Whatsapp in Kontakt bleiben können, falls sie einmal nicht im Riad sein würde. Es hat sich herausgestellt, dass wir sehr oft per SMS kommuniziert haben. Chris ist Französin und meist den ganzen Tag über im Riad Awatif 36. Sie spricht Englisch und Französich. Der Rest der Mitarbeiter ist aus Marokko, aber nur der nächtliche "Aufpasser" spricht Französisch (und ein bisschen Englisch). Deswegen ist auch der Whatsapp Kontakt mit Chris so wichtig, wenn man kein Französisch spricht.
---
Ausstattung
Hammam, Massage, Pool, Lounge mit Fernseher, Küche
---
Fazit
Im Prinzip waren wir die einzigen Gäste im Hotel und hatten somit das ganze Haus für uns alleine. Das ist auch der Grund, warum ich dieses Hotel Review schreibe, da ich finde, dass es doch mehr Aufmerksamkeit verdient. Die Preise sind zwar nicht gerade die billigsten, aber wenn ich wieder nach Marrakesch fliegen würde, werde ich im Standard Room nächtigen. Ich habe das Standardzimmer gesehen und abgesehen von den Sitzmöglichkeiten in der Suite, sind sich die Zimmer wahnsinnig ähnlich. Da ein Riad eine kleine Anzahl an Zimmern hat, kann man einen sehr persönlichen Service anbieten und stets mit den Gästen kommunizieren. Chris war stets erreichbar, auch an ihrem freien Tag. Die Lage des Riads ist super toll. Chris hat uns auch angeboten, den Weg zum Riad noch einmal mit ihr abzugehen, damit wir wirklich sicher sind, dass wir ihn kennen.
Nun zur Kritik. Hätte ich den vollen Preis für die Suite gezahlt, wäre ich in diesem Review viel kleinlicher gewesen wie z.B.: Das Zimmer wurde zwar jeden Tag gereinigt, aber man hat uns nie die Wasserflasche gewechselt. Aber vielleicht haben sie einfach darauf vergessen. In der Lounge konnten wir nicht fernsehen, weil die Sender nicht funktionierten.
Wenn euch dieses Riad zu teuer ist, schaut doch mal auf Airbnb vorbei. Es gibt eine so große Auswahl an Riads in Medina, Marrakesch. Ich konnte nur dem Angebot auf Expedia nicht widerstehen.
Riad Awatif 36
36, derb Lalla Aouich Assouel,
Médina, Marrakech
40000, Morocco

[:en]
Marrakesh is just amazing, it's a vibrant, but still very cultural and traditional city. Since there is always so much going on in the Medina, I sometimes needed some time off and that's when I was happy to go back and relax in the riad where we stayed at. Luckily, we were the only guests staying at this place, so I could discover every little corner of this beautiful house – including every room, since they were not locked. The overall discription of this riad would be: very modern, but still traditional – in my opinion the perfect combo that makes this place unique.
---
Situation
For me it was really important to find a riad that is located in the Medina, the old town of Marrakech. Outside of the Medina, life and houses are more modern. You could also try to find an accommodation in Guéliz, aka Nouvelle Ville – which literally translates to new town. There, you have lots of shopping possibilities like Zara and other stylish boutiques, but I prefered to stay in the Medina and stroll through the traditional souqs of Marrakech.
But now back to the riad: Basically, a riad is a traditional Moroccan house with an interior courtyard, some riads also have a small pool in the courtyard. There are various riads in Marrakech and the one I found, was located only a few minutes away from the famous souqs and sights of the Medina – Riad Awatif 36. This beautiful house is one out of three riads of the Riad Luxe Collection. 
---
Price
I came across this place on expedia.com and was immediately interested in this traditional and yet very modern riad. Furthermore, the price for a standard room with breakfast was 70€ (per night) and the other rooms that are bigger were 50% off the normal price. We stayed in Marrakesh for four nights and therefore taking the offer would really pay off. So I booked the Diamant Suite for 75€ per night, which normally costs 150€. The breakfast is included in the price. I saved 300€, YAS!
---
Rooms
The riad has five rooms that are all different in color and size. I went for the biggest room, the Diamant Suite. This room (don't expect a huge suite like in 5* hotels), doesn't offer more furniture than the others, but it's a lot bigger in size and it's the only room with an outdoor window. It is equipped with a shower, king-size bed, safe and a small seating area. In addition, there is shampoo, shower gel, tooth paste, body lotion, tooth brush, bathrobe, slippers and a bottle of water in each room; not to mention a hair-dryer and air-condition.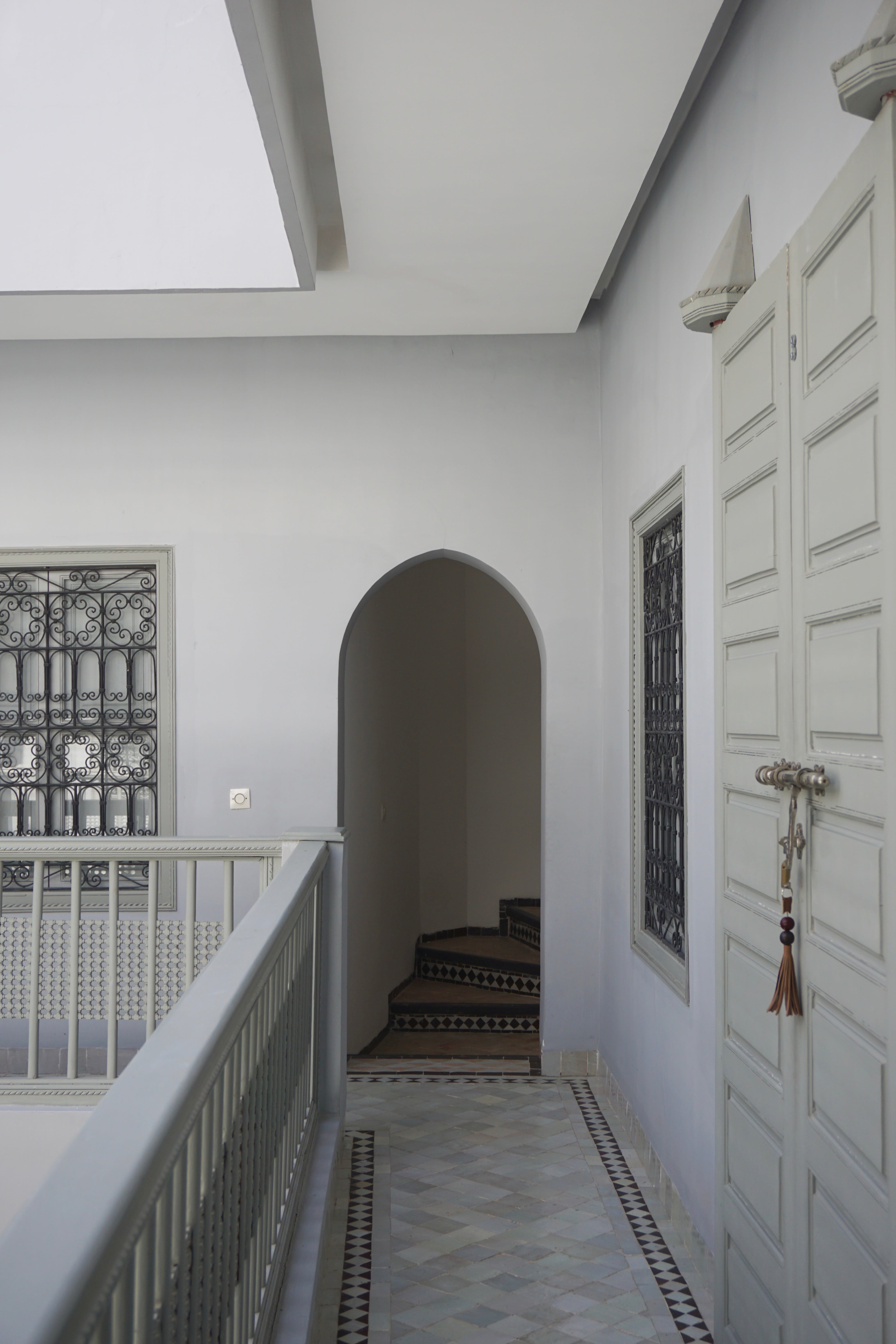 ---
Breakfast
The most important meal of the day is served on the rooftop of the riad. A typical Moroccan breakfast consists of Moroccan bread and the Moroccan mint tea – also called the Moroccan Whisky 😉 As for our breakfast, we were given fruit salad and two different kinds of bread that we ate with jam and butter; one that was in the shape of a small bread and one kind of bread that I would describe as a crêpe, but much thicker. Morocco is also known for it's excellent orange juice – a breakfast wouldn't be complete without an orange juice 🙂 In addition to the mint tea, the breakfast also includes coffee and hot chocolate.
---
Service
The manager of the riads, Chris, is very very friendly. We were offered Moroccan mint tea as a welcome drink and exchanged numbers to stay in contact in case we have questions. Chris is French and the staff is Moroccan. As it turned out, it is really important to have her telephone number because the two women who cook and clean the rooms don't speak French. Hashim, the guy who stayed during the nights, only speaks French. So Chris is the only one who speaks English quite well. All in all, you can speak French and English everywhere in Marrakech.
---
Amenities
Hammam, massages, pool, living room, kitchen
---
Résumé
We pretty much had the riad all on our own, because we were the only guests during our whole stay. That is also why I am writing this review about the Riad Awatif 36. It really deserves some advertising in order to have a few more guests. The prices are not the cheapest ones, but I would definitely come back and book the standard room (if there is no offer). Because of it's small room number the riad offers a very personal service and Chris is always available, even on her days off. In my opinion, the location is top. Once you know your way, it's easy to find.
Personally, I would have been way more critical with the service and amentities if I had paid the actual price for the Suite; the room was cleaned daily, but the water bottle has never been exchanged. So there is only one bottle of water for the whole stay (or maybe they just forgot). We wanted to watch TV in the lounge, but the TV didn't work. The pool on the rooftop wasn't filled with enough water and therefore never cleaned. The manager Chris said that the water is too cold, but I would have jumped in anyway to cool down from sunbathing on the rooftop.
If this riad and its normal prices are too expensive, go and check out airbnb.com. There are so many beautiful accomodations, I just couldn't resist the offer on expedia.
Riad Awatif 36
36, derb Lalla Aouich Assouel,
Médina, Marrakech
40000, Morocco

[:fr]
Cette page est en préparation.
[:]