Koh Kood
Koh Kood
Happy New Year everyone! 2018 is off to a great start as I have decided to get back into writing new posts. My motivation to start where I stopped last year stems from quite a lot of messages from a few friends of mine asking about my travels in Thailand.
As you might have seen on my Instagram, I visited Koh Kood last year and it has become one of my favorite destinations in Thailand. So I have put together a list of tips on where to stay and my favorite beaches for you.
If you're looking for an island that isn't that touristy and isn't hosting one party after another, then this is the right place for you! I absolutely loved the vibe of Koh Kood. It seems as if, thanks to the reputation of Koh Chang, its neighboring islands Koh Kood and Koh Mak haven't attracted that much attention on the tourist radar and that's a good thing because Koh Kood has so much to offer: clean and empty beaches, great dive sites for beginners, no big resorts and the island is easily accessible.
---
How to get there
As I was coming from my family's place in the East of Thailand, there weren't many options as to how to get there but by minibus. Thankfully my uncle is a minibus driver and was at home, so he waited until my boyfriend and I were leaving home to drive six hours straight to Trat where the ferry to Ko Kood would leave. We had researched a few options and Boonsiri Ferry seemed very reliable, so without having booked any ferry tickets in advance we just bought two tickets for 500 BHT (13€) each at the Boonsiri ferry place where everyone waits to be picked up for the ferry. For those of you who'd like to travel to Koh Kood from Bangkok don't worry, the company also offers transfers from Bangkok by bus and you'll arrive at the place where I was waiting with my boyfriend. Of course, the price is different for everyone who's coming from BKK and the ticket will be bought at their booth in BKK. We waited for an hour and many people arrived to take the ferry to Ko Kood with us. We were picked up by a mini train (the ones you may know from guided city tours/the ones usually used for guided tours) and went at snail pace to the port where the catamaran was just arriving from Koh Kood. The ferry first goes to Koh Mak, where only a few people are hopping off. It then continues to Koh Kood. I've noticed that anytime you book a ticket to get to somewhere else in Thailand, you get picked up at your hotel and driven to the desired hotel of the destination. So as soon as we set foot on Koh Kood, the ferry staff asked everyone to name their respective hotels and put us in different taxis, all going to different areas.
After staying on Koh Kood for four nights, we went to BKK. The price for the transfer from Koh Kood (850 Baht) included the ferry to Trat and then the entire bus trip to Bangkok. It took us more hours than what Google Maps actually had said because of the heavy traffic in the city and a few construction sites – so be prepared to spend 7-8 hours on that a bus.
---
Where to stay

Jungle Resort
There aren't many hotels on Koh Kood, especially when you're looking for a decent place to stay that doesn't cost 100€ a night. However, I found quite an interesting place to stay at, which is surrounded by luscious greens and located not too far away from the beach – the Jungle Resort. We paid 39€ per night for the Bungalow Type B, including breakfast. I loved the bungalows because even though they were so basic, they were still very inviting: a mattress on the floor, a small sideboard (that you could lock) functioning as a safe, small mirror, water, AC, shower and toilet. As we never spend much time in the rooms during the day, there was everything we needed for our stay. In case you don't want to leave the resort area for dinner, the resort's own restaurant offers some good dishes, however a bit overpriced in comparison to normal Thai prices. There is also a pool area where you can relax and lay back after a day of exploring the island. I booked a room over booking.com and can highly recommend the website – the more bookings you make, the higher you rise in the rankings and get better prices as soon as you enter Genius Level.
If you're not registered on booking.com yet, there is a 15€ voucher you can get (and in return, I also receive 15€ when you book a room – it's a win-win situation for both sides, am I right?).
Jungle Resort – you can book here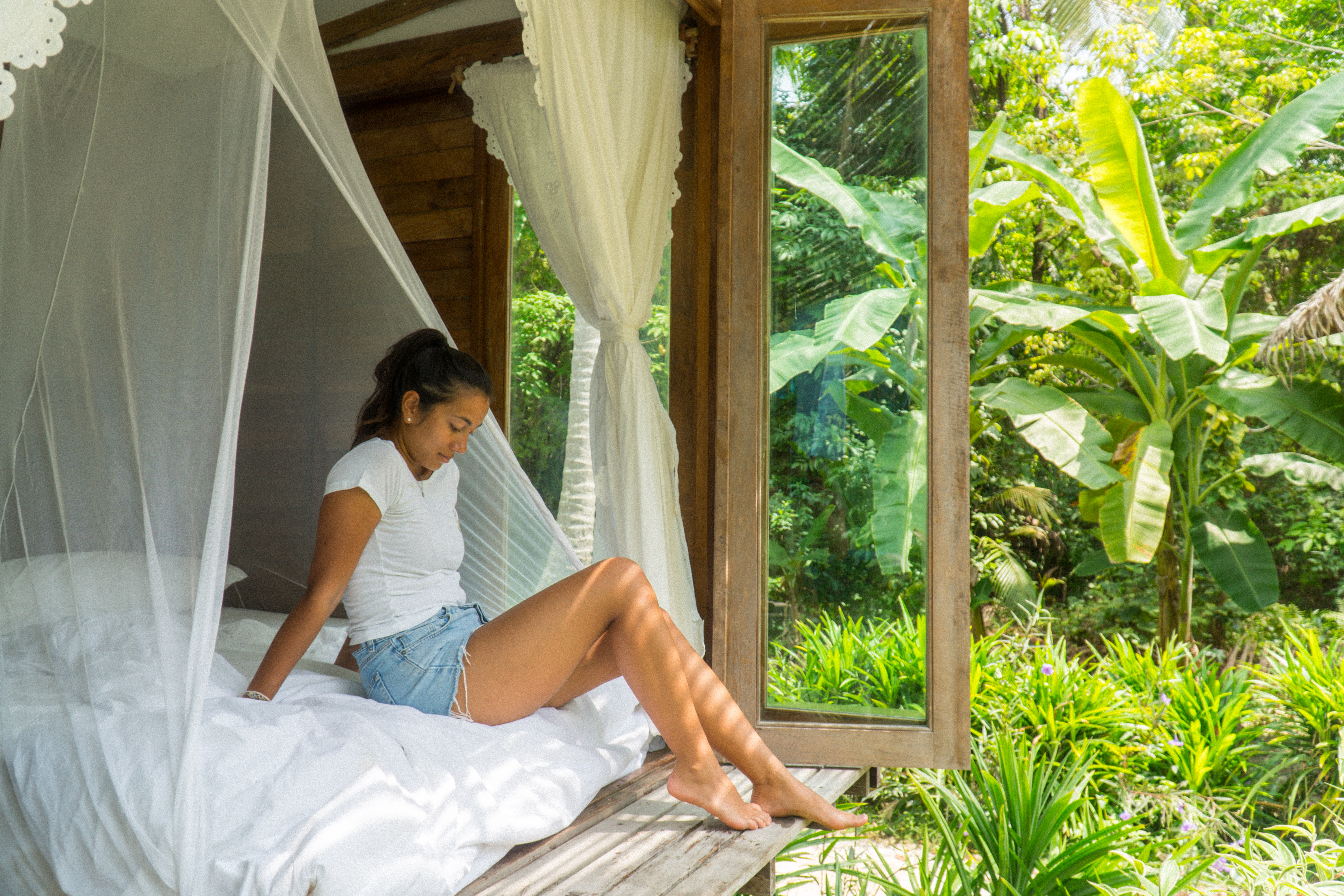 ---
What to do on Koh Kood
Beach hopping
There are plenty of beaches to discover and you might be lucky and have some of them all to yourselves. Just hop on a scooter and drive 20min South to Ao Phrao Beach – my favorite beach on Koh Kood. We had Ao Phrao Beach to ourselves for quite a long time and there were just a few resort guests from the only resort located on the beach.
Also, make sure to pay Bang Bao Bay a visit. It's different from Ao Phrao Beach in the sense that on Bang Bao Bay there is one bungalow after another, so it's a little bit busier. However, the beach is very clean!
Then there is Klong Chao Beach, one that should definitely be on your list! Despite the series of the high-price segment resorts on this part of the beach, it is incredibly calm and absolutely beautiful. The resorts have NOT taken in their respective beach sections by putting up beds and beach umbrellas, so there is quite a lot of space for everyone!
Go for a dive
Especially as a beginner, I was very impressed by how much we saw during our dives with the experienced guides of Koh Kood Divers: various fish species, some nudibranchs, a puffer fish and even a lionfish. For some of you this might seem low-key, but hey, I just started diving and I couldn't have asked for more. After our first dive, we drove back in the direction of Bang Bao Bay, had lunch on the boat and just relaxed. When it suddenly started raining, most of us jumped into the water to do some snorkeling since it can get quite chilly on the boat when you are wearing wet swimwear.
For one day of diving with Koh Kood Divers, we paid 3000 Baht (77€) per person. The price includes 2 dives, all the equipment and a lunch.
---
Where to eat

There are various places alongside the roads that offer really yummy Thai food.
Breakfast was included in our hotel rate, nevertheless, this never stopped me from getting supplies for my day at the beach: in the mornings, we passed by The Chill Out, so I could get my favorite Thai drink of all time – Cafae Yen, which translates to iced coffee. But be careful, Thais like their coffee very sweet! I always ask them to put less sugar in my coffee. They also have loads of fresh fruit, so make sure to stock up on healthy snacks before you head to the beach.
For dinner, we went to Chiang Mai Restaurant, which I can really recommend when you want to eat authentic Thai food. However, it is a very basic Thai restaurant, so don't expect attentive service – especially during the main hours. Everything runs at a slow pace in Thailand, or at least in family-run restaurants whose main customers are Thai people
The same applies to Chaiyo Restaurant. It has some really good Thai food.
For an afternoon snack, lunch or a refreshing drink head to View Point Café! We just sat there for two hours straight, because we were hiding out from the midday sun.
On the same day we went to View Point Café, we came back in the evening and went to neighbour Sunset Bar to enjoy some drinks and good music while watching the sun set.
That's actually all I have to say to Koh Kood. During my researches for my travels, I realized that Koh Kood is oftentimes spelled differently – like Ko Kood, Ko Kut, Koh Kood. I couldn't get much info from my mum and their friends either since they pronounce the name of the island with an R: Ko Krut.
Anyways, if you have any questions send me a message via Instagram or in the comment section below!
Safe travels guys!


[:]