[:de]Koh Kood[:en]Koh Kood [:]
[:de]Koh Kood[:en]Koh Kood [:]
[:de]
Frohes Neues Jahr euch allen! Ich habe in den letzten Tagen viele Fragen von einigen Freunden gestellt bekommen bezüglich Reisen in Thailand und welche Orte ich empfehlen kann. Ich muss zugeben, ich war das letzte Jahr sehr faul und das ist gerade ein Ansporn für mich, mich endlich wieder vor den Laptop zu setzen und über meine Reisen zu schreiben.
Wie ihr vielleicht schon auf meinem Instagram Profil gesehen habt, war ich letzten Februar auf der Insel Koh Kood, welche seitdem eine meiner Lieblingsinseln in Thailand ist.
Falls ihr auf der Suche nach einer Insel seid, die nicht all zu touristisch ist und viele Partys betreibt, dann seid ihr auf Koh Kood richtig! Ich war sehr begeistert von der Atmosphäre auf der Insel, da es glaube ich aufgrund der Beliebheit der großen Nachbarinsel Koh Chang auf Koh Kood im Bezug auf den Tourismus sehr ruhig geblieben ist. Die Strände sind alle fast leer und schön sauber, das Tauchen ist auch super (vor allem für Anfänger wie mich eine schöne Erfahrung gewesen), es gibt noch keine großen Resorts, die die halbe Insel einnehmen – und die Anfahrt war auch sehr einfach.
---
How to get there
Da ich meine Familie im Osten besucht habe, ist meine Anreise nach Koh Kood anders verlaufen als eine typisch touristische Anreise aus Bangkok. Mein Onkel ist Minibusfahrer und hat uns netterweise 6 Stunden bis nach Trat runtergeführt, wo die Fähre nach Koh Kood wegfährt. Wir haben uns im Vorhinein ein wenig informiert und Boonsiri Ferry erschien uns als die beste Option. Falls ihr von Bangkok nach Koh Kood reisen wollt, bietet Boonsiri Ferry auch einen Bustransfer von Bangkok aus an. Wir selbst haben kein Ticket im Vorhinein gebucht, sondern erst bei Ankunft in Trat gekauft. Ein Ticket Trat-Koh Kood kommt auf 13€. Wir haben ungefähr eine Stunde gewartet und mit der Zeit sind immer mehr Menschen angekommen, die auch mit der Fähre nach Koh Kood wollten. Irgendwann wurden wir dann von einem kleinen Zug abgeholt und sind in Richtung Anlegestelle des Katamarans gefahren.
Die Fahrt dauert etwas mehr als eine Stunde und es wird ein Zwischenstopp in Koh Mak eingelegt um all jene rauszulassen, die in Koh Mak eine Unterkunft haben. Das ging aber sehr flott. In Koh Kood angekommen, wurden wir alle dann nach dem Namen unserer Hotels gefragt und in verschiedene Taxis aufgeteilt, die uns dann direkt bei den jeweiligen Unterkünften aussteigen ließen. In Thailand habe ich das schon oft mitbekommen, dass das Abholen vom Hotel und Bringen zum Hotel im Preis inkludiert ist, was seeeehr praktisch ist, weil man sich somit nicht selbst um ein Taxi kümmern muss. Nach unserem Aufenthalt auf der Insel sind wir dann mit Boonsiri Ferry nach Bangkok gefahren. Ich kann mich nicht mehr genau erinnern wann wir los sind, aber es war sicher fast ein halber Tag aufgrund von einigen Baustellen auf den Straßen und dem stockenden Verkehr in Bangkok.
http://www.boonsiriferry.com/
---
Where to stay

Jungle Resort
Es gibt nicht all zu viele Hotels auf der Insel – vor allem wenn es ein schönes, einfaches und billiges Hotel, welches innerhalb unseres Budgets liegt, sein soll ist die Auswahlmöglichkeit dann etwas kleiner. Ich konnte aber doch eine schöne und vor allem ruhige Unterkunft finden, die nicht all zu weit weg vom Strand lag – das Jungle Resort. Wir haben pro Nacht für ein Bungalow (Type B) 39€ gezahlt, inklusive dem Frühstück. Ich war sehr begeistert vom Bungalow, weil sie einfach mit dem Grundlegendsten ausgestattet waren: Wasser, einer Matratze auf dem Boden, Fliegengitter, Klimaanlage, Dusche, WC, einem kleinen Spiegel und einer kleinen Konsole, die man verschließen konnte und somit als Safe diente. Da wir auch nie viel Zeit in den Zimmern verbringen, war wirklich alles was wir brauchten in den Zimmern.
Und falls man am Tag oder Abend das Resort einmal nicht verlassen möchte, bietet das Restaurant auch tolle thailändische Gerichte an, die im Vergleich zu Straßenständen natürlich etwas teurerer im Restaurant sind. Es gibt auch einen Pool wo man sich am Ende des Tages noch einmal abkühlen kann. Ich habe das Zimmer über Booking gebucht, mittlerweile profitiere ich als Genius von einem besseren Status, da ich schon viele Buchungen über die Website getätigt habe und somit noch bessere Preise für gewisse Hotels bekomme.
Falls ihr noch nicht auf Booking registriert seid könnt ihr mit diesem Link 15€ Startguthaben gewinnen (als Gegenzug bekomme ich auch 15€ wenn ihr eure erste Buchung gemacht habt, ist also eine win-win Situation).
Jungle Resort – hier könnt ihr ein Bungalow reservieren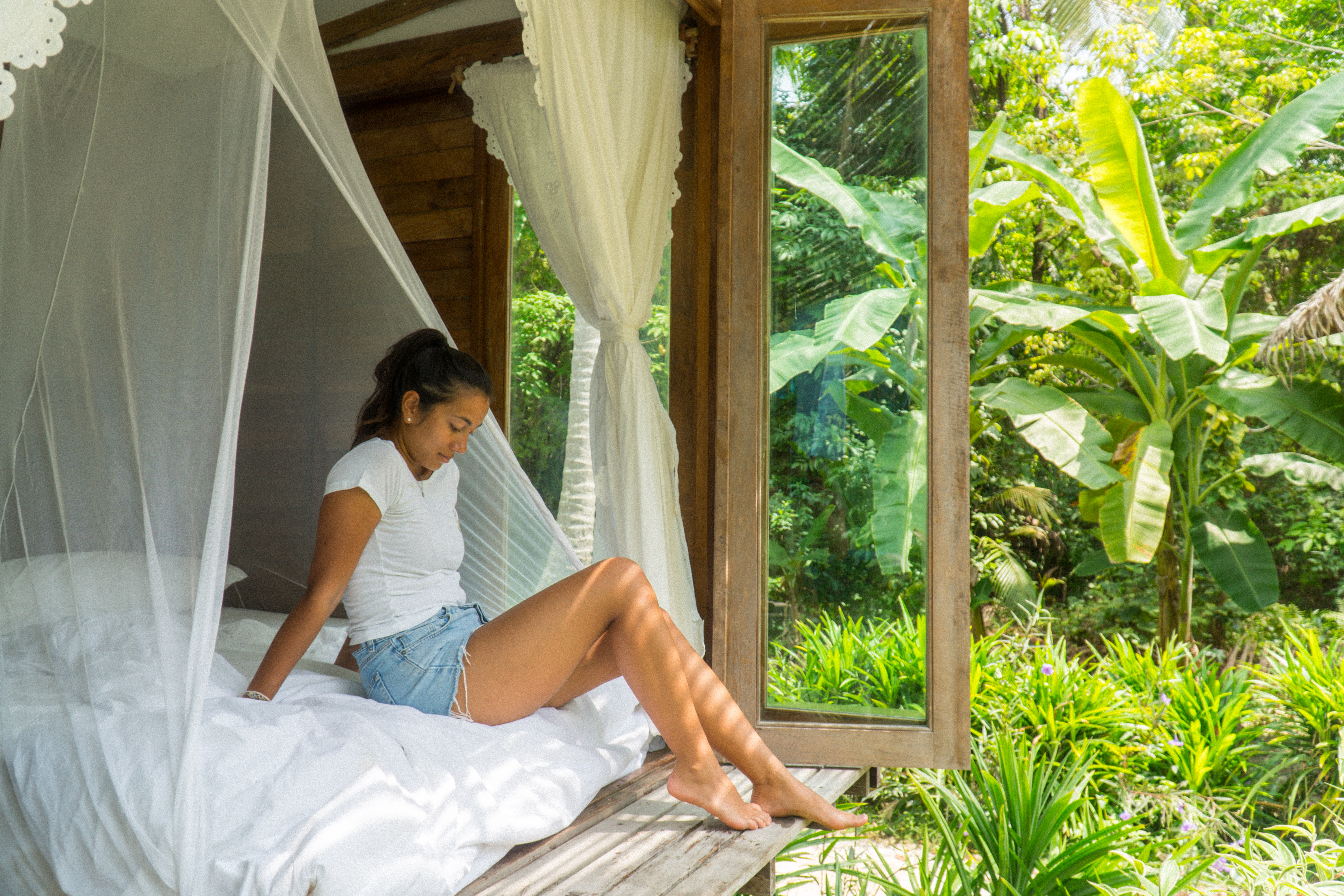 ---
What to do on Koh Kood
Beach hopping
Es gibt einige Strände zu entdecken, manche davon sind teilweise sogar menschenleer. Wer also einen Roller ausleiht, braucht nur in Richtung Süden der Insel zu fahren um einen der ruhigsten Strände auf der Insel zu sehen – Ao Phrao Beach – meiner Meinung nach der schönste Strand auf Koh Kood. Wir waren eine Zeit lang fast alleine auf Ao Phrao Beach, bis ein paar Hotelgäste (vom einzigen Hotel auf dem Strand) beschlossen, den Strand auch zu erkunden.
Am Weg zurück haben wir auch einen Zwischenstopp am Bang Bao Bay eingelegt, ein schöner und vor allem sauberer Strand umgeben von Hotels und Bungalows. Deshalb ist dort ein bisschen was los, dennoch sehr ruhig.
Ein weiterer Strand, der mir sehr gut gefallen hat, war Klong Chao Beach. Dieser gehört auf jeden Fall besucht, vor allem während dem Sonnenuntergang ist es sehr schön dort. Es liegen ungefähr zwei oder drei Luxusresorts am Strand, diese haben sich aber nicht mit Sonnenschirmen und Liegen am Strand ausgebreitet, deswegen ist genug Platz für alle!
Tauchen
Vor allem als Anfängerin war das Tauchen ein echt schönes Erlebnis für mich. Ich war erstaunt wie viel man schon auf 6m Tiefe sehen konnte und mit den erfahrenen Guides von Koh Kood Divers hab ich mich unter Wasser sehr wohl gefühlt. Wir haben einiges gesehen – Nudibranchs, Feuerfisch und Kugelfisch. Für einen Tag Tauchen mit 2 Tauchgängen, der ganzen Ausrüstung und einem Mittagessen zahlt man 3000 Baht (umgerechnet circa 77€ ) pro Person. Während der Mittagspause hat es zu regnen angefangen, das haben alle dazu genutzt ins Wasser zu springen und die Zeit mit schnorcheln zu verbringen.
---
Where to eat
Es gibt einige Restaurants die sich entlang der einzigen Hauptstraße der Insel befinden und sehr gute thailändische Gerichte anbieten.
Nach dem Frühstück bei uns im Hotel sind wir jeden Tag bei The Chill Out vorbeigefahren. Dort habe ich mir mein Lieblingsgetränk Kafä Jenn (so würde man es aussprechen) geholt, was so viel wie Eiskaffee bedeutet. Vorsicht, Thais lieben ihren Kaffee sehr süß, deswegen bitte ich zum Beispiel immer, weniger Zucker bei mir hineinzugeben. The Chill Out hat auch eine Menge frische Früchte, die man aufgeschnitten mit zum Strand mitnehmen kann. Und da wir nie Mittagessen wenn wir auf Reisen sind, sind Früchte für uns ein willkommener Snack zwischendurch.
Zum Abendessen fuhren wir ein Mal zu Chiang Mai Restaurant. Tolles thailändisches Essen zu guten Preisen. Das Restaurant ist sehr einfach eingerichtet und vom Service solltet ihr euch nicht zu viel erwarten. In Thailand haben die Familiengeführten Restaurants generell einen etwas langsamen Vibe.
Chaiyo Restaurant ist sehr klein und, wie Chiang Mai Restaurant, sehr einfach eingerichtet. Das Essen ist super lecker und echt billig.
Um uns mal Auszeit von der Mittagssonne zu gönnen, haben wir uns beim View Point Café eine kleine Erfrischung gegönnt.
Am gleichen Abend haben wir vor dem Abendessen ein paar Drinks bei der Sunset Bar gleich neben dem View Point Café getrunken und den Sonnenuntergang genossen.
So das war's eigentlich mit meinen Infos zu Koh Kood. Mir persönlich ist aufgefallen, dass Koh Kood sehr viele Schreibweisen hat: Ko Kood, Ko Kut, Koh Kood… bin bis heute noch nicht wirklich schlau daraus geworden, vor allem weil meine Mutter und ihre Freundinnen die Insel mit Ko Krut aussprechen. Geschrieben wird es im Thailändischen aber ohne R. Sehr interessant, zumindest für mich.
Lasst mich wissen falls ihr noch Fragen habt – entweder in einer Nachricht über Instagram oder hier in den Kommentaren unten!
Safe travels meine Lieben


[:en]
Happy New Year everyone! 2018 is off to a great start as I have decided to get back into writing new posts. My motivation to start where I stopped last year stems from quite a lot of messages from a few friends of mine asking about my travels in Thailand.
As you might have seen on my Instagram, I visited Koh Kood last year and it has become one of my favorite destinations in Thailand. So I have put together a list of tips on where to stay and my favorite beaches for you.
If you're looking for an island that isn't that touristy and isn't hosting one party after another, then this is the right place for you! I absolutely loved the vibe of Koh Kood. It seems as if, thanks to the reputation of Koh Chang, its neighboring islands Koh Kood and Koh Mak haven't attracted that much attention on the tourist radar and that's a good thing because Koh Kood has so much to offer: clean and empty beaches, great dive sites for beginners, no big resorts and the island is easily accessible.
---
How to get there
As I was coming from my family's place in the East of Thailand, there weren't many options as to how to get there but by minibus. Thankfully my uncle is a minibus driver and was at home, so he waited until my boyfriend and I were leaving home to drive six hours straight to Trat where the ferry to Ko Kood would leave. We had researched a few options and Boonsiri Ferry seemed very reliable, so without having booked any ferry tickets in advance we just bought two tickets for 500 BHT (13€) each at the Boonsiri ferry place where everyone waits to be picked up for the ferry. For those of you who'd like to travel to Koh Kood from Bangkok don't worry, the company also offers transfers from Bangkok by bus and you'll arrive at the place where I was waiting with my boyfriend. Of course, the price is different for everyone who's coming from BKK and the ticket will be bought at their booth in BKK. We waited for an hour and many people arrived to take the ferry to Ko Kood with us. We were picked up by a mini train (the ones you may know from guided city tours/the ones usually used for guided tours) and went at snail pace to the port where the catamaran was just arriving from Koh Kood. The ferry first goes to Koh Mak, where only a few people are hopping off. It then continues to Koh Kood. I've noticed that anytime you book a ticket to get to somewhere else in Thailand, you get picked up at your hotel and driven to the desired hotel of the destination. So as soon as we set foot on Koh Kood, the ferry staff asked everyone to name their respective hotels and put us in different taxis, all going to different areas.
After staying on Koh Kood for four nights, we went to BKK. The price for the transfer from Koh Kood (850 Baht) included the ferry to Trat and then the entire bus trip to Bangkok. It took us more hours than what Google Maps actually had said because of the heavy traffic in the city and a few construction sites – so be prepared to spend 7-8 hours on that a bus.
---
Where to stay

Jungle Resort
There aren't many hotels on Koh Kood, especially when you're looking for a decent place to stay that doesn't cost 100€ a night. However, I found quite an interesting place to stay at, which is surrounded by luscious greens and located not too far away from the beach – the Jungle Resort. We paid 39€ per night for the Bungalow Type B, including breakfast. I loved the bungalows because even though they were so basic, they were still very inviting: a mattress on the floor, a small sideboard (that you could lock) functioning as a safe, small mirror, water, AC, shower and toilet. As we never spend much time in the rooms during the day, there was everything we needed for our stay. In case you don't want to leave the resort area for dinner, the resort's own restaurant offers some good dishes, however a bit overpriced in comparison to normal Thai prices. There is also a pool area where you can relax and lay back after a day of exploring the island. I booked a room over booking.com and can highly recommend the website – the more bookings you make, the higher you rise in the rankings and get better prices as soon as you enter Genius Level.
If you're not registered on booking.com yet, there is a 15€ voucher you can get (and in return, I also receive 15€ when you book a room – it's a win-win situation for both sides, am I right?).
Jungle Resort – you can book here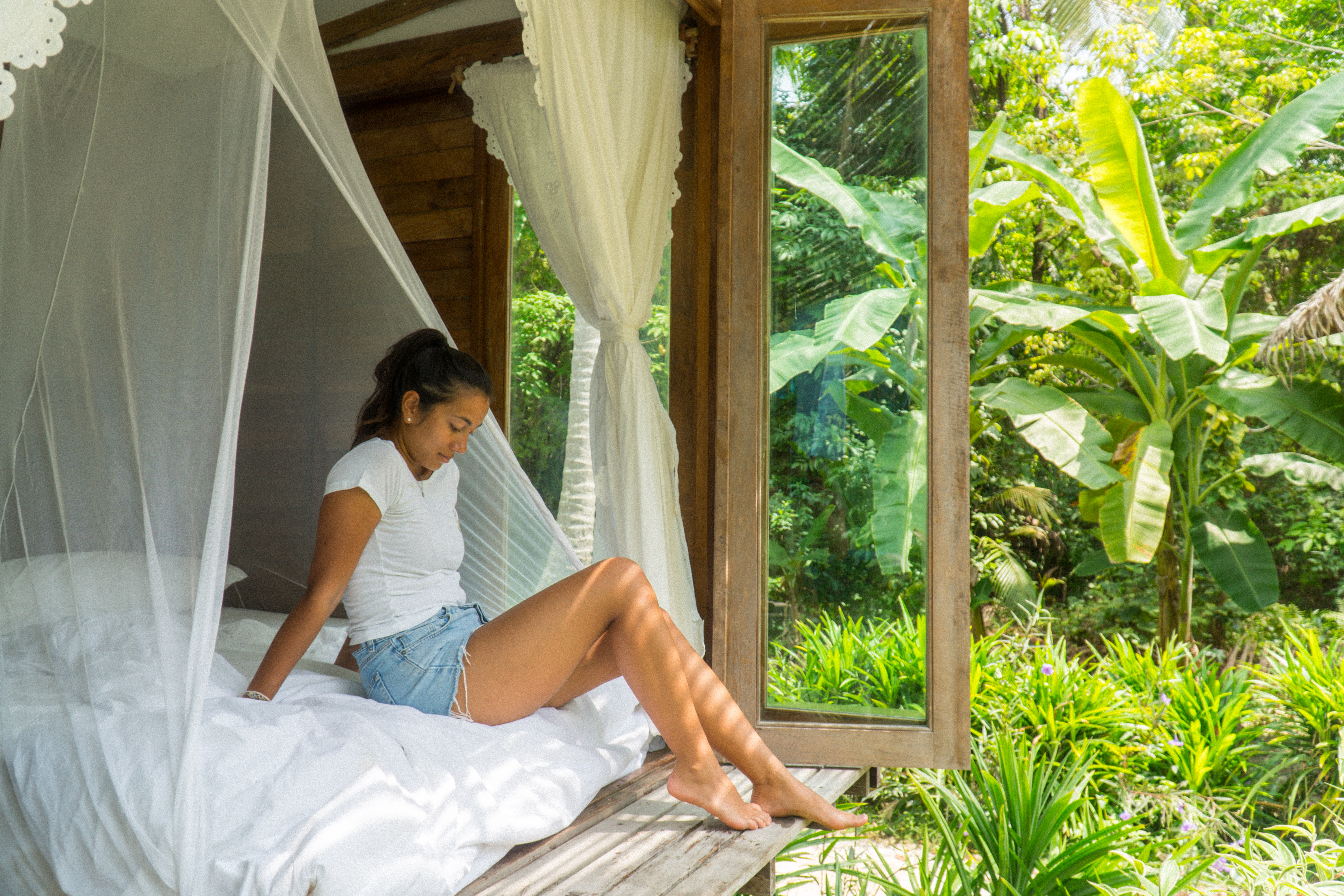 ---
What to do on Koh Kood
Beach hopping
There are plenty of beaches to discover and you might be lucky and have some of them all to yourselves. Just hop on a scooter and drive 20min South to Ao Phrao Beach – my favorite beach on Koh Kood. We had Ao Phrao Beach to ourselves for quite a long time and there were just a few resort guests from the only resort located on the beach.
Also, make sure to pay Bang Bao Bay a visit. It's different from Ao Phrao Beach in the sense that on Bang Bao Bay there is one bungalow after another, so it's a little bit busier. However, the beach is very clean!
Then there is Klong Chao Beach, one that should definitely be on your list! Despite the series of the high-price segment resorts on this part of the beach, it is incredibly calm and absolutely beautiful. The resorts have NOT taken in their respective beach sections by putting up beds and beach umbrellas, so there is quite a lot of space for everyone!
Go for a dive
Especially as a beginner, I was very impressed by how much we saw during our dives with the experienced guides of Koh Kood Divers: various fish species, some nudibranchs, a puffer fish and even a lionfish. For some of you this might seem low-key, but hey, I just started diving and I couldn't have asked for more. After our first dive, we drove back in the direction of Bang Bao Bay, had lunch on the boat and just relaxed. When it suddenly started raining, most of us jumped into the water to do some snorkeling since it can get quite chilly on the boat when you are wearing wet swimwear.
For one day of diving with Koh Kood Divers, we paid 3000 Baht (77€) per person. The price includes 2 dives, all the equipment and a lunch.
---
Where to eat

There are various places alongside the roads that offer really yummy Thai food.
Breakfast was included in our hotel rate, nevertheless, this never stopped me from getting supplies for my day at the beach: in the mornings, we passed by The Chill Out, so I could get my favorite Thai drink of all time – Cafae Yen, which translates to iced coffee. But be careful, Thais like their coffee very sweet! I always ask them to put less sugar in my coffee. They also have loads of fresh fruit, so make sure to stock up on healthy snacks before you head to the beach.
For dinner, we went to Chiang Mai Restaurant, which I can really recommend when you want to eat authentic Thai food. However, it is a very basic Thai restaurant, so don't expect attentive service – especially during the main hours. Everything runs at a slow pace in Thailand, or at least in family-run restaurants whose main customers are Thai people
The same applies to Chaiyo Restaurant. It has some really good Thai food.
For an afternoon snack, lunch or a refreshing drink head to View Point Café! We just sat there for two hours straight, because we were hiding out from the midday sun.
On the same day we went to View Point Café, we came back in the evening and went to neighbour Sunset Bar to enjoy some drinks and good music while watching the sun set.
That's actually all I have to say to Koh Kood. During my researches for my travels, I realized that Koh Kood is oftentimes spelled differently – like Ko Kood, Ko Kut, Koh Kood. I couldn't get much info from my mum and their friends either since they pronounce the name of the island with an R: Ko Krut.
Anyways, if you have any questions send me a message via Instagram or in the comment section below!
Safe travels guys!


[:]