Ubud · Casa Avana
Ubud · Casa Avana
I started my journey in Indonesia with a few days of exploring and relaxing in Ubud. This area is known for its spiritual and a bit more authentic vibe. Which is why I thought it would be the perfect start to this journey. To be honest, Ubud is quite busy, especially Ubud center. There are loads of shopping opportunities and restaurants, so it goes without saying that there are heaps of tourists. Fortunately, I found best Airbnb stay in Ubud surrounded by luscious green rice fields. It's just a 5-10minute drive from the center.
Tari, her husband and her brother, Krisna, warmly welcomed my boyfriend and I. We arrived with the arranged transfer from the airport. Even though we arrived way earlier than the actual Check-In time, our room was already ready. That was really convenient for us since we were traveling for almost 24 hours. We therefore couldn't wait to get a nice shower and freshen up a little bit to start into the first day on Bali.
To me, it felt like coming to visit a family or friends place that I haven't seen in years.

Location
From the airport
We were picked up at the airport and drove for 1 hour and 15 minutes to Casa Avana (250.000IDR). Tari was very surprised to see us this early because she was expecting heavier traffic. Be prepared to spend a little bit more time in the taxi.
From Ubud center
We rented a scooter for 60.000IDR (3,60€) a day, which is the best option if you stay at Casa Avana. Especially because there is no way to reach the Casa Avana by car because there is only one tiny path leading through the rice fields. One of the staff members organized a scooter for us at our arrival. In addition, I had the impression that it is easier to drive by scooter since the cars get stuck easier in traffic. The roads, in general, are not as spacious as I am used from Europe.
Going to Ubud center by scooter will probably take you 5-10 minutes depending on the traffic. We found quite a nice short-cut instead of driving on the main routes. That way we also saved a few minutes.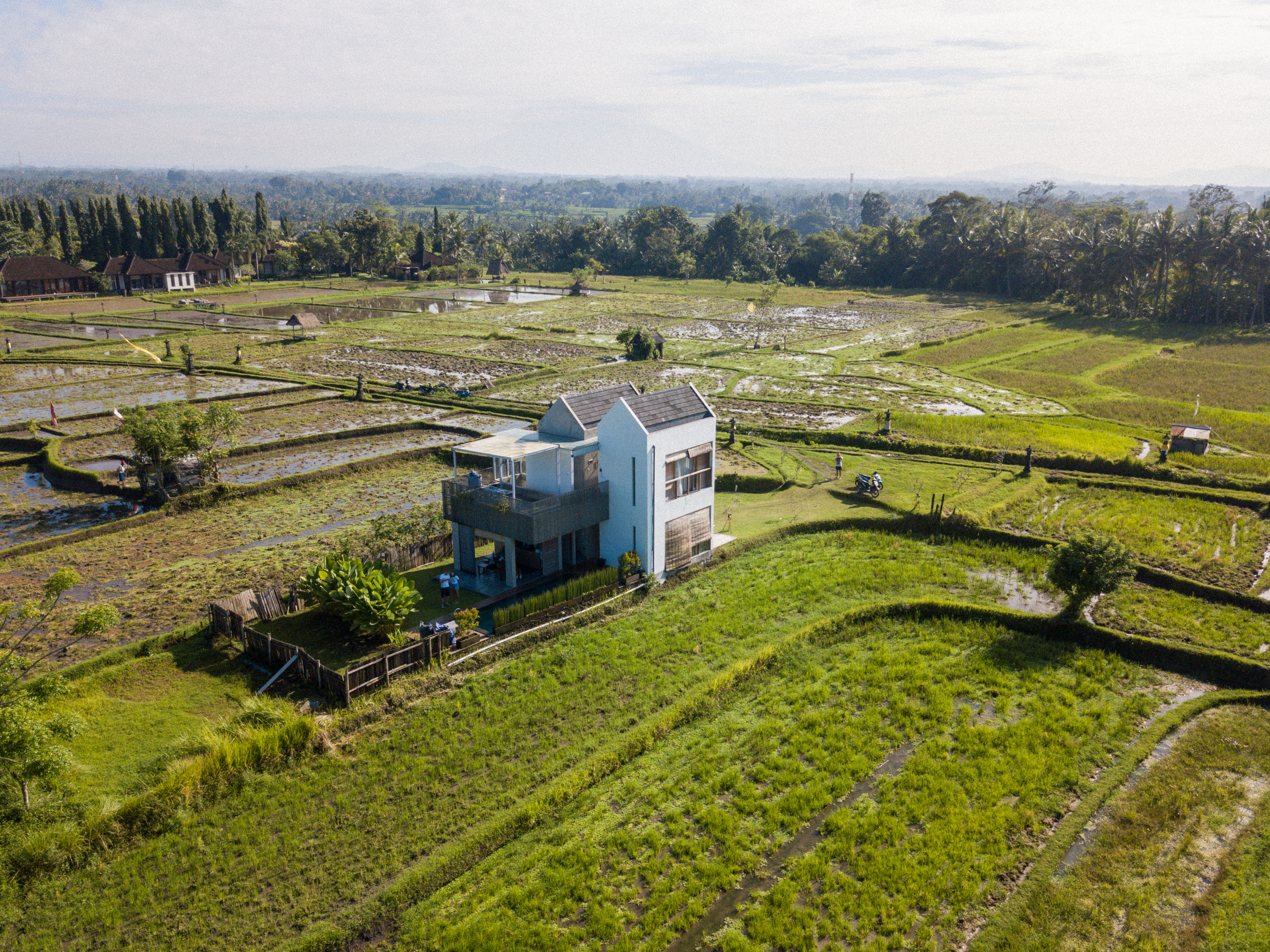 ---
Price
The room we had was around 36€ per night. We saved up some money because we had breakfast at Casa Avana which is included in the price. Don't expect a huge buffet waiting for you downstairs – there is tea, coffee, some reeeeally good sourdough bread, butter, peanut butter, cheese spread and eggs. We always made the breakfast ourselves, but there is staff on site that will gladly help you prepare your breakfast. Feel free to buy anything you want in addition for breakfast and put it in the fridge. I, for example, bought my favorite fruit that I haven't had in two years. Downstairs you also have the possibility to refill your bottles in the kitchen.
Room
There are two rooms upstairs that Tari rents on Airbnb, both come with an amazing view of the rice fields. It is perfectly clean, spacious and equipped with AC, shower with warm water, torch, umbrella and internet – just to name the most important ones.
Make sure to always put the blinds down when you're leaving the house because otherwise, rain comes in.
SERVICE
The staff is really nice! The lady, I already forgot her name, organized the scooter for us. And Tari's brother Krisna helped us get the tickets to Gili Meno. He's got some really good connections, so you can always ask him for help: he is one of a few owners of a hostel in Ubud and organized the tickets through the hostel for us.
In addition, Tari and Krisna are both yoga teachers – anyone up for an hour of yoga in the garden?
You can book here
AMENITIES
As I said before, you can always use the kitchen which is very convenient for those who maybe want to save up some money.
It can get very hot on Bali and the pool is a very good option to cool down during the day. As it was raining quite often during my stay there, it was a little bit cooler during the day so we didn't need to jump in.
RÉSUMÉ
I absolutely loved staying at Casa Avana. To me, it felt like coming to visit a family or friends place that I haven't seen in years. I was even thinking of coming back at the end of my journey but then decided to visit an island near Bali.