Siquijor Island
Siquijor Island
I think this island has much more to offer than I've actually seen on my daytrip. I only had a few hours to visit the main "sights" on Siquijor Island, but it was enough to convince me that this island is a little paradise. Amongst Filipinos, Siquijor Island is known as a mystic island, that is sometimes also referred to as "Witch Island". Before I went there, I had heard that there were healers and people who practice voodoo. So, I didn't exactly know what to expect of the island and its inhabitants.

---
How to get there and around
We found a cheap accomodatin Dumaguete from where we started our daytrip to Siquijor Island. We took the first boat at 5.45 a.m. to Siquijor Pier. A one-way ticket costs 130PHP per person, then you'll have to pay 15PHP extra as a terminal fee. We wanted to rent a scooter at the pier, but all scooters were already reserved. Fortunately, our tricycle driver, who wanted to bring us to San Jose, saw a house with rental opportunities for scooters on our way. He stopped, asked for the price, took the first scooter he saw and did a test drive. He asked if we were okay with renting a scooter for 350PHP from that place. Then he filled the empty tank while we filled out the papers. As the scooter rental was in the middle of nowhere, he proposed to pick us up at 5 pm.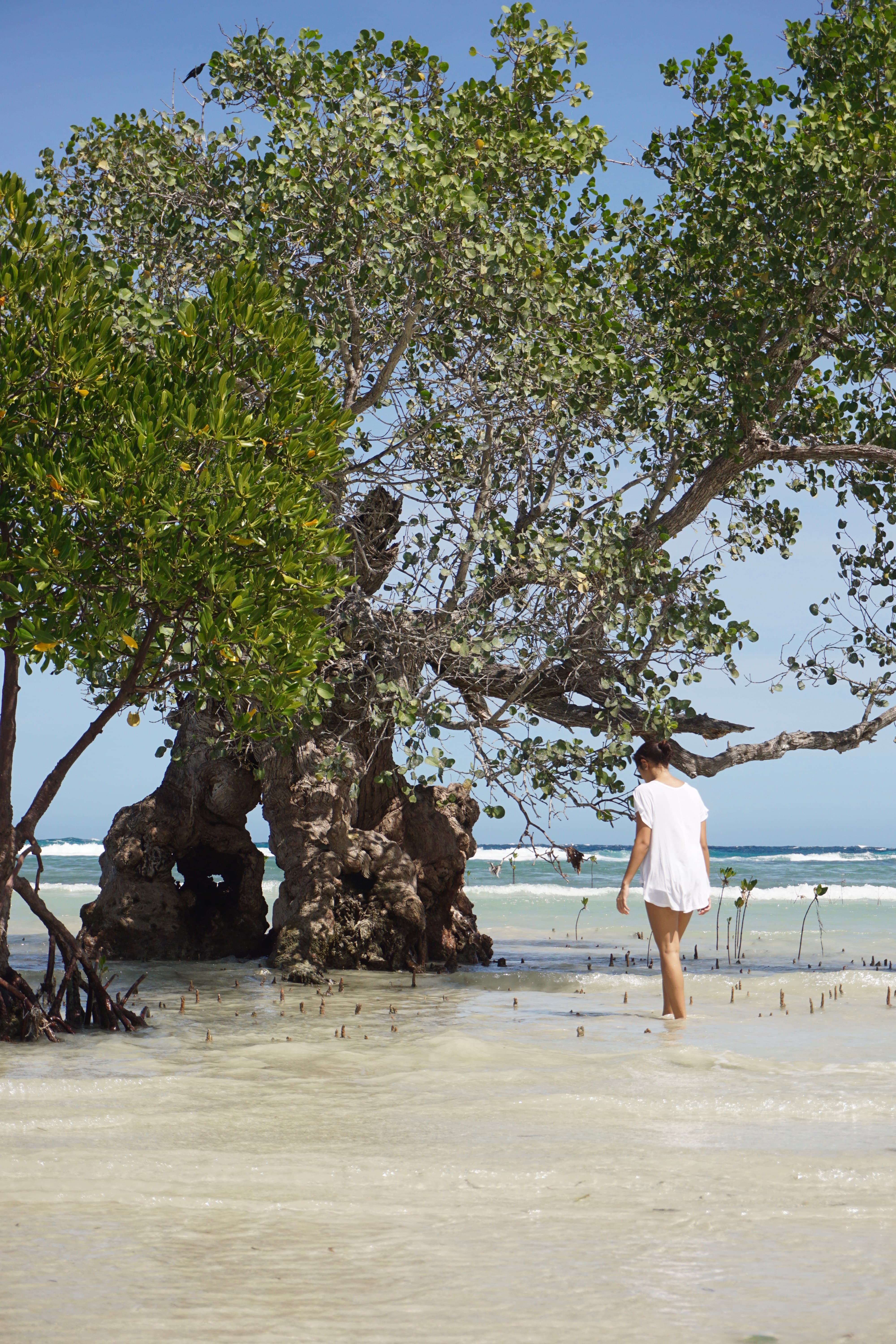 ---
What to visit
A visit to Siquijor Island without having seen the Cambugahay Falls isn't a real visit. I'll tell you why: Do you know this feeling that you get when you enter a place that you don't know anything of and all of a sudden, when you see the place, you're totally surprised? If so, you'll experience this feeling when you see the waterfalls. First, I only saw luscious green when I walked down the stairs. When I got closer, I could hear the people jumping into the water. I will never forget the color of the water. The bright turquoise water was simply amazing. The waterfalls are my favorite sight of the island. It's surrounded by jungle. At that point, I knew that Siquijor Island is a little paradise. After like 30min, tourist groups started to rush in. Most of them were Chinese groups. They stayed for half an hour, took photos and jumped into the water. As some of them can't swim, there are lifeguards to take care of them – they're local volonteers. One lifeguard told me that there were a series of robberies and so there are lifeguards who watch the bags and the people.
Another place that I can highly recommend would be Saladoong Beach. Not only tourists visit this place, also locals do. If you arrive on a scooter, you'll pay around 45-70PHP as entry fee – 20PHP for the scooter and 25PHP per person. For those of you who enjoy an adrenaline rush, there are two platforms at different hights from where you can jump in the water.
As in the last post where I wrote about Oslob, I'll also link another video of Christian Leblancs Youtube channel. If you haven't read my previous post: I recommend watching his videos for everyone who wants to travel in the Philippines. I found lots of useful information on his daily vlogs and so can you.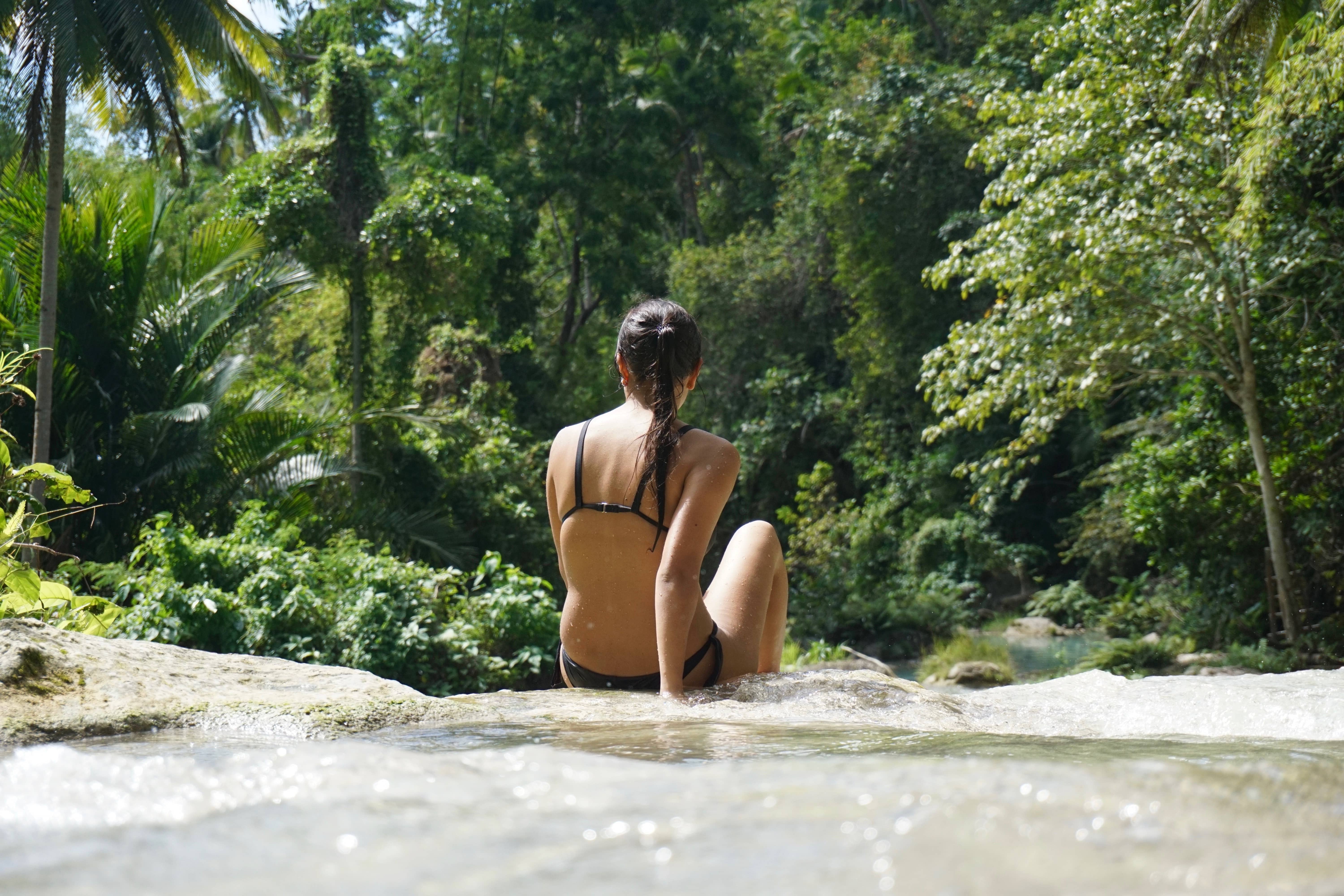 ---
My Travel Stories from Siquijor Island
Now that I'm rethinking all of these encounters with strangers on the island, I can truly say that these encounters were the most memoreable. The inhabitants of Siquijor Island were the most kind and helpful people I've ever met. They're less reserved than Europeans. As for the first encounter on this island, I didn't know immediately why I was that surprised. It's been the people we met who made this day trip unforgettable:
I already told you about the encounter with that tricycle driver who helped us find a scooter we could rent. Without us asking him for help, he filled the tank, asked for the price and did a test drive. I mean, how kind is that? It was the perfect start of our day trip.
That day, we simply wanted to drive around the island and visit the main "sights" and find a beautiful beach. The roads on Siquijor Island are not as well constructed as the ones I'm used to. We were looking for the right way to the  Cambugahay Falls and asked a few locals for help. One of them always pointed at our wheel and I thought that he didn't understand the question. After an hour of driving I finally understood what he wanted to tell us: we had a flat tire – in the middle of nowhere. Luckily, we passed by a house that had many tires and so we pushed to scooter back to this place. The local helped us immediately. He went away for a few minutes and returned with a new tube. When he had finished repairing the scooter, we asked him for the price and I couldn't believe what he answered: "What you want." Everyone else would have taken advantage of our situation, like the one who repared our tire in El Nido, but I'll tell you more about this in a seperate post.
Soon after that, we had to stop on the road and have a look at the map. I saw two jung men driving by but didn't pay much attention to them. Five minutes lates, these boys returned to ask us if we needed help: "Hey! Are you guys lost or something? Do you need help?"
Growing up in a European country, I always had people saying: don't talk to strangers/never take anything a stranger offers you/be careful when traveling…etc. Like the world would be so dangerous and everyone else couldn't be trusted. This day and these encounters showed me that there are still people outside who will help you out without expecting money in exchange. We're biased by bad experiences we made and think of everyone as a bad person. At least I was always cautious when I met people on my travels because of that. When I met these people, I knew I was wrong about them. I've never met so many friendly people on one day. This is why I love travelling. There are so many people that you can learn from.