Riad Awatif 36 · Marrakech
Riad Awatif 36 · Marrakech
Marrakesh is just amazing, it's a vibrant, but still very cultural and traditional city. Since there is always so much going on in the Medina, I sometimes needed some time off and that's when I was happy to go back and relax in the riad where we stayed at. Luckily, we were the only guests staying at this place, so I could discover every little corner of this beautiful house – including every room, since they were not locked. The overall discription of this riad would be: very modern, but still traditional – in my opinion the perfect combo that makes this place unique.
---
Situation
For me it was really important to find a riad that is located in the Medina, the old town of Marrakech. Outside of the Medina, life and houses are more modern. You could also try to find an accommodation in Guéliz, aka Nouvelle Ville – which literally translates to new town. There, you have lots of shopping possibilities like Zara and other stylish boutiques, but I prefered to stay in the Medina and stroll through the traditional souqs of Marrakech.
But now back to the riad: Basically, a riad is a traditional Moroccan house with an interior courtyard, some riads also have a small pool in the courtyard. There are various riads in Marrakech and the one I found, was located only a few minutes away from the famous souqs and sights of the Medina – Riad Awatif 36. This beautiful house is one out of three riads of the Riad Luxe Collection. 
---
Price
I came across this place on expedia.com and was immediately interested in this traditional and yet very modern riad. Furthermore, the price for a standard room with breakfast was 70€ (per night) and the other rooms that are bigger were 50% off the normal price. We stayed in Marrakesh for four nights and therefore taking the offer would really pay off. So I booked the Diamant Suite for 75€ per night, which normally costs 150€. The breakfast is included in the price. I saved 300€, YAS!
---
Rooms
The riad has five rooms that are all different in color and size. I went for the biggest room, the Diamant Suite. This room (don't expect a huge suite like in 5* hotels), doesn't offer more furniture than the others, but it's a lot bigger in size and it's the only room with an outdoor window. It is equipped with a shower, king-size bed, safe and a small seating area. In addition, there is shampoo, shower gel, tooth paste, body lotion, tooth brush, bathrobe, slippers and a bottle of water in each room; not to mention a hair-dryer and air-condition.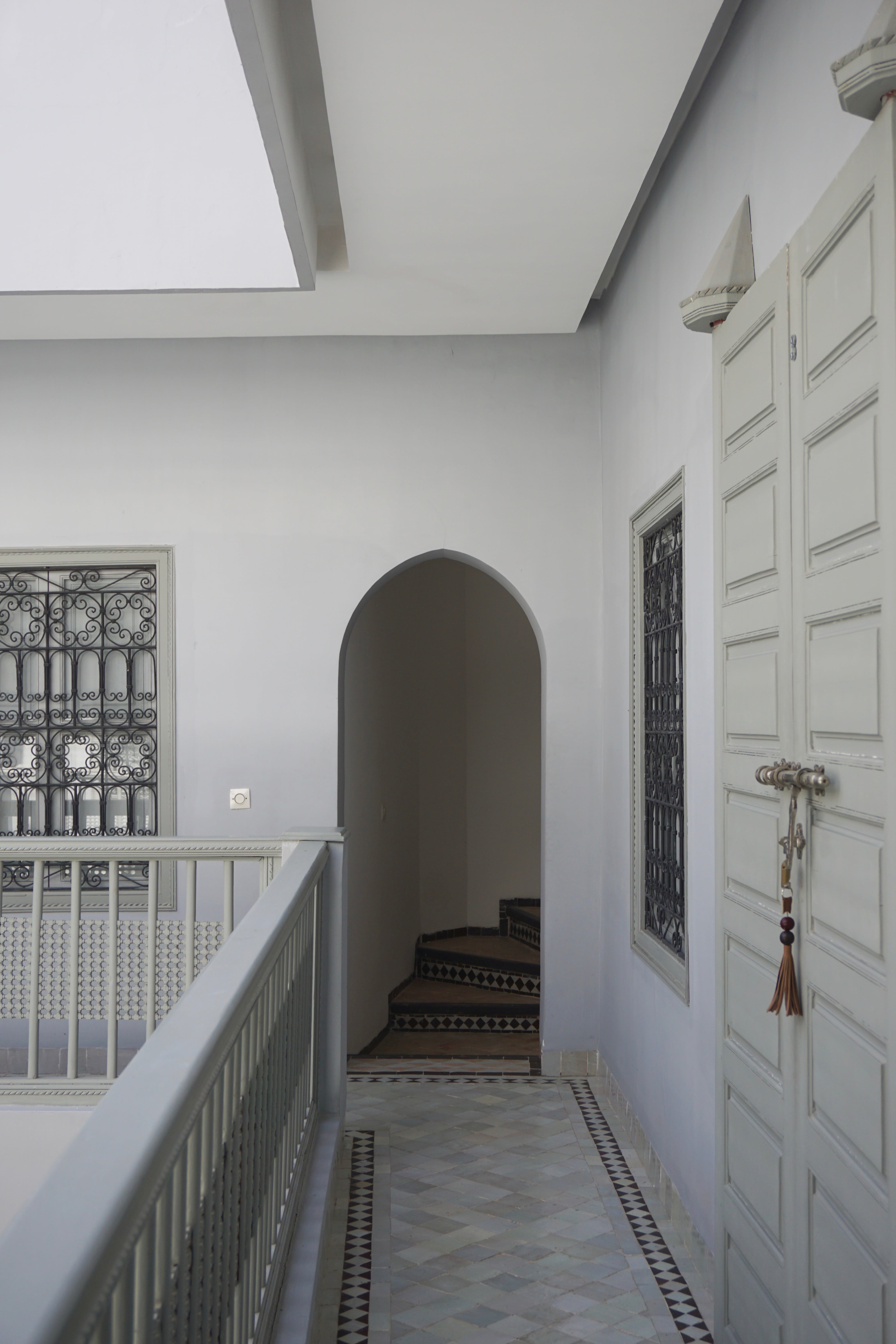 ---
Breakfast
The most important meal of the day is served on the rooftop of the riad. A typical Moroccan breakfast consists of Moroccan bread and the Moroccan mint tea – also called the Moroccan Whisky 😉 As for our breakfast, we were given fruit salad and two different kinds of bread that we ate with jam and butter; one that was in the shape of a small bread and one kind of bread that I would describe as a crêpe, but much thicker. Morocco is also known for it's excellent orange juice – a breakfast wouldn't be complete without an orange juice 🙂 In addition to the mint tea, the breakfast also includes coffee and hot chocolate.
---
Service
The manager of the riads, Chris, is very very friendly. We were offered Moroccan mint tea as a welcome drink and exchanged numbers to stay in contact in case we have questions. Chris is French and the staff is Moroccan. As it turned out, it is really important to have her telephone number because the two women who cook and clean the rooms don't speak French. Hashim, the guy who stayed during the nights, only speaks French. So Chris is the only one who speaks English quite well. All in all, you can speak French and English everywhere in Marrakech.
---
Amenities
Hammam, massages, pool, living room, kitchen
---
Résumé
We pretty much had the riad all on our own, because we were the only guests during our whole stay. That is also why I am writing this review about the Riad Awatif 36. It really deserves some advertising in order to have a few more guests. The prices are not the cheapest ones, but I would definitely come back and book the standard room (if there is no offer). Because of it's small room number the riad offers a very personal service and Chris is always available, even on her days off. In my opinion, the location is top. Once you know your way, it's easy to find.
Personally, I would have been way more critical with the service and amentities if I had paid the actual price for the Suite; the room was cleaned daily, but the water bottle has never been exchanged. So there is only one bottle of water for the whole stay (or maybe they just forgot). We wanted to watch TV in the lounge, but the TV didn't work. The pool on the rooftop wasn't filled with enough water and therefore never cleaned. The manager Chris said that the water is too cold, but I would have jumped in anyway to cool down from sunbathing on the rooftop.
If this riad and its normal prices are too expensive, go and check out airbnb.com. There are so many beautiful accomodations, I just couldn't resist the offer on expedia.
Riad Awatif 36
36, derb Lalla Aouich Assouel,
Médina, Marrakech
40000, Morocco