Gili Meno · MaoMeno Resort
Gili Meno · MaoMeno Resort
As we arrived on Gili Meno, we quickly noticed that it was very quiet on this island due to low season, but also due to its image as "honeymoon island". We booked on a very short notice and there weren't many beach bungalows left that fit our budget. As we walked in at MaoMeno resort there was literally nobody around besides the manager and a cat jumping around like a monkey from one cupboard to another. The Check-In went by quite fast. We were told that we were the only guests at MaoMeno Resort which was really nice, especially after staying on very busy Bali 🙂 She gave us some homemade cinnamon & ginger iced tea as well as a map of the island and off we went to our bungalow.
The resort reminded me a bit of a ghost town – all the doors of other bungalows were open – and you could enter to have a look around. I was a bit skeptical when we were told that there are no keys to any of the bungalows. Yes, no keys.
A safe would have been very reassuring, but they had hidden corners where we could put our electronics and other important stuff. As there was no security or many staff around, I was always a bit worried when we went out to the beach or dinner. But thankfully everything was fine.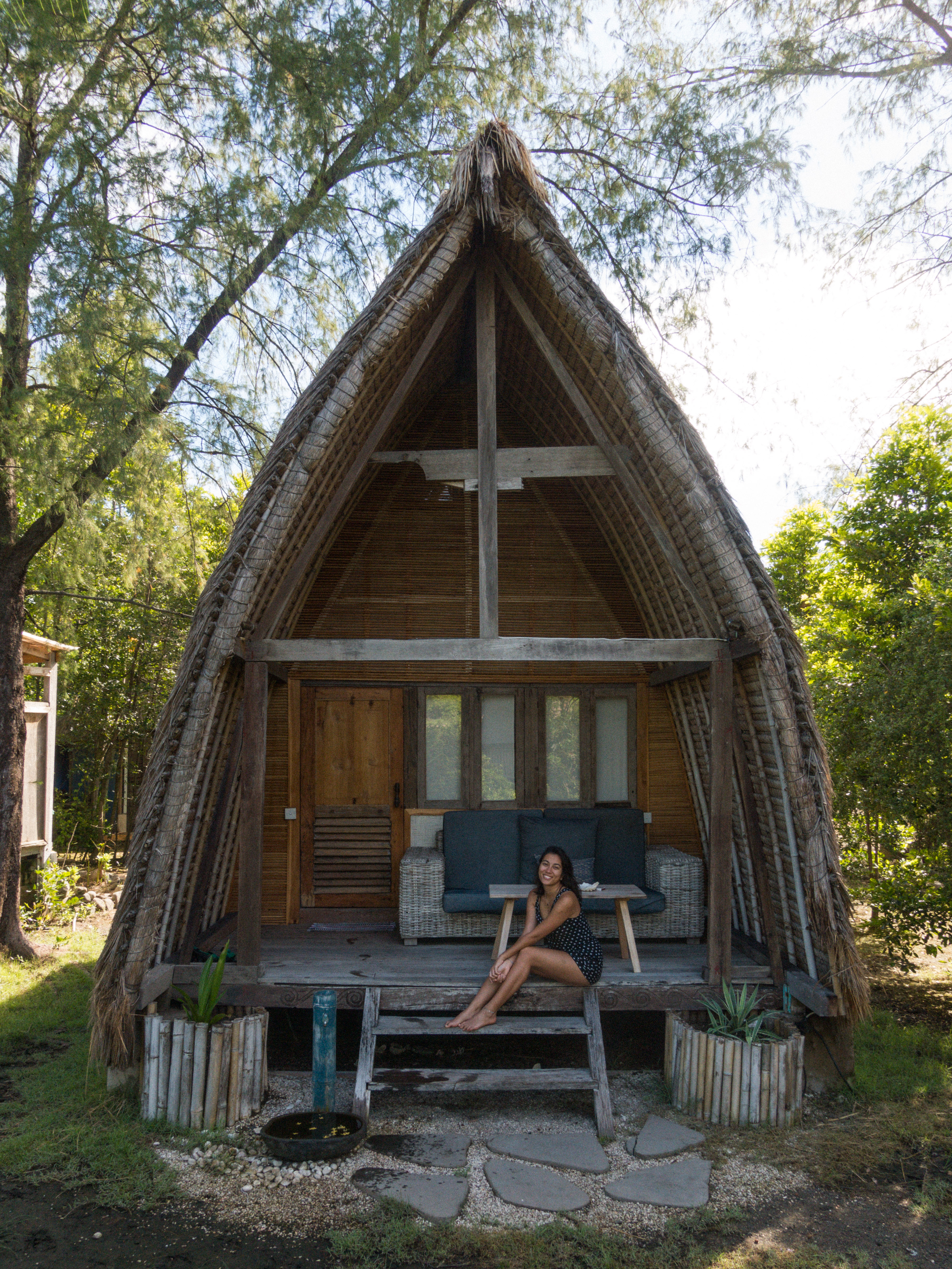 Location
MaoMeno is located in the middle of the island – about 10 minutes walking distance from beaches in the eastern part as well as the western part. I didn't mind being located in the middle of the island since we passed by a mosque, a school and many local houses and families on our daily walks to the beach – so we also got to see what daily life was like for the people who live there.
If you can, take the path leading south – we arrived after a few days of heavy rain and we totally regretted our decision trying to walk south through the jungle since we were all covered in mud and everything was so slippery. But if the soil is dry, this is a really nice path leading to an empty beach with a reggae bar.
One thing I really hated about the location of the island in general was the proximity to Gili Trawangan. As some of you might know, it's a party island. So every night, I could hear the beat coming from Gili T in my bungalow. Yey.
Mao Meno Resort
Gili Meno Island
Room
Bungalow with garden view

Our bungalow was spacious and it was equipped with everything we needed besides for a cupboard for our clothes: AC, towels, homemade soap and clothes drying rack for wet swimwear and beach towels. We even had a small seating area at the front of our bungalow. Our outdoor bathroom came with a rain shower and two geckos that greeted us every evening when we walked into the bathroom.
Mosquitoes are pretty nasty – during the night as well as during the day! Make sure to bring mosquito repellent when you come to stay here.

Breakfast
There is a good variety of breakfast options like scrambled eggs with toast, bircher muesli or fruits with yogurt – all very healthy options, in my opinion, e.g. scrambled eggs were sauteed in water instead of oil. Remember that you're traveling in Asia, so everything takes longer than you might be used to from home: we were sitting outside at 8am when breakfast time started, but as we were the only guests on the grounds the staff was not showing up until 9am on our first morning, but every other day after that they knew that we would get breakfast very early.
Price & Resumé

I booked a bungalow with garden view for 44,50€ a night, including breakfast (2 persons). I chose to book the breakfast as well since it only costs 3€ per person. In my opinion, the overall price is a little bit expensive for what they're offering:
Only breakfast is provided, no lunch or dinner. The room was very clean. The manager was very helpful but other than that the staff was trying to stay out of our way – so no connection or talks with the staff. It would have been nice to see staff dressed uniformly in basic polo shirts or so in order for the guests to recognize them as staff immediately.
They didn't promote their yoga classes. The small swimwear shop next to the Check-In desk could also be more promoted. And the list goes on an on – I think MaoMeno has a lot of potentials but isn't using it. If the resort had been taken care of every day and the rooms wouldn't look like the resort just had been ambushed, it could have way more visitors in low season as well. Unfortunately, as I said before, they're not taking advantage of their potential.
Depending on how much you want to spend there are many more small and beautiful resorts on Gili Meno. Some are within walking distance of the beach, I will put my favorites in my travel guide on Gili Meno that will follow this week.