Oslob · Whale shark watching
Oslob · Whale shark watching
I came across Christan Leblanc's Youtube channel when I was doing some travel research in December. He was traveling around in Asia for a few months and also in the Philippines. His daily vlogs were really helpful for my journey, also the one from the whale sharks in Oslob. Whale sharks are the biggest sharks and fish in the ocean, but don't worry, they only eat plankton 🙂
---
Snorkeling with whale sharks – experience, personal opinion & advice 
Tourist come in hords from Cebu City to snorkel or at least to see these giants. Unfortunately, I wasn't able to go and swim with the whalesharks because I got super sick the night before; but my boyfriend went to see the whale sharks and I will tell you everything from his point of view. Maybe you've already noticed that I don't recommend any restaurants in my previous posts from the Philippines. It's because the night before the whale sharks I got really bad stomach cramps, blackouts etc. And because I didn't know what food got me sick, I don't recommend any restaurants.
I've always been a bit sceptic when it comes to the whale shark attraction in Oslob because they're being fed in order to garantee the daily presence of whale sharks on site. Otherwise they wouldn't make any money. Whale sharks come to eat and when they finished, they leave the site. Basically they're free to go whenever they want to, but in my opinion it's not in their nature to be fed. In addition, they get used to us human beings. In order to counteract, the organizers explain the tourists before they get to the boats how to behave properly in the water e.g. to keep distance and not to touch the whale sharks.
A ticket for one person costs 1000PHP, it's a crazy price! You'll only have 30 minutes to swim in the water. You can lend snorkeling equiment and underwater cameras on site for extra money. Also, there is a whale shark watching fee that you have to pay in addition to the 1000PHP. Filipinos collect fees for everything. As there are so many tourists arriving every day, I'd recommend going there as early as possible. My boyfriend left the accommodation at 5.30 a.m.
There are two possibilities: Either you swim with the whale sharks or you stay in the boat (which is less expensive – 500PHP). Some tourist who stay in the boat want to show their family pictures of the whale sharks. They literally throw themselves (with a life vest) off the boat, get pulled under water by a Filipino and another Filipino takes a picture. Well, that must be really funny to watch 🙂
All in all I guess it is a nice experience. For those of you who want to avoid Oslob because of ethical reasons, there is still the possibility to swim with whale sharks in the Philippines. Whale sharks at Donsol Bay are not fed, but of course there's no garantie that you'll spot a whale shark. I've seen many websites who recommend going there from February to April, because of peak season.
For more information I'd recommend visiting the Youtube channel of Rob Brand as well as Christian Leblancs channel. I'll link both their videos about the whale sharks down below:
Rob Brand – Oslob Whale Shark and Tumalog Falls Guide
Christian Leblanc – Whale Sharks of Oslob & Tumalog Waterfall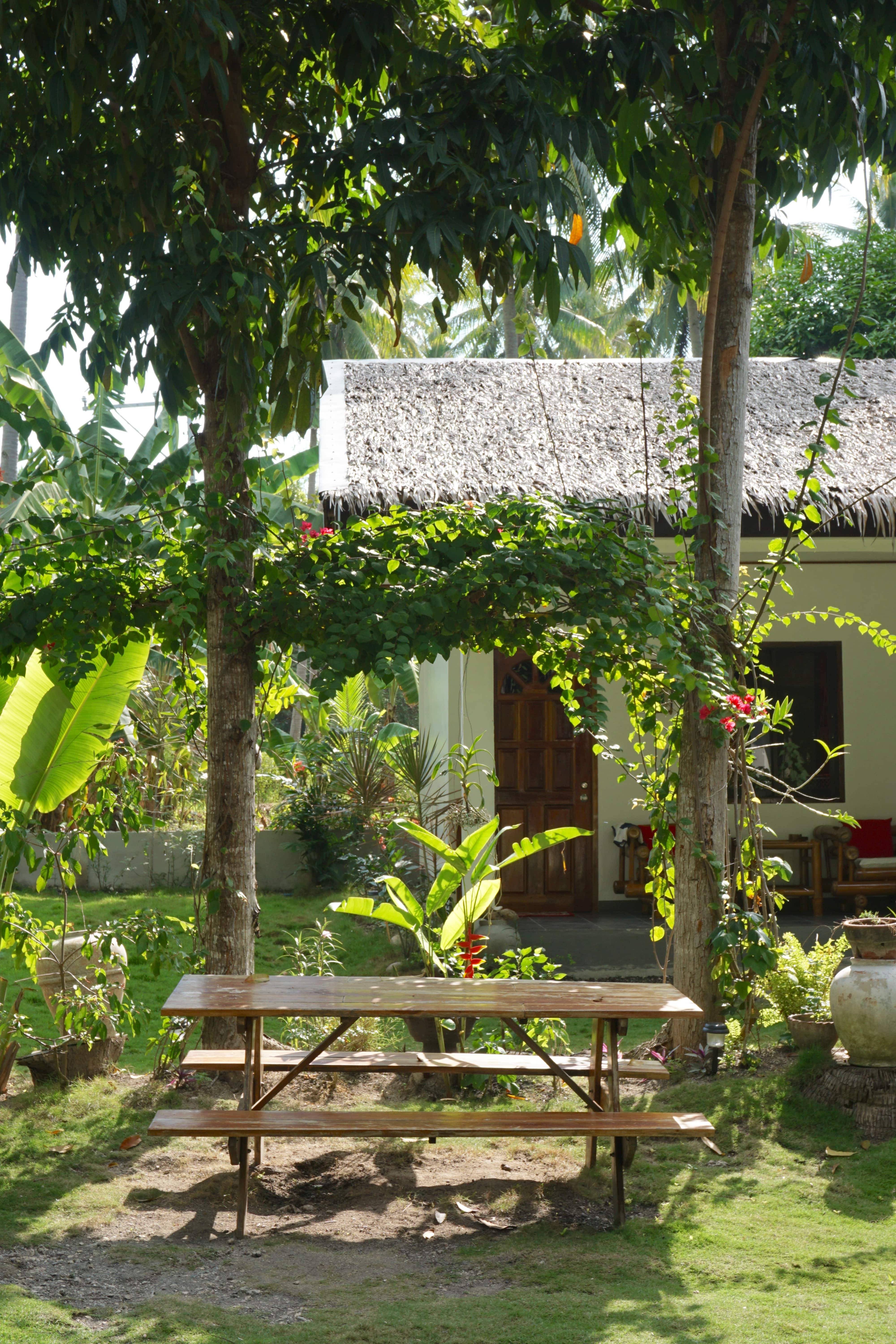 ---
Where to sleep – info & advice
Most tourists book their accommodation assuming that the spot for whale shark watching is in the village Oslob. In fact, it actually is located a bit further south from Oslob (about 9km). There are only a few accommodations right next to the location, some are really expensive. If you're looking for a resort with modern furniture, a calm location and beach access, I can only recommend The Farm in Lilo-An, the very southern point of Cebu Island.
I found this pretty place on booking.com. For my journey, this was an excellent accommodation because the port is only a five minute tricycle drive away and you'll only need 10min to the whale sharks. The price for one room is actually quite good, given the modern facilities and the excellent service. One night costs 37€, including breakfast. So whoever wants to continue his/her journey to Dumaguete, Negros, is best advised to stay there because of it's good location. However, there is no direct connection from Lilo-An to Dumaguete. First, you take a boat to Sibulan, Negros, and continue to Dumaguete with a tricycle which only takes you less than half an hour in total.
If you have any questions don't hesitate to ask me.