A mini-guide to Phu Quoc
A mini-guide to Phu Quoc
In this mini-guide to Phu Quoc, I got you covered with my favorite restaurants, beaches and activities.
Phu Quoc is a beautiful island that has attracted more and more attention. It is marketed as the Phuket of Vietnam, so, before the masses will arrive, I wanted to take a glimpse at its laidback vibe and empty beaches.
Before you start reading, I would like to mention that I wrote this post almost two years ago and forgot to publish it. Some things might have already changed on this beautiful island, but I hope that most of the empty beaches that I recommend in this mini-guide to Phu Quoc are still untouched.
---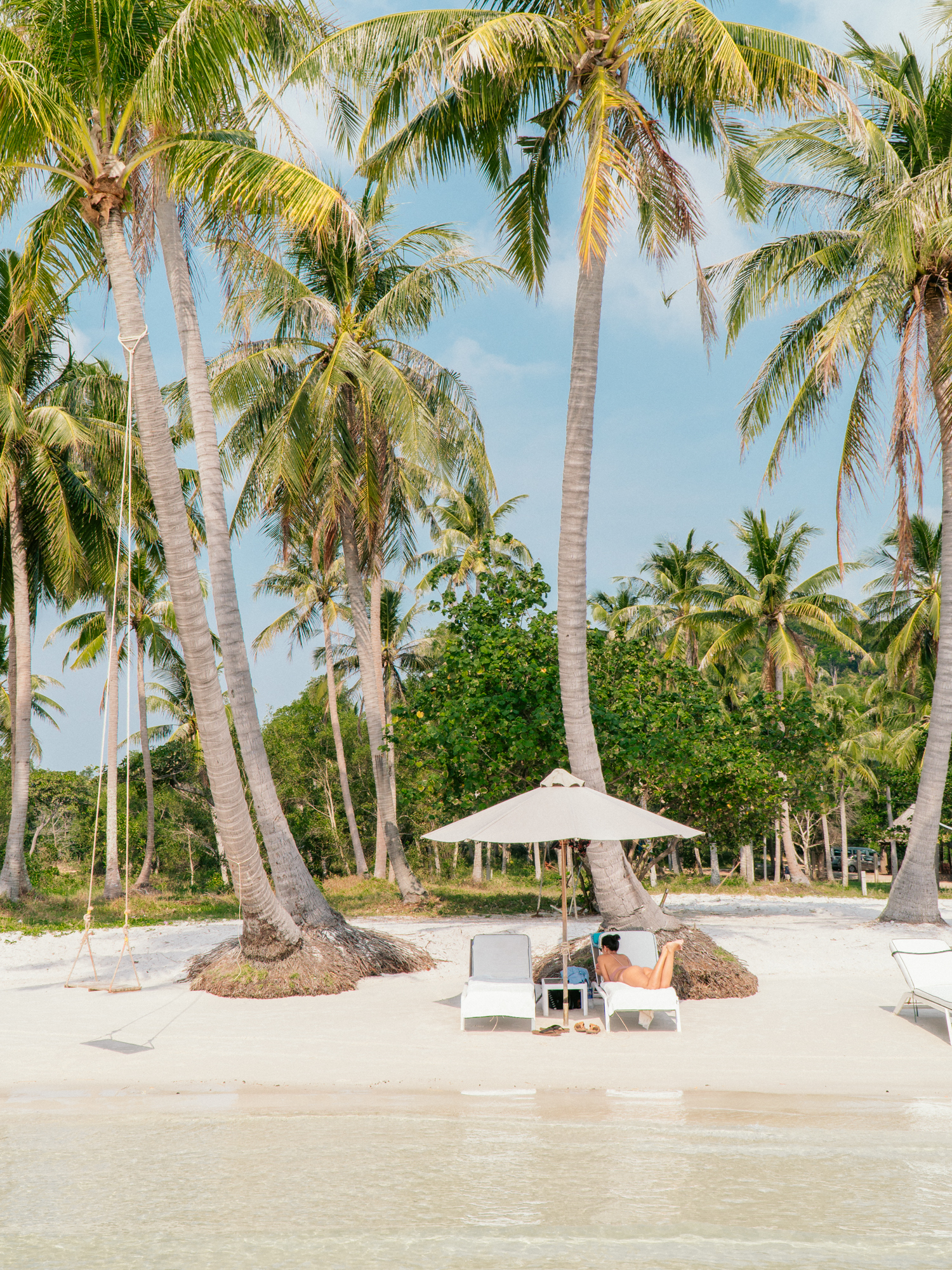 How to get to Phu Quoc
Flights are very cheap in Vietnam. The flight from Ho Chi Minh City to Phu Quoc was the shortest flight I've ever had. We spent roughly 15min in the air, and the rest of the time is spent on take-off or landing.
---
Weather in February
I exchanged the rainy weather in HCMC for a very good amount of sun and beach. On my first evening already, I could feel a pretty nice sunburn on my shoulders and my nose. In my opinion, the perfect start to two weeks of sunbathing in Vietnam and Cambodia.
---
Some thoughts on the development of Phu Quoc
During my visit, I saw that a lot of hotels were in construction. Hotels in the sense of mansion-like buildings, sometimes 5-10 stories high that do not fit in the overall style of Vietnamese houses. The roads are being built in the middle of the jungle leading to the prettiest stretches of sand one could imagine. There's no doubt that hotels will soon pop up along those newly built streets.
Small islands in the south, where we were heading to dive, are said to be changing in the upcoming years. Local fishing villages are being "asked" to move in order to give way to a cable car project that connects Phu Quoc with the surrounding islands. And of course, they also want to build new hotels on the islands that once belonged to the locals.
If want to experience the quiet island life and you can make time to visit Phu Quoc then better be quick. I don't think that it will look the same in a few years' time.
But now, let's get to the fun and essential part of this mini-guide to Phu Quoc:
---
Food
The Best Banh Mi
The first bite was an explosion of so many different flavors in our mouths. We just looked at each other and immediately knew that we'd buy two more of these! (Yes, we love food.)
My boyfriend and I took a PADI Open Water Diving course at the Rainbow Divers. We asked our instructor if he could recommend some "restaurants". We were desperately trying to find a good Banh Mi on our travels in Vietnam. His first recommendation was a bakery that makes the sandwiches themselves.
Right after our first diving sessions we headed to the bakery and arrived just on time. The woman took the super crunchy baguettes out of the oven. Guh, the smell was incredible! We bought two Banh Mis filled with fresh ingredients and sat down right next to the bakery.
There was nothing to complain about except for the two slices of chili that made our heads turn all red. We cried because it was so hot.
You might ask yourself – alright, but how much did it cost?
20,000 VND (around 0,50€) for one Banh Mi was just a ridiculous price. The longer we stayed, the more people arrived to buy fresh Banh Mis–more locals than tourists! To me, it's always a good sign if locals eat a place too. It proves that it's good food and also at a reasonable price.
The next morning, we headed there again – to save money but also because it was just a real pleasure for our taste buds.
We have tried out Banh Mi shops in HCMC but weren't that happy since the amount of meat just made it taste very greasy. At this place however, the Banh Mi just had the right balance of meat, sausage, vegetables and spices. Plus, her baguettes are so soft. Make sure to check this place out if you're looking for really good Banh Mi! It sure is the best in town.
---
Pho
At our hostel – 88 Hilltop Hostel – we had Pho, a traditional Vietnamese soup, for breakfast twice and even ordered the soup once for dinner. This soup is very similar to my favorite Thai soup.
---
During my research, I came across a very popular, small restaurant located not too far away from my hostel. I really wanted to go check it out. First, I was a bit suspicious because we were the first guests. The menu is small. Saigonese Eatery offers sort of an Asian version of tapas. We reordered our favorites once again and we had actually planned on ordering dessert too, but there was just not enough space left in our tummies! Their polenta chips, chicken wings and filled baos were oh so tasty…
Of course, we went back the next evening since we had trouble finding something else. The girl, I even think she's the owner of this cute restaurant, immediately recognized us and welcomed us back. Her English is amazing and she's trying her best to make everyone enjoy their dinner.
---
If you want a cool spot to sit and relax–either for lunch or for a drink at night–this is a really nice place to visit.
Nightmarket
To be honest, I didn't really like the night market. Sure, there are lots of restaurants and things to buy, but it's very touristy, expensive and crowded.
---
Beaches
We rented a motorbike for four days but were only able to explore a few beaches since our dives took up the most time of our stay on the island.
Bai Sao
Bai (Vietnamese word for the beach) Sao is the most commercialized beach on the whole island. Nevertheless, we obviously wanted to see this beach for ourselves. Bai Sao is a pretty stretch of white sand in the South of the island. Unfortunately, this beach is very shallow and attracts families. Therefore there are inflatable bouncy castles put up in the water. It just destroys the look and the atmosphere of the beach.
However, if you go far to the left or to the right of the beach, you can escape the crowds and relax.
---
Bà Kèo
I don't recommend going to Bà Kèo unless your hotel is located right in front of the beach. Guests who come from somewhere else of the island will have difficulties finding a place to sit down. There isn't much shadow and the beds are reserved for guests only. I even walked past some very disgusting looking wastewater that flows from the hotel right into the water near the beach.
---
Empty beaches – Cua Can Beach & Vung Bao Beach
Empty beaches are my favorite beaches. Thankfully, there are lots of them and a lot of tourists don't go there. It requires around 30min of driving on the scooter. I highly recommend taking the scooter further North near Chez Carole. I found beautiful empty beaches next to Chez Carole–Cua Can Beach & Vung Bao Beach. Both are perfect for watching the sunset.
---
Diving
Another must do in my mini-guide Phu Quoc: If you're fed up with hopping from one beach to another, I highly recommend going for a few dives with the Rainbow Divers Vietnam. Two years ago, I did my PADI Open Water Diver course there. And I still remember our last dive because the site was just impeccable. We drove South to An Thoi and took a boat further South.
The site, I believe, is called Lighthouse Rock. It should be somewhere near Fisherman's Bay and I have never seen anything like it since then. Good visibility and beautiful rock formations that boast such an amazing marine life.
If you want to learn more about how to get started with diving and my diving experience with the Rainbow Divers, I'll insert a link to my post here.
---
Where to stay
I booked a bunk bed for couples (queen-size mattresses) at 88 Hilltop Hostel and we paid 53€ for three nights. It's a very nice place to stay at and offers great views on the terrace. We actually were the only guests for the first two nights. There is a very nice chill-out area downstairs. Some parts were still under construction but should be finished by the time of writing. We had a few misunderstandings with the staff since their English wasn't very good.
Story Time: A night I won't forget for the rest of my life
One evening, I made a very shocking encounter with a humongous spider in the bathroom. It was right in front of my face. I almost didn't notice it since it had the same grey camouflage color like the bathroom walls. I ran outside the bathroom, screaming from the top of my lungs. Later, I spotted smaller spiders (hand-size) in our shared room. Those sneaky little things are hiding everywhere. Make sure to keep an eye out!
That's my mini-guide Phu Quoc on restaurants beaches. I hope you find it useful.
Safe travels