Marrakech · Travel guide
Marrakech · Travel guide
I have a lot of amazing travel destinations on my bucket list, but as I am still a student, only a hand full of these wishes can be made reality. After my trip to the Philippines, I was already thinking about where to go next. I had never been to Africa before and thought Easter would be a good time to go there because of the warm weather. I was quite lucky, because I found cheap tickets and a beautiful riad in the Medina that offered 50% off their room rates on expedia. And the best thing – I only had to wait two weeks until I could discover a new destination. So here is my travel guide to Marrakech.
---
Hotel review – Riad Awatif 36
LOCATION
For me it was really important to find a riad that is located in the Medina, the old town of Marrakech. Outside of the Medina, life and houses are more modern. You could also try to find an accommodation in Guéliz, aka Nouvelle Ville – which literally translates to new town. There, you have lots of shopping possibilities like Zara and other stylish boutiques, but I prefered to stay in the Medina and stroll through the traditional souqs of Marrakech.
But now back to the riad: Basically, a riad is a traditional Moroccan house with an interior courtyard, some riads also have a small pool in the courtyard. There are various riads in Marrakech and the one I found, was located only a few minutes away from the famous souqs and sights of the Medina – Riad Awatif 36. This beautiful house is one out of three riads of the Riad Luxe Collection. 
PRICE
I came across this place on expedia.com and was immediately interested in this traditional and yet very modern riad. Furthermore, the price for a standard room with breakfast was 70€ (per night) and the other rooms that are bigger were 50% off the normal price. We stayed in Marrakesh for four nights and therefore taking the offer would really pay off. So I booked the Diamant Suite for 75€ per night, which normally costs 150€. The breakfast is included in the price. I saved 300€, YAS!
ROOMS
The riad has five rooms that are all different in color and size. I went for the biggest room, the Diamant Suite. This room (don't expect a huge suite like in 5* hotels), doesn't offer more furniture than the others, but it's a lot bigger in size and it's the only room with an outdoor window. It is equipped with a shower, king-size bed, safe and a small seating area. In addition, there is shampoo, shower gel, tooth paste, body lotion, tooth brush, bathrobe, slippers and a bottle of water in each room; not to mention a hair-dryer and air-condition.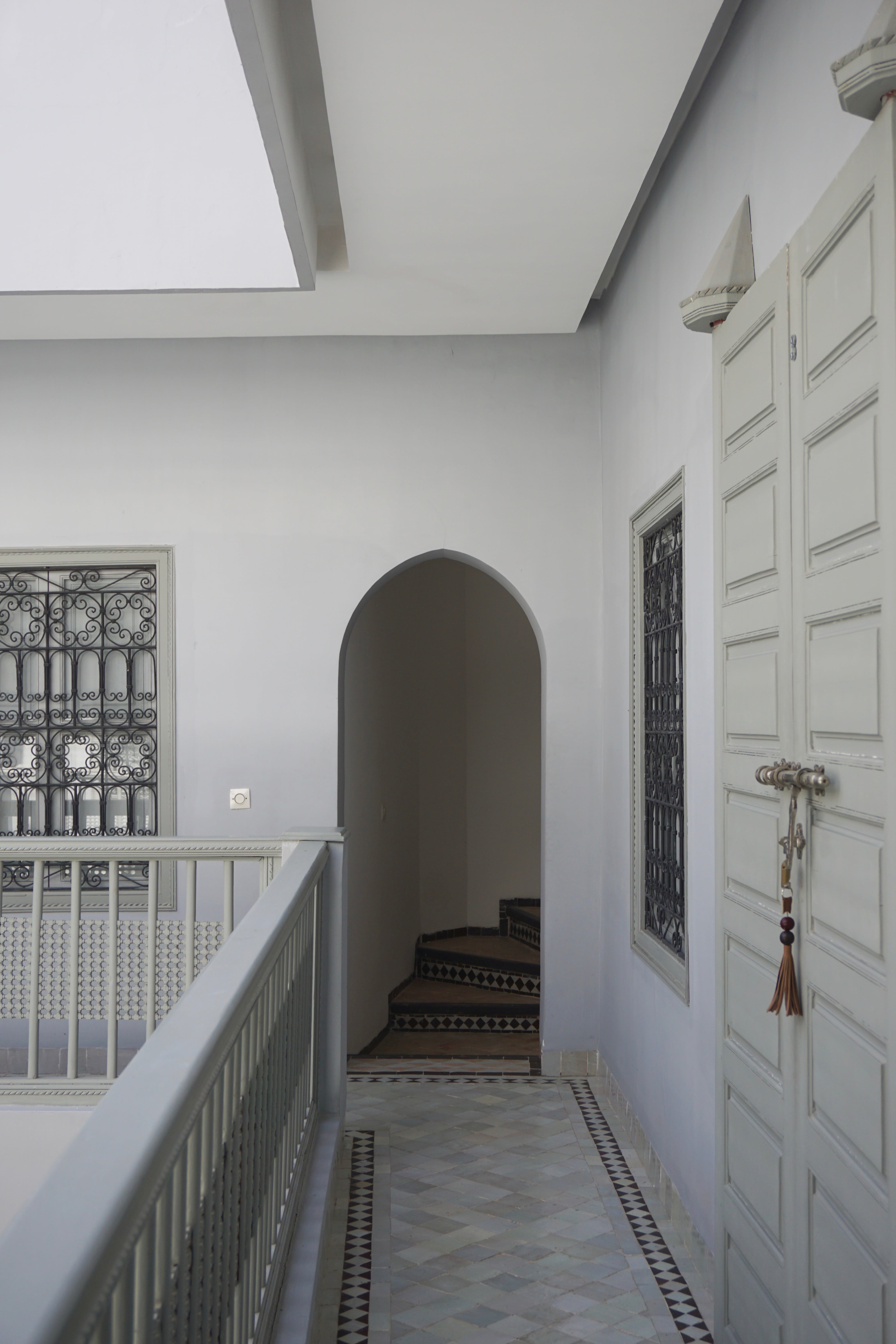 BREAKFAST
The most important meal of the day is served on the rooftop of the riad. A typical Moroccan breakfast consists of Moroccan bread and the Moroccan mint tea – also called the Moroccan Whisky 😉 As for our breakfast, we were given fruit salad and two different kinds of bread that we ate with jam and butter; one that was in the shape of a small bread and one kind of bread that I would describe as a crêpe, but much thicker. Morocco is also known for it's excellent orange juice – a breakfast wouldn't be complete without an orange juice 🙂 In addition to the mint tea, the breakfast also includes coffee and hot chocolate.
SERVICE
The manager of the riads, Chris, is very very friendly. We were offered Moroccan mint tea as a welcome drink and exchanged numbers to stay in contact in case we have questions. Chris is French and the staff is Moroccan. As it turned out, it is really important to have her telephone number because the two women who cook and clean the rooms don't speak French. Hashim, the guy who stayed during the nights, only speaks French. So Chris is the only one who speaks English quite well. All in all, you can speak French and English everywhere in Marrakech.
AMENITIES
Hammam, massages, pool, living room, kitchen
RÉSUMÉ
We pretty much had the riad all on our own, because we were the only guests during our whole stay. That is also why I am writing this review about the Riad Awatif 36. It really deserves some advertising in order to have a few more guests. The prices are not the cheapest ones, but I would definitely come back and book the standard room (if there is no offer). Because of it's small room number the riad offers a very personal service and Chris is always available, even on her days off. In my opinion, the location is top. Once you know your way, it's easy to find.
Personally, I would have been way more critical with the service and amentities if I had paid the actual price for the Suite; the room was cleaned daily, but the water bottle has never been exchanged. So there is only one bottle of water for the whole stay (or maybe they just forgot). We wanted to watch TV in the lounge, but the TV didn't work. The pool on the rooftop wasn't filled with enough water and therefore never cleaned. The manager Chris said that the water is too cold, but I would have jumped in anyway to cool down from sunbathing on the rooftop.
If this riad and its normal prices are too expensive, go and check out airbnb.com. There are so many beautiful accomodations, I just couldn't resist the offer on expedia.
Riad Awatif 36
36, derb Lalla Aouich Assouel,
Médina, Marrakech
40000, Morocco
---
General information & tips
VERY IMPORTANT – never trust anyone who walks up to you and tells you that "it's closed". Here is why: I had read a lot about Marrakech when I doing my research and I found out that people intentionally tell tourists that a street or a museum is closed so that they get lost and will need the help of the local to find their way back. The best thing about all this is that they expect money in return, but let me give you an example:
You can get lost easily in Medinas narrow streets, but we had an app that showed us where we were. We knew our way to the riad and always took the same alleys to get there. We were just a few steps away from our riad when a guy walked up to us and told us "it's closed". The question I asked myself was "How would he know where we were going?". People were even following us and wouldn't let go, always telling us "it's closed, it's closed". Always smile and continue walking. So what app did we use?
We downloaded the app Navmii before our trip to Marrakech because we knew that we would have difficulties with finding our way in the alleys. Navmii is a navigation app that works offline. You can predownload the maps for different areas and use them when you're on the go. And the best thing is: it's free.
Always try to be friendly with people and smile. This will help you a lot when bargaining and bargaining is very important. They see a white person in their shop and automatically charge double the price. So smile and try to go down at least a half of the offered price. If they won't go down with the price, just leave. You'll see that this really favors your situation 😉
If you're a student, take your student ID card with you, some sights offer student prices.
When it comes to traveling, I try to dress myself accordingly in order to show that I respect their culture. As for Morocco, I didn't want to wear shorts or skirts. Some tourists get rude comments from locals about their clothes, because they simply dress inappropriately. So my suggestion for every girl's packing list: ankle-length jeans or trousers and shirts that cover your shoulders.
---
What to visit
In my opinion, some sights are worth visiting and others are not. We had the time to visit every single one that is recommended by Lonely Planet. We stayed for five days and always planned our sightseeing for the mornings where the most tourists would still lie in bed or take their breakfasts. If your stay is shorter than mine, maybe this guide can help you narrow it down to a few.
LE JARDIN SECRET
Let's start with my favorite one – Le Jardin Secret. When we walked past the building they were handing out flyers to tourists in order to advertise that this place was new, actually only one week "old". It opened on 20 march 2016. So we went in, bought the ticket for the gardens (exotic and islamic garden) and extra tickets for the tower; trust me when I say that this tower offers the best view over the whole Medina. You can even see the Atlas Mountains! As there were still constructions going on, we were offered 20% off the normal price: 70Dhs per person for the gardens and the tower. There are no student rates.
JARDIN MAJORELLE
I asked if they have student prices and yes they do. I highly recommend buying the ticket for the museum, I was just stunned by the exhibition. Unfortunatley, you're not allowed to take pictues inside the museum. Normal prices for the garden and the museum: 70 Dhs and 30 Dhs. Student prices: 35 Dhs and 25 Dhs. Go there as early as possible so you won't have to queue for the museum – they only allow a limited amount of people in the small museum.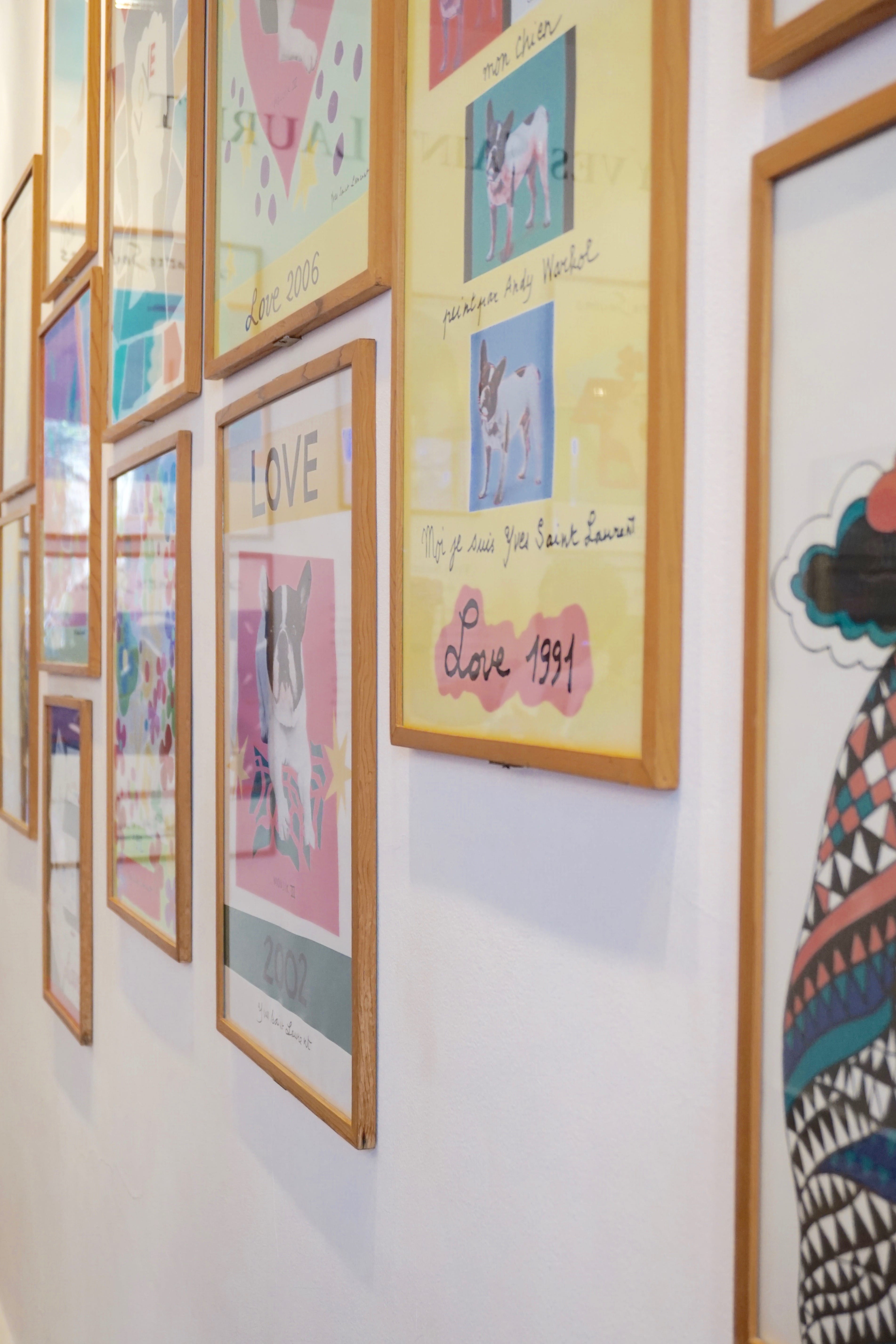 ALI BEN YOUSSEF MEDERSA
There is an entry fee of 20Dhs per person. I loved the architecture and the small details in the walls though there isn't much to see besides the courtyard and the student dormitories.
MUSÉE DE MARRAKECH
This building won't create the "wow effect", but as the entry is relatively cheap (50Dhs), compared to sights in Europe, I'd recommend going there. Personally, I really liked it.
DJEMAA EL FNA aka LA PLACE – tips
It is located in the middle of the Medina and there is always something going on. You'll find orange juice vendors, cobras, monkeys, etc… At night, everyone gets together and watches small groups' performances. You won't even know where to look first. The next thing you know, is that there is a woman who took your hand to put a henna tattoo on it and then wants money even though she didn't ask for permission. Then you'll turn around and a guy puts a monkey in diapers on your shoulder, again, for money. And NEVER EVER take a video of a performance, not even for a second – unless you want to pay for it. My boyfriend and I simply walked past a performing group and he was filming the action that was going on – that was a mistake. A boy turned up and wouldn't let us continue walking until we gave him some money. We gave him 1 Dh, but only because we didn't have no other choice. I didn't really like it because of the amount of people (and cobras) coming together, but it's worth seeing the action at night at least for once.
Now to the sights that didn't really impress me (my personal opinion), but as I was already in town and had the time to visit these places, I went there. Plus, the entrance fees are not expensive at all.
BADI PALACE
It's quite nice. They were doing construction work when I was there so maybe it could look a lot better now in a few months. Admission ticket: 10 Dhs
BAHIA PALACE
The Bahia Palace is a huge building with many parts open to public that are interconnected. There is even a small exhibition. But as there are soooo many tourist groups I recommend going there in the late afternoon before they close. Admission ticket: 10 Dhs
Tip: when going there try to walk down Rue Riad Zitoun el-Kedim that starts at the famous square Djemaa el Fna. There are many small shops.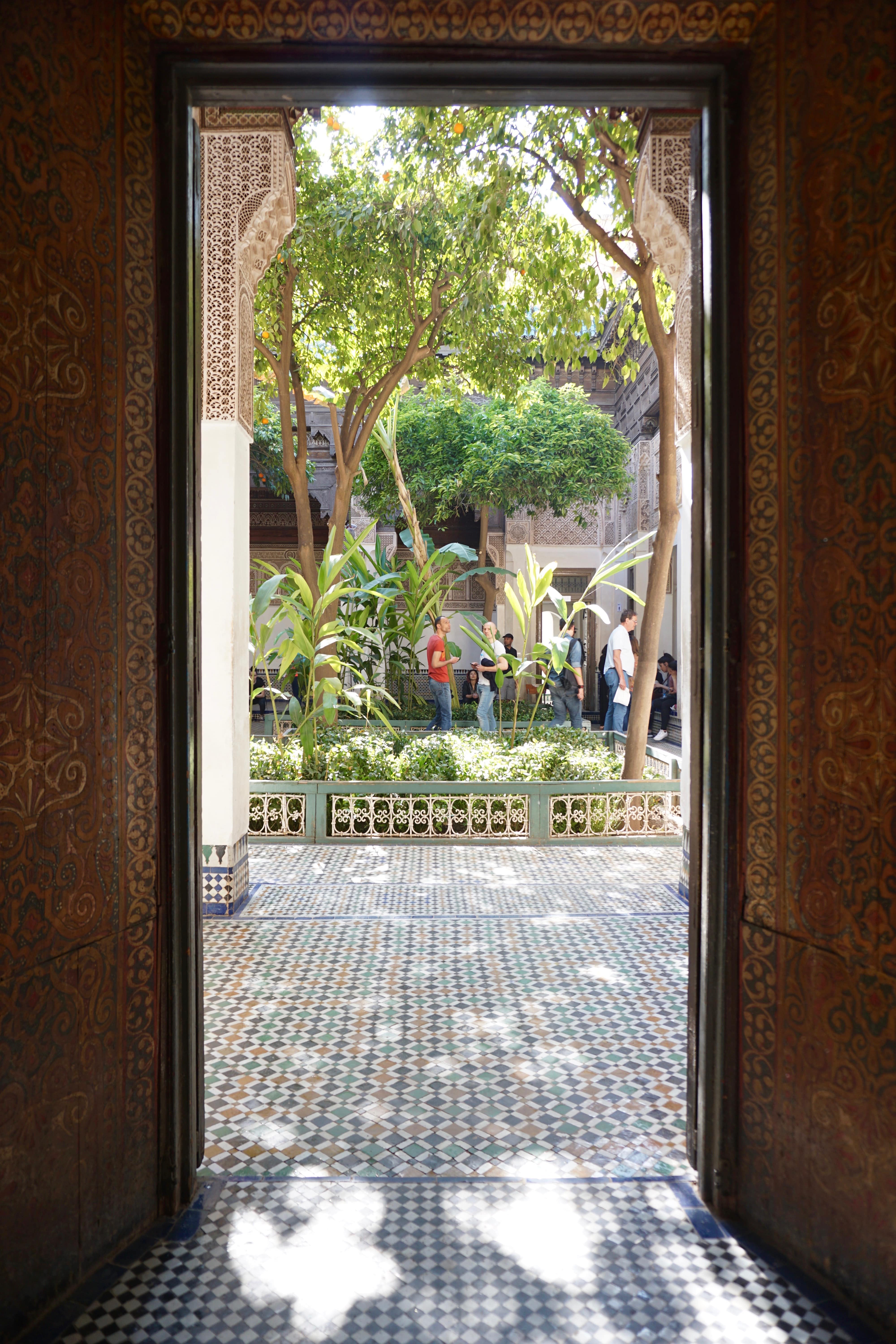 DAR SI SAID
The admission ticket costs 10 Dhs and honestly, I wouldn't have wanted to pay more. The exhibition pieces are not well-looked after and stored in dusty cabinets. This place really needs some renovation.
---
Where & what to eat
Café des Epices
… the perfect spot to relax and grab something to eat. It's located at Place Rahba Kedima and you can watch people bargaining on spices and beauty products like Argan Oil and natural perfume. I fell in love with their burger – the Moroccan spices make such a huge differnce in taste!
75 Rahba Lakdima, Marrakech
NOMAD
… located next to the Place Rahba Kedima. It offers are more modern Moroccan cuisine than Café des Epices. Normally you would eat the Tajine with bread, but there they serve it with couscous and sauces that impress with amazing flavours.
 1 Derb Arjaan, Medina, Marrakech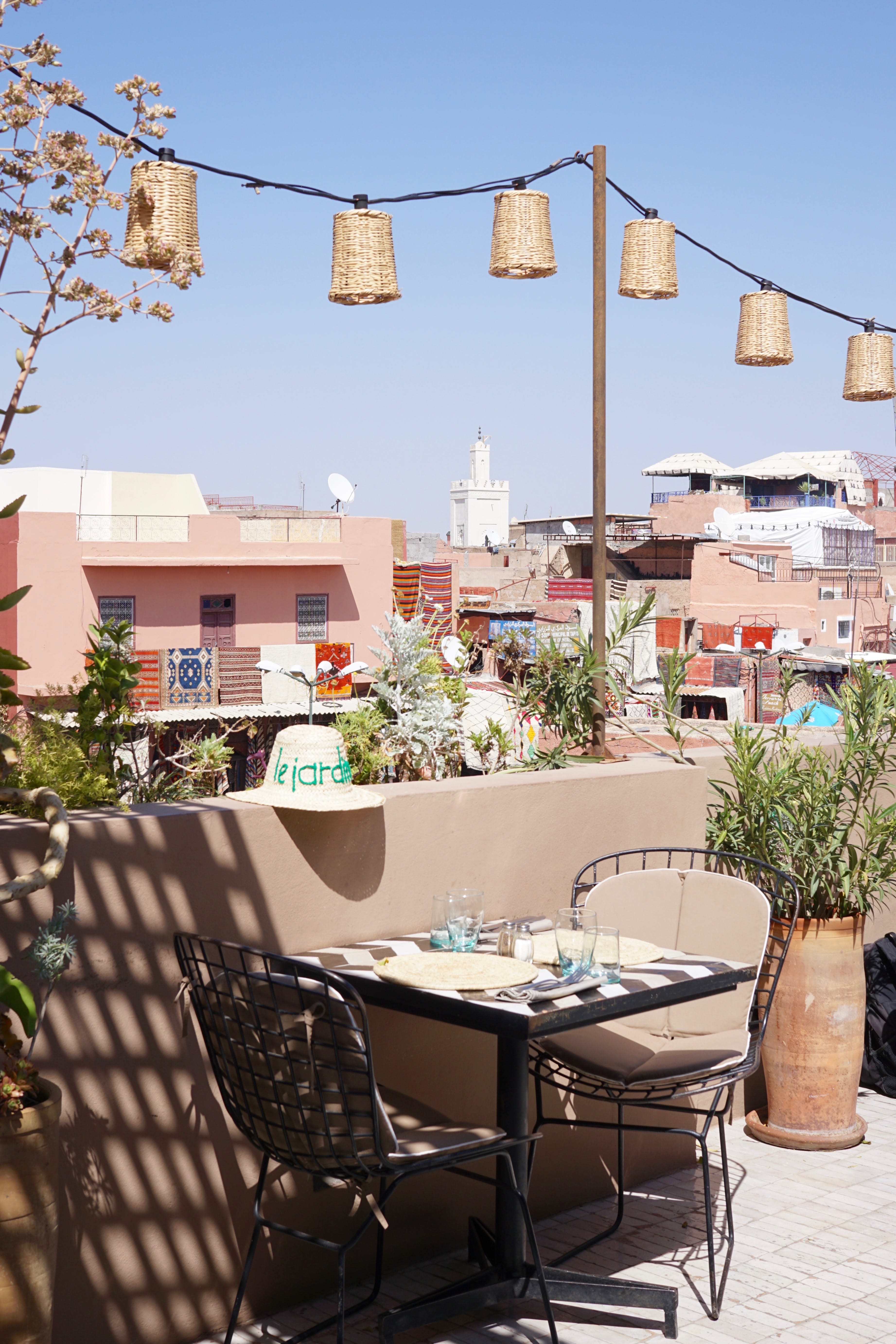 I Limoni
… an Italian restaurant that was just a two mintue walk away from my riad. It offers Italian as well as Moroccan dishes. The service is excellent (we were offered a mint tea for free) and the inner courtyard just gave me that "wow effect". I love the furnishment, decoration and the overall style of the courtyard. The prices are a bit higher than in other restaurants though.
40, Dyour Saboun, Bab Taghzout, Marrakech
La Porte du Monde
… delicious Moroccan food for amazing prices. I had my best Tajine de poulet there. If you visit the sight Dar Si Said, go and have lunch/dinner at the rooftop of this restaurant.
Rue Riad Zitoun el Jdid, Marrakech, Marokko
Kaowa
… is located opposite of the entrance of the Majorelle garden. We went there to have lunch and found very light dishes. You have the possibility to compose a salad by yourself or choose from the menu. They have burgers, wraps and salads. For lunch, they offer special lunch menus e.g. a wrap and a smoothy for a cheaper price. The wrap I ordered was okay. I would go there again for the smoothies.
34 Rue Yves Saint Laurent, Marrakech
Medina Saveurs
At night it can be quite fresh on the rooftop, so I would recommend going there for lunch or an afternoon drink. I ordered beef Tajine which was really delicious. We shared a salad "chèvre chaud" which didn't really equal the salad I know from France.
Sidi Isshak, Marrakech
So I hope you guys found what you were looking for. If you have any questions don't hesitiate to ask me in the comments below. Marrakech is amazing in so many different ways. When in the Medina, you have all those vendors who sell unique products but you can also watch those who create those products. It's totally up to you which souq you want to visit. One way or another you'll end up at a different souq anyway because they're sort of interconnected. Always keep your eyes open to not miss anything 😉    Take care guys!
Siri