Ko Lanta · Impressions
Ko Lanta · Impressions
After a few days of island-hopping in the area of Krabi, we headed South to relax on the beautiful island of Ko Lanta for three days. We both wished to stay a few more days, but unfortunately I had already planned and booked everything ahead, so we had to move on. One thing is absolutely certain: I'll come back! Tourism hasn't reached this island so far and the many beach bars and restaurants alongside beach Klong Khong have this unique flair and offer stunning sunset views. Enough talking, you can see the beauty of this island (or at least the part that I visited) for yourselves in this blog post!
However, there is one thing I'd like you to know before I start telling you more about my stay on Ko Lanta (this shouldn't be a reason for you to not go on the island, but): there are only a few hours of tide on the Western side of the island. This means that there will be a short period of time (about three to four hours) for you to properly snorkel or swim in the ocean. While snorkeling, I realized that the longer I was in the water, the closer I came to the corals/stones on the ground and almost touching them. Which was a funny thing to realize of course, but when you spend the entire day sunbathing and there is no water to cool off – the only way to do so is by taking a dip in the pool or (if there isn't any pool) to take a shower. With that being said, let's continue with my favorite parts: tasty food and beautiful sunsets.
---
Restaurants & Bars
Thai cuisine is one of my favorites and I get picky when it comes to finding good food at a reasonable price. Fortunately, that wasn't too big of a problem since my hotel had a reeeaaally good cook and super delicious pancakes for breakfast.
And my favorite place on the whole island of Ko Lanta? Cloud 9 Beach Bar & Restaurant at Klong Khong beach. It's where I spent my evenings eating delicious Thai meals and drinking cocktails for local prices. This place has been one of my favorites in the whole of Thailand. I have never felt more relaxed on a holiday: Thai cushions, hammocks combined with stunning sunset, the sound of the sea, reggae music and, most importantly, delicious cocktails and food… <3 This was the place to be and I wished I would have stayed longer than two nights to come back to this bar every evening. Everybody was just so relaxed.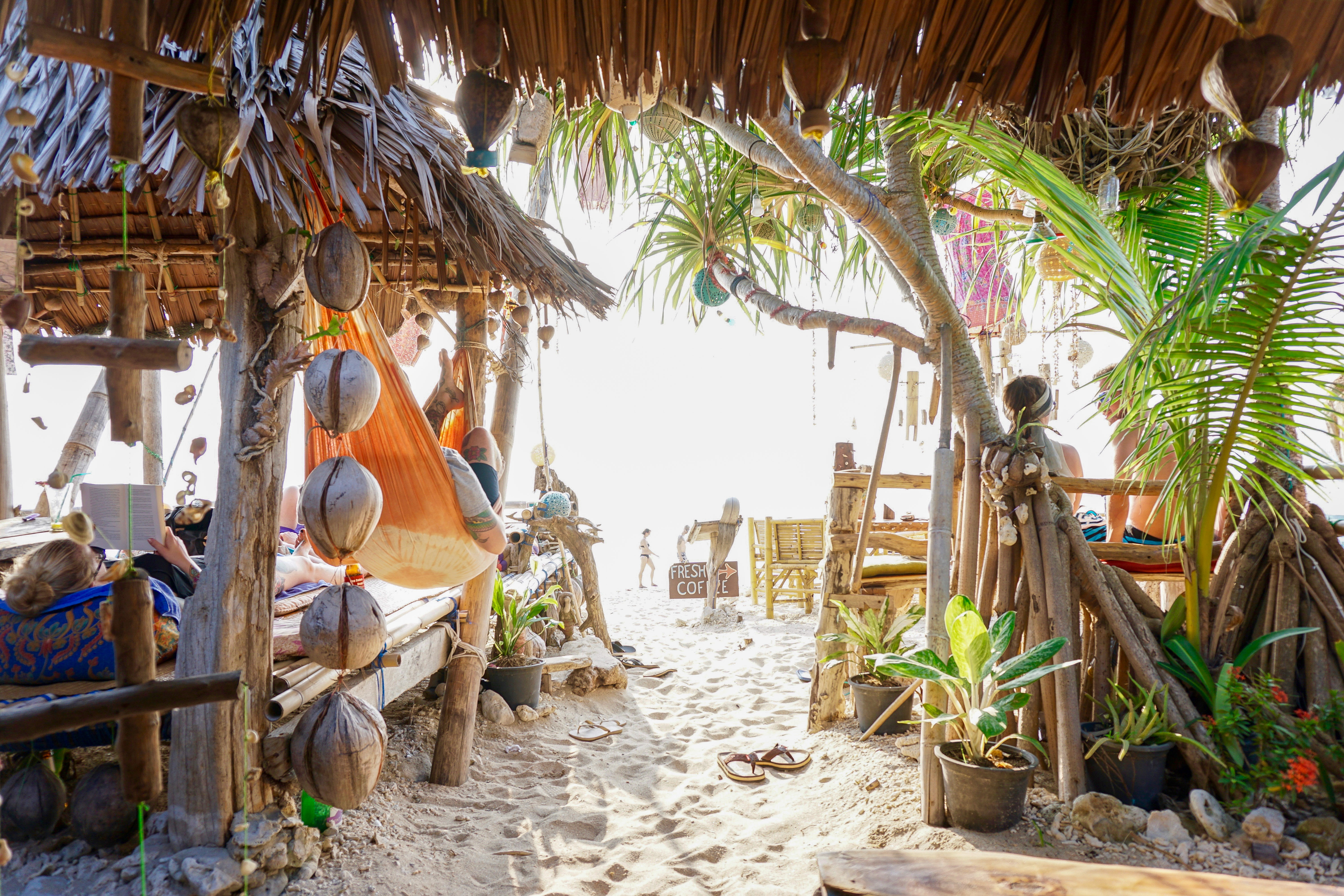 ---
Where I stayed
What to consider when traveling in Thailand
When traveling in Thailand, don't let yourself be fooled by the addition of certain words to the hotel name such as Resort, Spa, etc. Most of the time it just sounds great, but in fact it's just an ordinary accommodation without spa facilities. Plus, in Thailand there is no such thing as ratings for * categories, meaning that every hotel can indicate whatever star category they like to. Of course, 5* hotels offer more services and facilities, but in the end it's up to us customers to book the right hotel without being disappointed at our arrival. So I highly recommend looking through reviews on booking.com or any booking website and also have a look at the pictures on Tripadvisor. Since we only slept in the room, I was looking for a basic double room at a hotel that offered direct access to the beach and a restaurant at a good price. In my case, I wanted to book a Standard Room at New Ozone Resort and Spa, but when I wanted to book this room two years ago there were no pictures included on booking.com to see what the room would look like. So I headed over to Tripadvisor and found some "traveler photos" of the room. I always make sure to have a look at reviews and also at some pictures before booking.
New Ozone Resort and Spa
New Ozone Resort and Spa offered exactly what I wanted – massages on the beach, good food and beach access and that for only 2,400THB (64€) for two nights and two persons in a Standard Room (not a Bungalow).
Next time, I would like to try find a hotel somewhere else on the island because I don't think I have seen all its beauty. Don't get me wrong, Klong Khong Beach was pretty amazing, but as I only stayed there for two nights there wasn't much time to explore Ko Lanta or the surrounding islands. Anywhere you would recommend for me to go?
How to get there
Easily accessible from Krabi via minivan
You can organize a transfer from Krabi – in my case, the minivan picked us up at the hotel and let us get out in front of our accommodation on Ko Lanta. We didn't book with our Bed and Breakfast, because hotels normally charge a higher price. But right in the alley of our hotel there is a "tour agency" – which is not a regular shop but a small stand, very typical for Thailand – that offered the best price deals for island-hopping tours and transfers. On a side note: minivan drivers are the craziest in Thailand, there are exceptions of course, but the majority doesn't care about street limits. (We crossed villages with about 120km/h!) You'll get used to it, but this was the first minivan transfer in my life and to be honest, I was a bit scared ^^