Fez · get lost in the Labyrinth of its medina
Fez · get lost in the Labyrinth of its medina
Fez, a fairly big town in the North of Morocco with a very interesting medina that seems as if time stood still, where people still transport their goods in carts, on donkeys or horses and where the smell of the tanneries somehow, only subtle, lies everywhere in the air. Apparently, the medina is the biggest car-free city zone in the world! We spent two days exploring its medina which felt just perfect to get around at our own pace. We walked through the alleys without any plan on where the streets would take us.
---
Getting to Fez
General information on train rides in Morocco
Fez can easily be reached from Chefchaouen, Tangier, Casablanca and even Marrakech. Trains, as well as bus rides in Morocco, are very cheap. First class prices aren't more expensive than second class tickets and also very affordable. One thing to consider if you book first class: you'll get designated seats in a small compartment with six places. In second class (open space, no compartments) you might have to stand if you can't find a place to sit.
---
from Casablanca to Fez by train
As we were traveling for 4,5 hours from Casablanca to Fez, we wanted to make sure that we had a place to sit. You can't buy tickets online with international credit cards. So we just went to the counter about ten minutes before the train arrived. You can buy the tickets last minute. First class, in general, is rarely fully booked.
Trains from Casablanca to Fez depart every hour at Casa Voyageurs station (there's also one called Casa Port) and cost
First class: 174MAD per person (16€)
Second class: 116MAD (10,50€)
---
Getting from the train station to Fez medina
We asked our riad to organize a pick-up transfer for us as we want to avoid the "tourist" prices taxis charge. It is also very practical because drivers of organized transfers usually contact the riad a few minutes before the arrival to the medina. That way, the riad can send someone to pick you up and walk you to the riad. I wrote a seperate blog post on where to stay in Fez, for more info click here. In Morocco there a lot of people and kids that offer to show you the way. But in the end they request a little money in return when you've arrived.
---
Now, what to do once you've arrived in the medina?
If you've already visited Morocco once and maybe that one time was only Marrakech, you'll soon notice that the medina of Fez is very very quiet. I would even describe it as very relaxed. There are of course a lot of tourists and stalls along the main two narrow streets. But there are fewer tourists as opposed to Marrakech and shop owners are not pushy. Fez doesn't offer loads of instagrammable coffee or lunch places. However, is that really what we should always look for when traveling? Even though many places don't look as instagrammable, they sure as hell treat your taste buds. Here are my faves:
Restaurants
rooftop – traditional cuisine – live-music at night
Side note: Tagines are prepared slightly differently depending on the region you're traveling in. I have found the tagines in Marrakech the most delicious. They sort of have a sweeter taste and different consistency thanks to their secret ingredient: dried fruits 🙂
I had read so many positive feedbacks on TripAdvisor and google reviews, so as it was time to choose a place for our first dinner location and Café Clock was just around the corner, we decided to head there and see if they had a free spot on their terrace. I actually wanted to order a tagine, but with couscous. The waitress said that I couldn't order tagine with couscous – for whatever reason. So instead I ordered couscous with roasted chicken and it's hands down one of the most delicious dishes I've had in Morocco! It comes with caramelized onions and raisins on top, a soup and veggies on the side and tastes so yum. My boyfriend ordered the beef tagine, it was good, but I had tastier ones in Marrakech.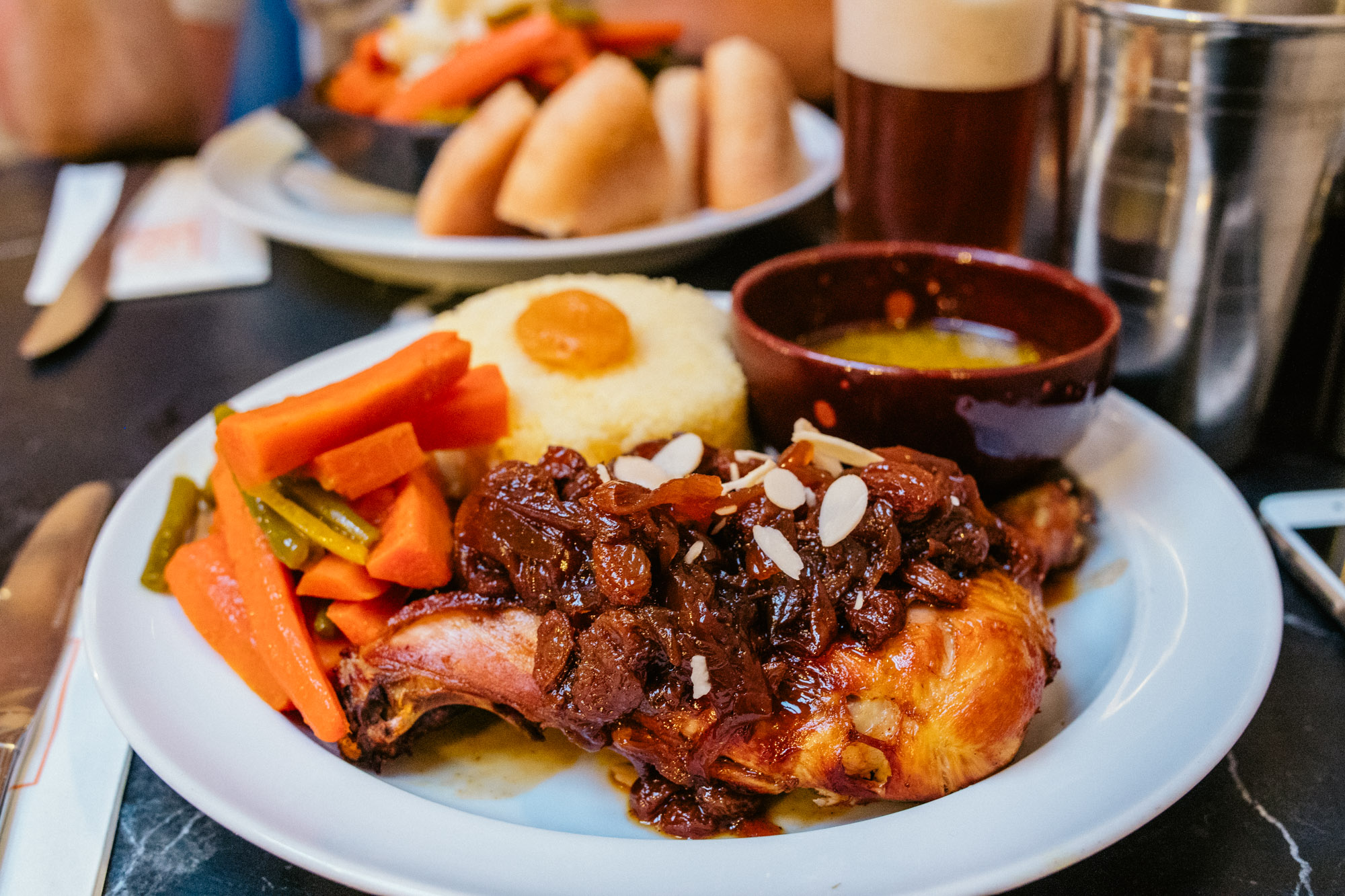 ---
luscious garden in the middle of the medina – traditional cuisine
What a location! This place seriously gave me so much inspiration for new plants in my apartment. The Ruined Garden starts serving dinner from 6.30pm on, we arrived earlier than 6 pm. We departed too early from our riad because we were scared to get lost and therefore run late. We decided to go for Makuda, spiced battered potato cakes as a starter. They reminded me of Italian Arancinis. And for the main course, we chose two tagines: a kefta and a beef tagine. One main dish and a starter for two would have been the perfect amount. Two main dishes and a starter were definitely too much. We were surprised to be served a few snacks before our starter arrived.
Their drinks were amazing as well! We ordered a freshly pressed peach & orange juice and a homemade lemonade.
I'd definitely recommend reserving a table beforehand. I reserved a table on the same day via their riads mail address.
traditional cuisine
We came back to Fez after our 2-day trip to Chefchaouen and stayed at Dar Bensouda for the night (you can read my review here). As we arrived very late, we decided to stay in and eat at the restaurant in the hotel. I had read excellent recommendations for their restaurant, so I was keen to try out their dinner. You can eat a menu (choose a starter, main and desert yourself) for 240MAD or just eat à la carte.
We decided to share a menu and one person would order a main dish. The portions of the main dishes were way too big for each of us. We could have easily both just shared one menu. The main dish comes in a big bowl which is the size of a pizza (or even bigger). Definitely go for one of their three Briouates versions (cheese or minced meat or seafood). They are served on fresh mint which gives the freshly fried Briouates an extra kick of flavor. They sort of absorb the mint. Both of us ordered different kind of tagines, both of them sooo delicious. Needless to say, the service in the restaurant is super nice and very attentive.
How many days to stay in Fez?
One day should be totally find for everyone on a tight schedule. The medina is pretty small and you can definitely visit the main sights within a day. We stayed two nights and were able to just walk around and see where the streets and crowds would take us. Anything in between two and three days is good to explore Fez's medina at your own pace. You'll have enough time to grab a cup of mint tea and observe people passing by in the afternoon. Or, you could relax on one of the many restaurants' terraces.
I have a seperate blog post on where to stay in Fez, for more info click here.
What to do in Fez
If you have enough time to spend exploring the medina at your own pace, I recommend going outside your riad and take whatever way you feel like going. We once felt like we got lost. After a few minutes we realized that we've stranded at Djemaa Seffarine. That's  the square where coppersmiths do their work amidst busy medina life.
---
Djemaa Seffarine & Tanneries
Not too far away from Djemaa Seffarine are the tanneries. You'll know you're there once you have the unbearable smell in your nose. There's two options to visiting the tanneries:
Through the rooftops of the shops
There are many shop owners that will try to lure you in. They'll tell you they have the best rooftop with the best view on the tanneries. But we had been advised to go to the small main entry of the tanneries.
Through the (small and almost unnoticeable) main entrance
So as we entered through the small archway, walked down the steps and took a look at one of the two tanneries. There is one to left and another one to the right. We were kindly greeted by two workers of the tanneries. They wanted to show us around and kept repeating that they "are no guides" a few times. There are two tannery courts at the end of the path. We first took the right one where the skin is being prepared and washed. Then, we were taken to the one at the left where we were greeted by donkeys that were lined up to carry the dyed leather. Here's where the coloring is taking place. At that point, our "guides" gave us some fresh mint to relax the nose. Mine, however, had already adjusted to the smell. The guides showed us upstairs where we could see the whole process from above. One thing is sure, this is not an easy work for these men.
The downsides:
You might ask yourself if this was all for free, well here's the answer: we might have avoided pushy shop owners, but of course the two guides were asking for money in return – they wanted 200MAD which, for us, was way too much. They said they would share the money with all the workers here, but who could check up on that? We gave them less, but they were begging for more. The two of them were never pushy and gave us all the time we needed to explore the grounds. I only want to say this much: without them we would have never been able to find the way upstairs ourselves. They also explained the whole process. Nevertheless, for a guided tour of 30 minutes, 200MAD – in our opinion – were just too much. In the end, it's up to you how much you want to give them.
Archways
There are many interesting archways along the walls of the medina. The prettiest one, in my opinion, is Porte Bab Rcif. The most visited ones are the western gates like Bab Boujloud.
Sunset Spot
We heard that the hill of the Tombeaux des Mérindes is the best spot to watch sunset. We never made it up there, but nevertheless, I wanted to pass the advice on to you.
Shopping
Along the streets of Chrabliyine Terrafine, Tala'a Kbira and Tala'a Sghira lie many shops and cute coffee places. If you walk westwards on Tala Kbira you'll also pass by a local market where people sell fruits, veggies and other food items.