Canggu · a Guide to Coffee shops, Restaurants and Food Markets
Canggu · a Guide to Coffee shops, Restaurants and Food Markets
This Canggu Guide covers everything that is food-related: coffee shops, restaurants and markets.
Staying for a few days in this very hip area of Bali is definitely a must for everyone who has a passion for food and a nice coffee, because Canggu just has it all. I had fallen in love with this area the year prior to this visit. Therefore, when we decided to come back to Indonesia, I made sure we'd come back. I also made sure, we'd stay for a little longer. As I have now spent more than a week in the area, I am ready to share my pieces of advice with you all. I sipped on many smoothies and coffees as well as indulged in a lot of delicious food. So here we go, here's my Canggu Guide to coffee shops, restaurants, and markets :
First, a few words (or consider it a rant) on "travel guides"
Usually I am a bit sceptic when it comes to "travel guides" that were written by bloggers since most of them only stay for a very short time in certain areas or sometime not even staying in the area, but still write "guides" on the area e.g. Canggu?! 
This Canggu Guide on coffee shops, restaurants and markets is divided into three parts:
restaurants
favorite places to grab a cup of coffee or a late-night drink (without a party going on)
food market and bakery
Restaurants
You can find so many restaurants, coffee places and shops along the major streets: Jl Pantai Berawa, Jl Pantai Batu Bolong, and Jl Pantai Batu Mejan. I'll jump right into the details on the restaurants I've been to (arranging them from top to bottom – breakfast to dinner locations): 
Note: Many Canggu restaurants recommended by bloggers and influencers are packed. If you can, I would reserve a table.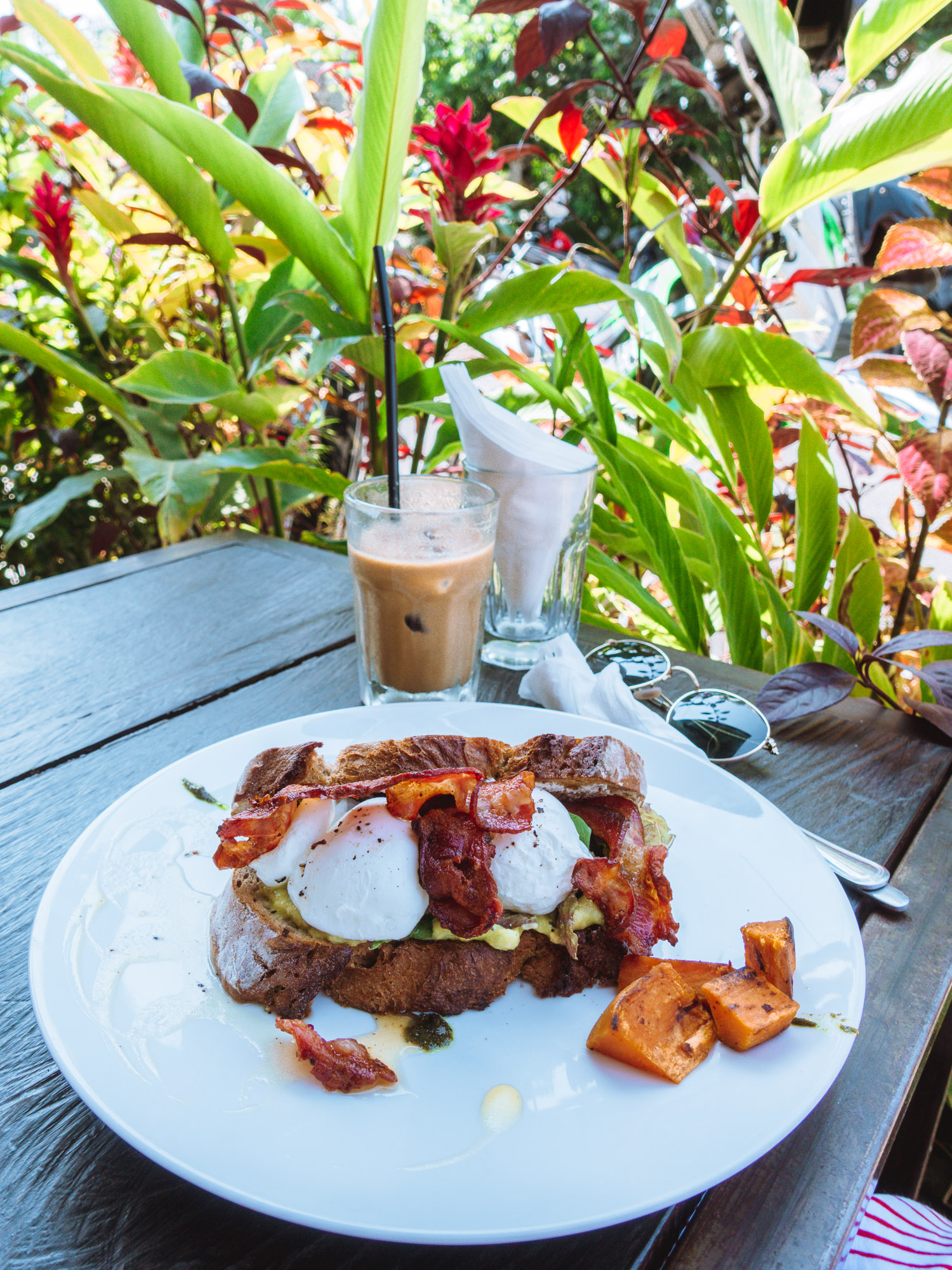 Rise & Shine Café 
breakfast – best Avo-bread in town
Even after having visited a year ago, I still dream of this delicious breakfast. My boyfriend ordered the Breakfast Burrito that came with a special tomato sauce on the side… This sauce was so damn good, I ate it all in combination with my Avo bread because it fitted so well with my breakfast option as well. Many Canggu restaurants that had been recommended by bloggers and influencers were packed during our second trip, somehow Rise & Shine probably hadn't been mentioned before since it was very quiet. So this is still a quiet place to visit! 
Copenhagen Canggu
breakfast – cool concept 
Right next door to Rise&Shine Café is Copenhagen Canggu. Thanks to many influencers coming here and promoting this place (e.g. Ellie from @elsas_wholesomelife and her sister Lauren @gypsea_lust), t's been busy every single day we passed by on our scooter. Therefore, one day when we got up very early to shoot the sunrise in the nearby rice paddies of Canggu, we arrived at Copenhagen Canggu right when it opened. I loved having the possibility to compile my own breakfast to my personal liking: every guest gets a proper list of all the dishes and can choose what to eat by ticking the boxes. You can choose to eat three (59k), five (89k) or more dishes (each more dish costs an additional 20k): sourdough bread or Danish bread, a very delicious fresh cheese spread topped with pesto or a smoothie bowl. 
The Loft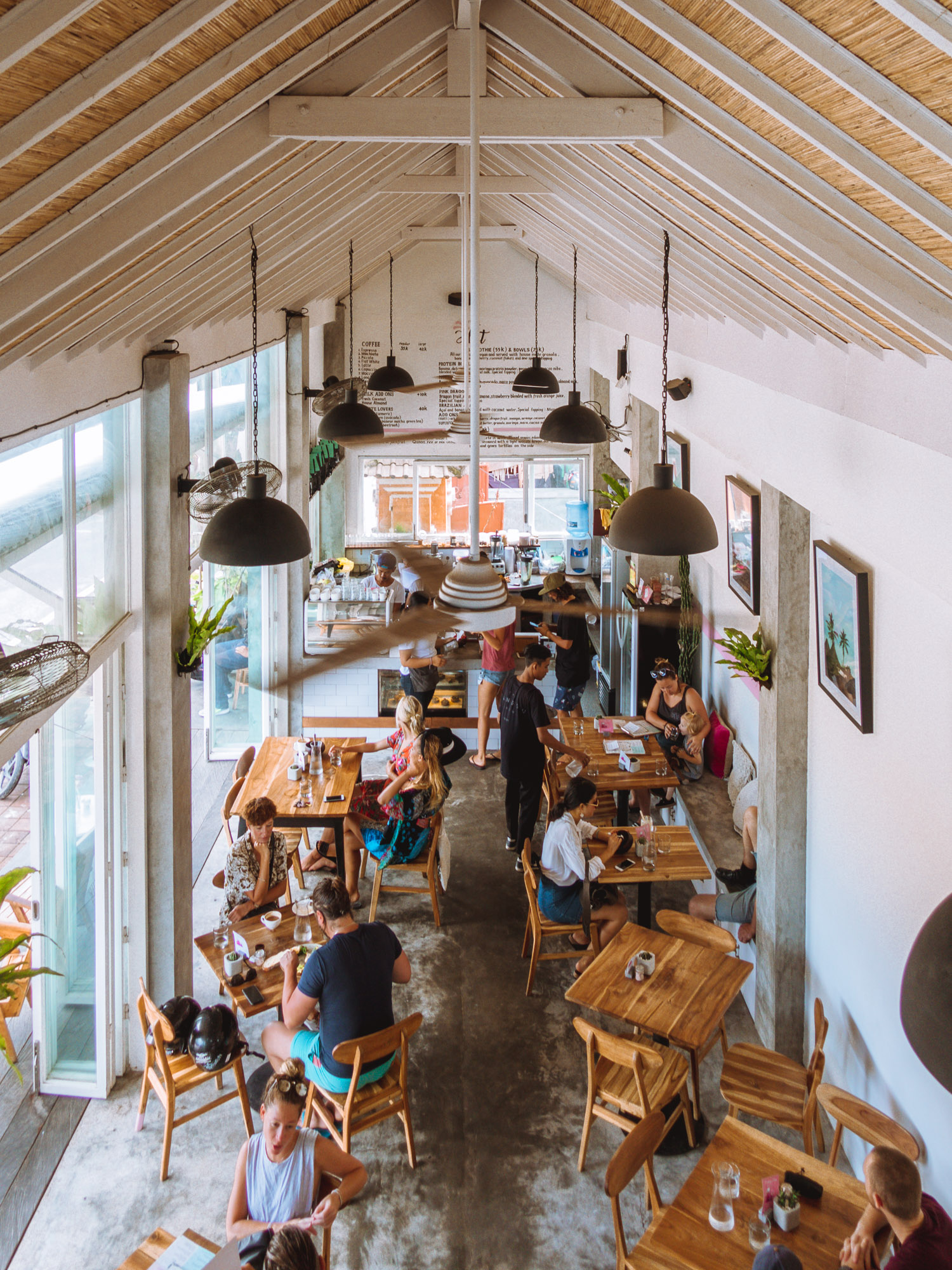 breakfast – lunch
Craving some waffles for breakfast? The Loft is the place to go. We needed someplace to go after checking out at our Airbnb and so we spent some time at this bright and open place. The Loft definitely counts amongst the more popular places in Canggu as it is packed with people until the early afternoon. There are lots of other breakfast options besides waffles. Go check it out!
Gypsy Kitchen + Bar
breakfast – amazing dessert
Here you can find the typical Avo on bread, but also many other dishes. Gypsy Kitchen + Bar offers amazing dishes from breakfast to dinner – make sure to leave some space for a dessert!
nüde
breakfast – amazing fresh juices
I love this place for its more unusual breakfast options– Harissa, Haloumi or Feta are being added to classic dishes such as the Brekkie-Burrito or bread-style breakfast which make the dishes even tastier! If anyone of you still has someplace left in your tummy, I can highly recommend you order the Unholy Moly Pancakes with maple syrup and berries. In addition, I love the slogan of nüde: "(…) eating naughty every now and then is okay."
Coffee & Coconuts Bali
lunch – boho-style interior
When I first saw an instagram post on Coffee & Coconuts Bali at one of my favorite Bali-bloggers accounts, the name of the restaurant sounded so familiar. Only a few days later, I realized that I had been to Coffee & Coconuts in Amsterdam a few years ago – I've had one of my best dinners at Coffee & Coconuts in Amsterdam. Therefore, I wanted to pay their new restaurant in Bali a visit and try out some dishes on their menu there. The architecture of their restaurant in Bali somehow reminds me a bit of the one located in Amsterdam. You can sip on some very fancy juices – mine was a mix of ginger, apple, pineapple, carrot, cumin, coconut water, and active charcoal. The lunch menu is small, but I think it includes a dish for everyone. You can read up on their menu before you go there. 
The Piring Daun
lunch & dinner – indonesian cuisine
If you don't want to spend a fortune on dinner in Canggu, The Piring Daun place has definitely got you covered. To be honest, food in Canggu is really expensive compared to other regions in Indonesia. The Piring Daun offers indonesian dishes at a good price.
Ulekan
dinner – indonesian cuisine
This is hands-down my favorite place for Indo cuisine!!! My Canggu Guide to coffee shops, restaurants and markets wouldn't be complete without it! I had dinner at Ulekan the year before my second visit. When we decided to come back, I made sure that we would also revisit this restaurant. We both loved the atmosphere and the restaurant. It is a bit expensive to eat here. However, what I love about this place is the portion of the dishes – they are meant to be shared, just like tapas. 
You'll be served some homemade iced ginger and cinnamon tea as well as a refreshing towel upon arrival at Ulekan. I loved every single dish we had besides the Nasi Goreng. I highly recommend trying a curry, the satay and sauteed spinach!
LA BRISA
my least favorite (I must admit)
I also wanted to include one place in my Canggu Guide that I wasn't very pleased with… I am sure most of you will come across this La Brisa on Instagram.This "restaurant" is more of a club really. The items on the menu all sound very delicious, but we still left hungry. La Brisa pleases the party crowd – there is good music, nice drinks. I recommend coming early to get a good spot to get a nice drink and watch the sunset. 
Drinks And coffee
Quince
afternoon coffee or smoothies
I loved going to Quince for an early afternoon coffee and smoothies.
Two Trees Eatery
coffee and cake
Great coffee, great dessert at Two Trees Eatery. Needless to say, I visited more than once.
Peekaboo
cocktails and snacks
We came for cocktails after dinner and we loved Peekaboo. To me, it seemed like the crowds were all partying near the beach. So, in my opinion, this place is a more relaxed option for those who are not seeking to party all night.
Food Market in Canggu
This Canggu Guide on coffee shops restaurants and markets wouldn't be complete without a mention of this wonderful Sunday market:
Samadi Bali Market
fruits & veggies – local & organic products – Sundays
At 9am every Sunday, farmers and artisans come together to sell their products at Samadi Bali market. It's a good opportunity to do some shopping. Make sure to bring your own shopping bag if you have one in order to safe the environment and reduce plastic waste. I didn't bring one from home, but I was very happy to have bought one at the market from TheBaliBandanaProject's stall–25% of their revenue will be used for the sterilization and vaccination of Balinese dogs. And since my family adopted a dog almost two years ago, this is the perfect bag to bring home with me.
There are so many exotic fruits available at the market that it was difficult to choose only a few, so I actually took a bit more than I needed (and I ended up eating them all for breakfast the following days). There's more than just fruits and veggies, I saw many stalls selling organic and local products such as body oils. In addition, there is also jewelry. In case you want to have a drink, Samadi's coffee shop right around the corner has got you covered. 
Starter Lab
breakfast at home – amazing bakeries
Craving freshly baked bread or small bakeries? Make sure to check out the Starter Lab. This is the right place to go if you don't feel like having breakfast in a restaurant. It's a small bakery opposite of Samadi Bali. I went to treat myself – freshly baked morning buns: amazing taste, similar to cinnamon buns but crunchy, which makes it so damn delicious. 
For reference, an avo on bread costs around 55.000IDR or more. A good Latte can cost anything from 25.000IDR or up. A main dish per person (dinner) – on average around 100.000IDR or more.
Don't know where to go after Canggu?
Gili islands – They can easily be reached by boat. You check out my blog post on Gili Meno (here). Gili Meno is the most relaxed one out of the three Gili islands.
Lombok – This amazing island can be reached by boat (also passing the Gilis) or by plane. We took the plane, since we wanted to avoid long travel times. You can read everything about my stay in the region Kuta here: beaches and restaurants, accommodation and my recommendation on the best sunset viewpoint on the island (here).
I highly recommend…
to check out this Instagram account from @welikebali girls. They have so much inspo to offer as well as a Canggu eGuide (here). They've been living the Bali life for several years now. Therefore, I'd say one can definitely trust their opinion.
I hope you found my Canggu Guide to coffee shops, restaurants and markets useful! There is more to come on my travels to Indonesia. In the meantime,
safe travels!