Southeast Asia · One thing no one talks about on social media
Southeast Asia · One thing no one talks about on social media
[:en]
We need to talk.
Before I start posting about my travels on Instagram, I need to get something off my chest. I don't feel like posting anything about my travels in Indonesia on Instagram until I have written about something that I have been occupied with ever since arriving in Indonesia. Southeast Asia has got a BIG problem.
And the problem I am talking about is (you probably already guessed it right): plastic pollution. And yet no influencer, no blogger and no youtuber – except for only two (!) and that is Maddie aka dariadaria and Mia aka heylilahey – that I follow or see on social media address this problem?!
I am honestly so fed up with how images are being photoshopped to please the eyes of the followers. These "influencers" don't write anything about this problem on their blogs or accounts!
Sure, one might say Instagram & Co. is also about making art and transforming pictures into something more than just a mere picture that is being posted on social media.
The Internet has power. And especially social media has an incredible power. Why not use it for raising awareness on Plastic pollution?
Particularly in terms of tourism and all the trendy destinations. Social media and many of its influencers disillusion their followers by only displaying the pretty sides of traveling. People see these beautifully photoshopped images on social media.
They think those places really look like in the picture and also want to travel to these places. With these images in their minds, followers from all over the world travel long distances to also see these beautiful places in reality. But they arrive at a beach where plastic is washed ashore and tourists are desperately trying to clean up the beaches.
Who is actually causing all this pollution?
I have been to a few countries in Southeast Asia – Thailand, Cambodia, Vietnam, Philippines and now also Indonesia. I have observed the people and I have come to realize that they all have the same problem. They don't know how to properly get rid of trash, they have no idea what garbage separation is and therefore – I guess they unknowingly – create waste pollution that has horrific consequences.
In none of those countries have I seen a proper waste management – NONE of them!!! Personally, when talking about waste management in the case of Asia, I am talking about the basic necessities like bins, garbage collection and garbage separation.
Here's a few situations that I have witnessed with my very own eyes and to this day cannot believe this is still such a big problem (because growing up on a more developed continent, I am used to seeing and having clean streets, bins, garbage separation etc.):
Thailand – I would find myself walking for hours through Bangkok with a finished orange juice plastic bottle in my hands, desperate to finally find a bin to throw it in. I gave up after two hours and went to a mall nearby to finally find some bins! No wonder people let their trash fall out of their hands on the sidewalk as soon as they finished drinking the juice.
Philippines – I was just about to get back from a beautiful snorkeling tour and on our way back with the boat the local guys finished their bottle of rum (the rum is not the actual problem ;)). So as the bottle was emptied, the ceramic mug was now useless so he just threw it in the sea, in the middle of the ocean in the Philippines!
Indonesia – We took a public boat in North Sulawesi and just as we were about to arrive at the dock, this local guy finished his lunch and just threw the plastic box out of the window!
Thailand – My cousin who blew his nose in the backyard of our house. Afterward, he just let his tissue fall right where he sat because he didn't need it anymore. Now you can imagine what stuff lies around in our backyard. Once in a while, the garbage is collected and then burnt somewhere next to the house.
Vietnam – My boyfriend and I had to finish our last Open Water dives that day. We had some really awesome dive spots coming up. We were very excited to get to the dive spot. But on our way to the site, I just couldn't believe my eyes – there was plastic floating around everywhere. This day was actually the very first day during the few travels that I realized that there is a problem that no one is talking about.
Cambodia – One day, I was exploring an island on foot with my boyfriend. We came across an empty beach (not kidding! this is a very rare find in SEAsia these days) and I was so happy that we were the only ones on the beach. But as I looked around I only saw garbage that has been washed ashore.
I don't know about you, but I travel to see new, beautiful places. I don't travel to a country to relax on the same beach for two weeks – don't get me wrong, we all have different travel styles and I am totally fine with that! But because of my travel style, I get to see more of what a country really looks like rather than another person who spends two weeks in five-star resorts isolated from local everyday life.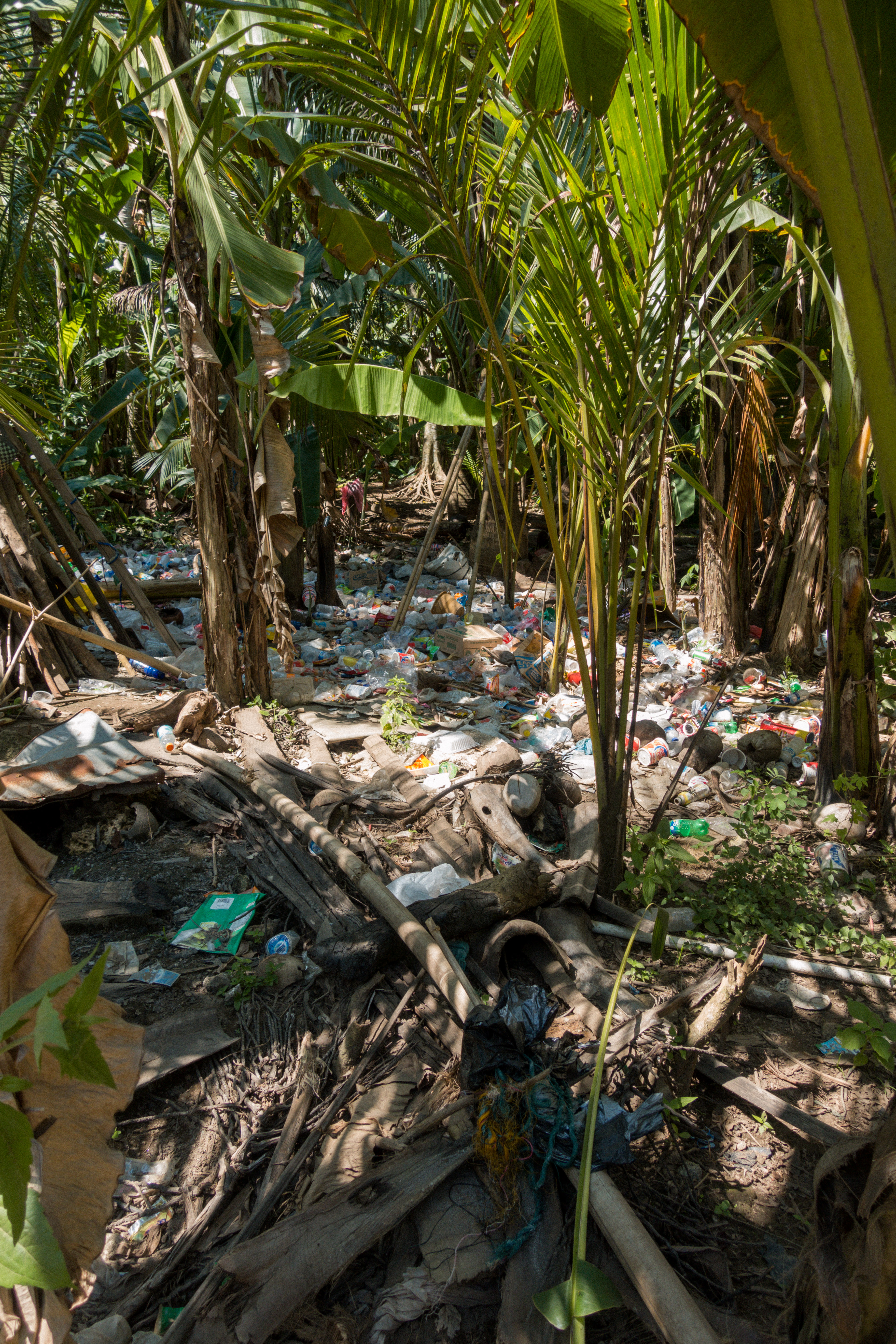 Bali
Since I started my journey in Indonesia at the beginning of February, I have avoided beaches here in Bali because I had read about its plastic problem beforehand and therefore my expectations on beaches in Bali weren't set very high. Seeing these beaches full of plastic just makes me very sad and I didn't want to start my journey facing those problems.
Nusa Penida
I then, towards the end of this journey, went to Nusa Penida since it is marketed as fairly new tourist hotspot and said to be evolving very fast in the next couple of years, I wanted to get a glimpse of the island as it is still not as touristy as other places (such as Gili Trawangan).
SO WHILE PLANNING THE STAY ON NUSA PENIDA, I LOOKED UP A FEW TIPS ON ONE OF MY FAVORITE TRAVEL BLOGGER'S WEBSITE. I FOUND TIPS FOR "A STUNNING WHITE SAND BEACH" AND "CRYSTAL CLEAR WATER". BUT INSTEAD, I ARRIVE AT A BEACH FULL OF PLASTIC.
I must add that I do not understand how it is possible not to strive for a clean environment. Implementing bins, garbage collecting systems or the like – especially for countries that live from tourism as one of their main sources of income.
People won't be coming again to such places, as far as I am concerned. Had I known before that Gili Trawangan's trash is being washed ashore on Gili Meno OR trash is being washed ashore on loads of beaches on Nusa Penida – I wouldn't have travelled to those places.
But because people on social media decide to leave out this important information, others, and I myself included, travel to places far away and will be disappointed.
It's not just about disillusioning the followers by solely posting the pretty sides of traveling. Influencers should use their power to bring awareness instead of promoting unrealistic sceneries and places!
Raise awareness so that people start acting
By making people aware of this problem, it eventually could also reach some of the responsible people in the government. It could make them realize that a change of the system is needed. They could install garbage separation systems and start educating the people. Especially flourishing islands such as Nusa Penida will drown in the trash when the masses arrive. Simply because there has never been a proper garbage separation or recycling system on the island.
On the other hand, I guess one of the main problems is that they are being invited by tourism boards to write about the destinations. They certainly wouldn't be happy to read negative aspects of an influencer's paid journey. That shouldn't be an excuse, but I could imagine that there is a certain pressure on travel bloggers who are invited to explore countries or destinations – just sayin'.
However, changes in peoples' mindsets are noticeable
Nowhere else in SEAsia have I seen so many local restaurants that avoid plastic straws and actually serve smoothies and the like with sustainable straws – especially around Bali.
At Mallias Restaurant on Gili Meno they don't serve any plastic and that is amazing!
On the Togian Islands in North Sulawesi, a French woman called Marion is the vice-president of the non-profit organization EVERTO. The organization is, among many other things, educating Togian kids on garbage and recycling at school. They then can eventually teach their parents to act more environmentally friendly.
And a huge respect to all of those, who collect garbage at the beach! Tourists as well as a few locals actually take matters into their own hands and collect the garbage themselves. The only problem I have realized: where does one put the collected garbage? There are no bins at the beach. I am not kidding when I say that the collected garbage remained in plastic bags in the middle of the beach.
Jackson Groves (@jackson.groves) started a clean-up movement, called @adventurebagcrew on his Instagram account very recently. Travelers from all over the world, regardless of where they are traveling, take videos or pictures of their clean up or their collected garbage. They then tag these with #adventurebag. It's an amazing initiative that many people from many parts of the world have already joined.
I don't think I have ever come across a project that has come from any of the governments in Southeast Asia. (If you know of any I would be very happy if you could let me know in the comments.) We tourists pay a ton of entry fees to national parks in Indonesia for example. But only a mere 35 percent of its income stays in those national parks?! Really?! Where does the rest go to? Certainly not where it is needed the most.
What I am trying to say is:
In my opinion, this is one of the downsides of Instagram and social media in general.
Internet and especially social media with its many influencers could use its powers to have a positive impact on officials and all the responsible persons. But somehow they'd much rather be self-centered and post beautiful images than to actually address this very important problem.
Thank you so much for reading this post all the way to the end. Pollution has been one of my main concerns ever since I started my first journey to Southeast Asia in February 2015. Whenever I came across a place or beach full of trash, I almost felt obliged to take a photo immediately. I realized very soon that I can't take beautiful destinations for granted anymore.


In case you'd like to do further reading into plastic pollution:
The article 'What Happens to the Plastic We Throw Out' by National Geographic is really worth reading – here's the link!
If you want to read other blog posts on this subject I'll list the two bloggers who wrote about pollution in Indonesia down below:
dariadaria – under the subheading Sustainability in Bali – German – here's the link
heylilahey – 'Gili Air: my honest opinion, tips & photo diary' – English and German – here's the link
[:]